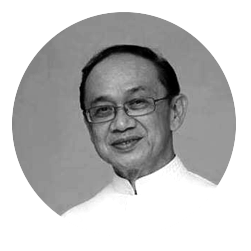 By Fr. Roy Cimagala
AS we celebrate another Solemnity of St. Joseph on March 19, let us revisit the crucial role the foster father of Christ played in the whole economy of salvation if only to instill in us more deeply that the devotion to him is ever relevant, especially these days when we are into very uncertain times.
Yes, we can say that St. Joseph is the saint of uncertain times for the simple reason that he carried out his role as spouse of the Blessed Virgin Mary and foster father of Christ, taking care of the most important persons in mankind's history, no less than our savior and his mother, with a great sense of fidelity and creativity amid many trials and difficulties.
Let us recall some of the difficult decisions and tasks he had to carry out in obedience to God's will: how he decided to marry Our Lady when at first he already thought of not pushing through with the marriage, how he immediately took Mary and the child Jesus in the middle of the night to flee to Egypt and escape the planned killing of innocent children by King Herod, etc.
Of course, the most important task was how to bring up the child Jesus, who though a divine person was also a man who needed to be taken care of, especially during his childhood, and to grow and learn many things. It must have been a very challenging duty of his as well as very rewarding.
St. Joseph may strike us as only a very ordinary character, a carpenter with hardly any notable accomplishment to his name. But he was chosen by God to be entrusted with the most delicate responsibility, precisely that of being the head of the Holy Family on earth.
His life and his vocation should gladden and edify us who for the most part may only be occupying humble positions in life, doing very ordinary tasks, mostly hidden with hardly any great social impact. But if we follow the example of St. Joseph, we would be convinced that whatever our status in life, if we do things with faith, hope and love the way St. Joseph did his, then whatever we do may not have some social impact, but they would have a great spiritual and supernatural effect.
That is why it is highly encouraged that we develop this devotion to him. He is a good teacher in the art of prayer, in having an intimate relation with Christ and Mary which is so crucial if we want our spiritual life to really grow, mature and be fruitful.
Let us approximate the sense of proximity and intimacy that St. Joseph enjoyed in his life with Jesus and Mary. Such sense of proximity and intimacy would truly help us to live presence of God all throughout the day, and to maintain a spiritual and supernatural bearing while being immersed in our daily temporal affairs. It would turn us into real contemplative souls in the middle of the world.
It would make everything in our life, including the many trials, difficulties and the many uncertainties, most meaningful. It would make us realize that everything in our life, whether good or bad according to human standards, is and should be an occasion to be sanctified by offering it to God, and to be sanctified by it as well.
St. Joseph's life and example would help us never to forget what is truly essential in our life.
Email: roycimagala@gmail.com