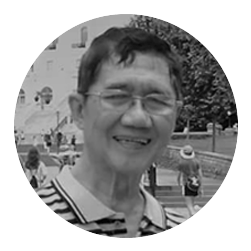 By Herbert Vego
EVERYWHERE Vice-President Leni Robredo goes, the color pink dominates the scenery — what with mostly pink-clad men and women welcoming and shouting "Leni! Leni!" on the streets while forming the "L" sign with their fingers, and confetti of shredded pink paper flying down from homes and commercial buildings.
The pink fever has seethed abroad, as in New York City with no less than millionaire businesswoman Loida Nicolas Lewis leading the caravan of Filipino immigrants and workers.
Are those not clear indications of bandwagon support for VP Leni's presidential bid?
In contrast, Davao City Mayor Sara Duterte-Carpio was reported as having asked her supporters to forego their caravans urging her to run for president because their efforts would be better spent "to buy food to feed the hungry and the poor and to conduct other activities that benefit those who have less in life and the underprivileged."
Is that so? Or is it because she would not draw as much crowd as VP Leni?
Sara's unexpected statement came after her supporters had finalized plans for a "Sara All Philippines 2022" caravan to roll down the streets nationwide from November 4 to 15, 2021 in a last-ditch attempt to make her run for President.
Sara had filed her certificate of candidacy for re-election as mayor but could still substitute for presidential candidate Sen. Ronald "Bato" dela Rosa.
Nobody takes Bato and his vice-presidential running mate, Sen, Christopher "Bong" Go, seriously. The people perceive them as "clowns" waiting to be substituted on or before the substitution deadline on Nov. 15.
Thus, it's still possible for the presidential daughter to vie for the presidency with former senator Ferdinand "Bongbong" Marcos for the vice-presidency, or vice-versa.
But why, oh why does Madam Duterte-Carpio vacillate when surveys dating back to February 2021 have always placed her "No. 1" among possible presidential timbers? In those surveys, Robredo did not even merit 5th place.
Hmm, were those unbelievable surveys meant to discourage VP Leni from running for higher office?
Thank God she refused to swallow them hook, line and sinker.
In hindsight, VP Leni must have heard of unpublished surveys showing contrary results.
In a recent commentary on radio (DWBL-Manila), simulcast on FB-Live and YouTube, "Lapid Fire" host Percy Lapid expressed surprise why the familiar pollsters – no doubt referring to SWS, Pulse Asia and Octa Research – have gone mute.
The answer could only be because their fakery would be submerged by overwhelming "pink" rallies for Robredo.
Would Sara slide down to be the mere "vice" of Bongbong Marcos, whom a survey of the Manila Bulletin has pronounced "leading"? In that online survey allegedly conducted on October 1 to 15, Marcos emerged on top, beating fellow aspirants Manila Mayor Francisco "Isko Moreno" Domagoso and Vice President Maria Leonor "Leni" Robredo, in that order.
Consistency of "people power" for Leni, however, is now emerging as the "antidote" against fake surveys and against the likelihood of Smartmatic's vote-counting machine processing "garbage in, garbage out".
The surge in Robredo's popularity springs from widespread belief that the other presidential contenders could still be collaborators of the Duterte administration; and that only she represents the true opposition who would restore democracy, sanity and honesty in government.
-oOo-
MORE ON ELECTRICAL PANELS
ONE of the safety precautions posted on MORE Power's Facebook page says, "Always have a clear access to your electrical panel in case of emergency."
For the enlightenment of homeowners unaware of what it's all about, an electrical panel (a.k.a. breaker panel) is a metal box with a door, usually built into a wall in a corner of your home. Inside are the home's breaker switches with the labels "on" and "off".
Electrical panels house individual circuit breakers that correspond to different areas of wiring around the house. There could be a unique circuit breaker for your laundry room, another for the kitchen and main living area.
An electrical service panel is the link between the external wires coming from the street and the internal electrical wires of the home's electrical system. It is the central distribution point that connects the service wire to the exit wires.
Let a professional electrician inspect the electrical panel/circuit breaker box to ensure that the breakers keep the home safe.
Loose connections, heating within the panel or signs of aging can lead to a possible electrical fire.