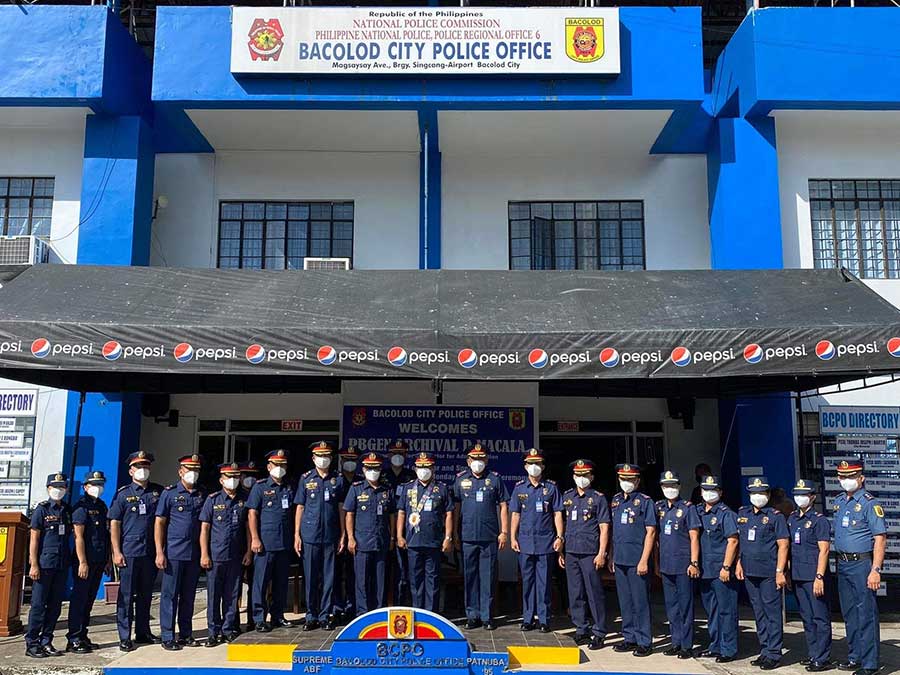 By Glazyl Y. Masculino
BACOLOD City – Ten officers of the Bacolod City Police Office (BCPO) were commended for their exemplary performance of duties and responsibilities during the May 9, 2022 elections here.
The following officers received the Medalya ng Kagalingan for effectively, efficiently, and responsibly performing their respective tasks which resulted in the peaceful and orderly conduct of the national and local elections:
-Police Lieutenant Colonel Noel Polines, chief of City Police Strategy Management Unit;
-Police Lieutenant Lester Leada, chief of Operations Management Unit;
-Police Lieutenant Colonel Ariel Pico, commander of City Mobile Force Company;
-Police Lieutenant Edel Jose Manzano, chief of Mobile Patrol Unit; and
-Police Lieutenant Joven Mogato, head of City Drug Enforcement Unit.
Also awarded were Police Executive Master Sergeant Santiago Gaitan, Police Executive Master Sergeant Jacob Montoya, Police Executive Master Sergeant Dante Eslit, Police Executive Master Sergeant Yasmin Mana-ay, Police Senior Master Sergeant Robert Dumate, and Jose Marie Garcia, a non-uniformed personnel.
The awarding was held during the flag-raising ceremony at the BCPO headquarters yesterday led by Police Brigadier General Archival Macala, deputy regional director for administration of Police Regional Office (PRO)-6.
The Philippine National Police (PNP) Retirement and Benefits Administration Service also gave a special recognition to the BCPO for earning the distinction of the first city police office to complete the accounting of PNP and National Police Commission (Napolcom) pensioners for the first quarter of 2022.
In his message, Macala lauded the men and women of the BCPO under the leadership of Police Colonel Thomas Joseph Martir, city director.
Macala reminded the personnel to always bring honor to their uniform by performing well, and love their job as police officers.
In response, Martir was delighted for the said recognition. He said the recognition motivates the personnel to excel more not only for themselves but for the entire PNP organization.