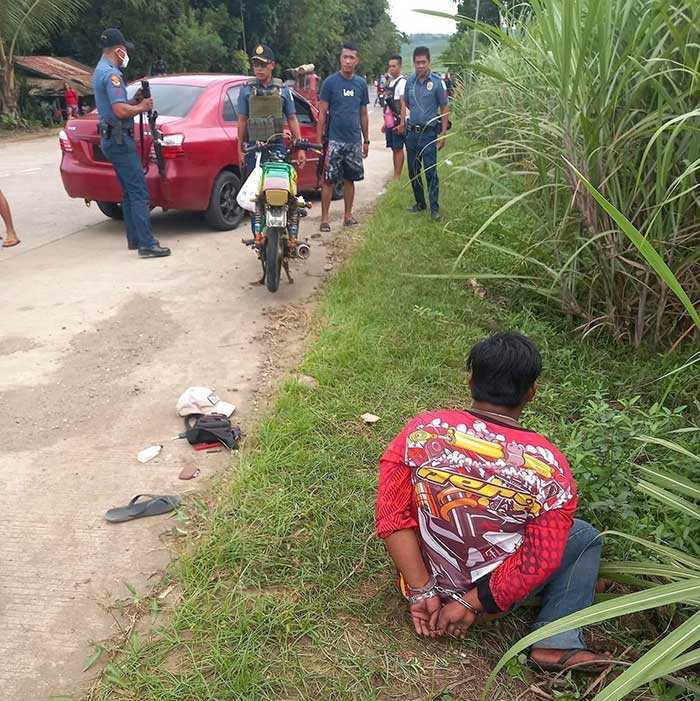 By Glazyl Y. Masculino
BACOLOD City – A male teenager was arrested while four others escaped from the police after they allegedly shot a Ceres Liner bus in Escalante City, Negros Occidental last Saturday.
Arrested was Joefel Sante, 19, of Barangay Balintawak.
Police Major Jake Barila, city police chief, said Sante and four others rode three separate motorcycles to allegedly chase the bus, which failed to stop when they flagged it down.
Barila said the bus driver did not stop as he got scared when he saw them allegedly armed with pipes.
But the motorcycle riders probably got dismayed, prompting them to chase the bus and allegedly shot the vehicle.
Barila said a bus conductor then called for assistance from the 3rd Maneuver Platoon of the 1st Negros Occidental Provincial Mobile Force Company (Nocpmfc) and the latter also informed the Escalante City Police Station about the report.
Police responded until a brief chased occurred.
Sante was cornered in Barangay Mabini, after his driven motorcycle malfunctioned, while his companions managed to escape.
"Kadasig abi sa ila kay nakamotor," Barila said.
Police recovered from Sante a caliber .357 magnum revolver loaded with four live ammunition and a fired cartridge case.
Barila said that according to Sante, he did not know the four other motorcycle riders who chased the bus.
"Nag upod lang siya kuno lagas sang nakita niya sila nga galagas sa bus, pero indi niya to kilala kuno, daw tripping lang ni ya," Barila said.
Barila said that Sante will be charged for illegal possession of firearm and ammunition.
As for the other charges, Barila said it is up to the Vallacar Transit Inc.
Barila said they are waiting for the dashcam footage of the bus for them to review it for the possible identification of the other suspects.
Barila also said they will check the background of Sante. No injuries were reported in the incident.