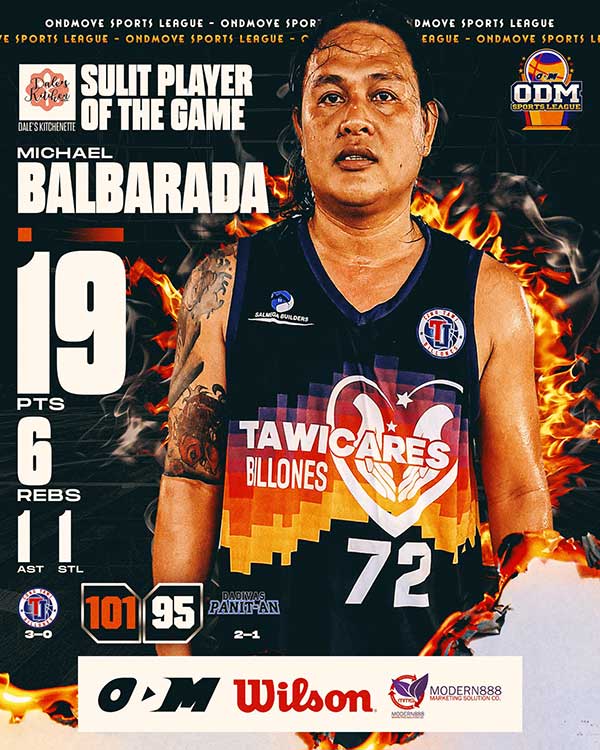 By Leobert Julian A. de la Peña
Team Tawi Cares made sure their unbeaten record will not be tainted after surviving the Panit-an Dadivas squad, 101-95, in the 2022 On D' Move (ODM) Sports League Invitational Cup.
Composed by the top veteran players of Roxas, Capiz, the stacked Tawi team again used their experience to figure out Panit-an in a back-and-forth offensive affair.
Tawi established an early double-digit lead in the game and carried it over until the 3:35 mark of the fourth quarter, 95-84.
However, Panit-an's relentless attack to the basket flipped the switch and helped them get into the ball game for the last three minutes.
Panit'an's dynamic duo of Reglyn Paclibar and Janwell Famaranco did their best to keep them within striking distance but Tawi's poise under pressure was once again on full display.
Big man superstar Michael Balbarada dominated the shaded area for the second-straight game, finishing with 19 big points, six rebounds, one assist, and one steal.
Refusing to fold under pressure, the seasoned Balbarada scored crucial baskets down the stretch and sank his signature fade-away mid-range shots at will that answered every Panit-an basket.
The clash between Tawi and Panit-an will be the last game of the ODM Invitational Cup this month after Capiz was elevated to COVID-19 Alert Level 3.
Contact sports are strictly prohibited under the alert level with the threat of the Omicron variant already present in the country.
ODM Sportswear owner and league commissioner Jeremiah Obera also confirmed to the Daily Guardian that the games will resume when Capiz reverts to Alert Level 2 where contact sports will be allowed given a 70 % maximum crowd capacity in outdoor venues and 50 % indoor.