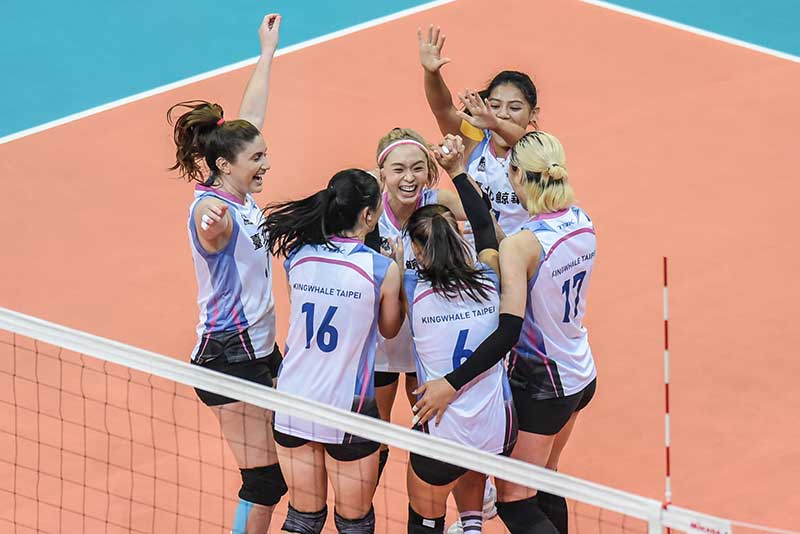 By Leobert Julian A. de la Peña
The foreign visiting squad KingWhale Taipei rose to a perfect 2-0 record in the ongoing Premier Volleyball League (PVL) Invitational Conference semifinals after shocking the PLDT High-Speed Hitters in five grueling sets, 23-25, 25-20, 25-23, 20-25, 15-13.
It was an intense showdown between two superstar setters as Taipei's Liao Yi-Jen outdueled PLDT's veteran orchestrator Rhea Dimaculangan.
Yi-Jen finished the nip-and-tuck affair with 36 excellent sets while Dimaculangan dished out 32 excellent sets in a losing effort.
The High-Speed Hitters struck first during the matchup and got a much-needed lift from the middle-blocking duo of Dell Palomata and Mika Reyes.
Palomata and Reyes overwhelmed the KingWhale team with their on-point middle-blocking while at the same time shouldering a portion of PLDT's offense.
Taipei stormed back in the second period after their opposite hitters started to get past PLDT's towering blockers and played an efficient approach to put themselves back in the game.
The High-Speed Hitters had one last chance after Taipei clinched the third set and didn't falter in the crucial stretch of the fourth set led by Kath Arado's tremendous floor defense.
Arado was solid defending PLDT's area and finished with a jaw-dropping stat-line of 27 excellent digs and 24 excellent receptions.
PLDT had the chance to rust Taipei's PVL record after taking an early 12-8 lead in the fifth and deciding set but KingWhale countered with a blitzing 6-0 run that put them ahead, 12-14.
Chen Li-Jun then capped off KingWhale's clutch offensive run in the final minutes of the last set with a spike and left PLDT scoreless in multiple possessions.
KingWhale will then have a one-day rest before taking on the defending champion Creamline Cool Smashers tomorrow at 4:00 PM.