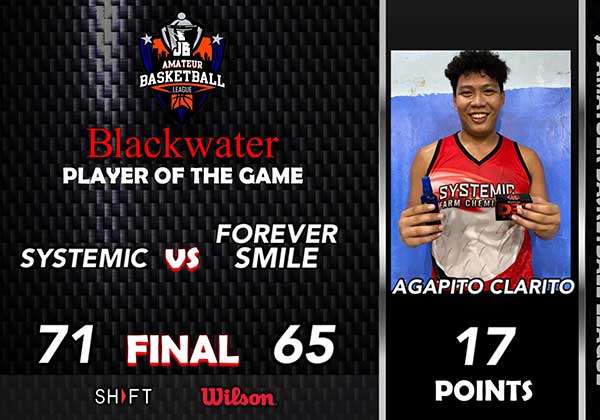 By Leobert Julian A. de la Peña
The Systemic Farm Chemicals and the TEJ-RC Stoneford teams grabbed wins in their respective last elimination games during another JB Amateur Basketball League (JB ABL) Season II game day.
In the first game, team Systemic pulled off a late fourth-quarter rally to walk away with a win against team Forever Smile, 71-65.
Systemic never took the lead in the first three quarters but suddenly came alive in the most crucial stretch of the final canto by making better decisions on the offensive end and defending in the interior.
Forever Smile was in control in the first 30 minutes of the ball game as Demy Gelvezon and the rest of the frontcourt dominated early on with Systemic's Agapito Clarito arriving late in the second quarter for the showdown.
However, since Clarito's arrival, team Systemic went straight to him for offense and eluded Forever Smile's veteran big men on his way for another player of the game award with 17 huge points.
Meanwhile, in the second game, the young and roaring TEJ-RC team handed ODM Sportswear another loss, 95-83.
Kimrey Servano led the TEJ attack and poured in 23 points while also taking home the best player of the game award.
ODM tried to make a run of their own late in the third quarter courtesy of hot hands from Miguel Sasuman, Inno Miclat, and Peter Oñate but another TEJ run in the fourth ballooned the lead again to 15.
JB ABL commissioner Jayphet Balbacal then confirmed that one more elimination game will conclude the regular season before the official playoffs will begin.