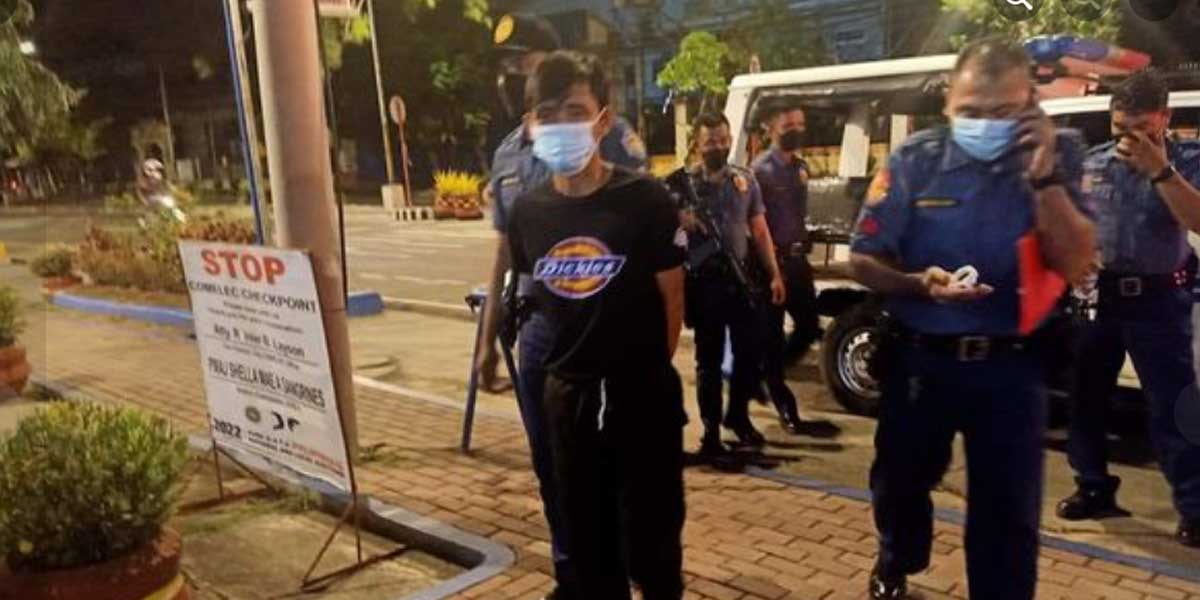 By Jennifer P. Rendon 
Bad luck in gambling may have forced Joed Aguirre to hatch a plan on how to recoup his losses.
And it turned that Aguirre's plan was to rob any establishment that he could get into, according to police reports.
The 33-year-old Aguirre, a resident of Barangay Kasing-Kasing, Molo, Iloilo City, was arrested for allegedly robbing Thai Royal Spa at the Casa Plaza building in Gen. Luna St., City Proper district.
Erbi Feramco, the spa owner, discovered the robbery 7 a.m. Sunday, March 6, as he stopped by the center to get some documents for his travel to Guimaras province.
Feramco claimed to have lost P115,000, an office phone worth P3,000, and their customer's watch and bracelet on their "lost and found" section.
The intruder also took away the Digital Video Recording (DVR) of the spa's security cameras.
Initially, police investigators believed that there could be more than one suspect.
Major Shella Mae Sangrines, Iloilo City Police Station 1 chief, said the robber detached the spa's exhaust fan to gain entry into the shop.
Sangrines noted that the exhaust hole is very small and only a person who is slightly-built or a kid could fit into it.
But as it turned out, Aguirre did it by his lonesome.
CCTV AID 
With no CCTV recording at the spa, police investigators initially hoped that the CCTV cameras of Bagangay Danao which directly faced the area captured the suspect.
But officials claimed that their CCTV cameras were out of order.
Luckily, the CCTV cameras of the nearby Pres. Roxas village captured a slim-built person wearing a t-shirt and a pair of shirts and carrying a plastic bag where the loot may have been placed.
Sangrines' team waited until Sunday afternoon for the footages to be extracted.
"We could only take a glimpse of his shadow. He apparently knew what to do to avoid being directly captured by the CCTV cameras," she said,
From there, the police had to track the suspect as he fled on foot.
He walked casually and even tried to mislead operatives by going to Lapuz area.
When he noticed that the area was dimly lit, he went back to La Paz and got out near a mall.
It was at that area where a CCTV managed to get a clear view of his clothes and a glimpse of his face.
He was later tracked to have returned to a wake at Barangay Kasing-Kasing.
Witnesses claimed the suspect's clothes had cobwebs and he already had money to gamble again. This time around, he won.
But Aguirre's triumph didn't last long.
At around 1 a.m. of March 7, or about 24 hours since he entered Thai Royale Spa, members of ICPS1 and the Iloilo City Police Office (ICPO) Intelligence Section arrested the suspect as he was entering his house at Barangay Tanza Timawa, City Proper.
He was wearing the fitness watch and bracelet that were taken from the spa center.
The clothes he used were also found hanging inside the house.
But only P8,000 cash was recovered from his possession.
It didn't take long for the suspect to admit that he robbed the establishment.
He initially claimed to have only taken P20,000.
Aguirre later admitted that he sent P30,000 via GCash to an undisclosed recipient while he again lost more money in online sabong or cockfight.
He also claimed that he threw the DVR in the river.
Aguirre admitted that he was charged for theft before.
Police operatives claimed that he was also involved in theft and robbery incidents in San Miguel, Iloilo.
He was also tagged in the robbery of a school campus several years ago.
As this developed, an inquest case for robbery was filed against Aguirre on Monday.