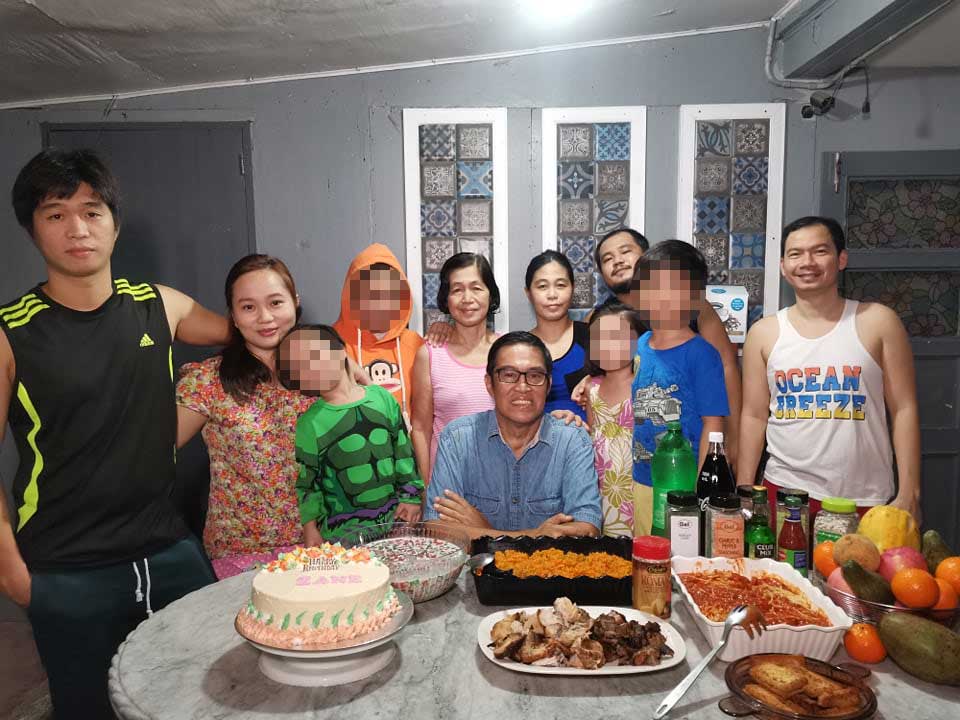 By Joseph B.A. Marzan
Ilonggo filmmaker Ronny Poblacion and his family held a small celebration at their home on August 1, 2021, to celebrate not only a family member's birthday, but also for a reason which has become common during these times.
Poblacion was the last of the 11 people in their home in Janiuay, Iloilo to recover from the coronavirus disease 2019 (COVID-19).
He shared that he was in the process of uploading a short film he helped produced for the 75th anniversary of the West Visayas State University-Janiuay Campus when he had colds and runny nose.
At around the same time, his mother and his wife, who stayed in their ancestral home, were also feeling faint.
All of them in the house, except two 3-year-old grandchildren, were tested for COVID-19 on July 14. The following day, they learned that nine of them contracted the virus.
They presumed that the two grandchildren were also positive and treated them to be infected despite the lack of testing.
Poblacion's 32-year-old niece, who lived in their house with her daughter, had been recommended for dialysis last year and was also confirmed for COVID-19. She later died.
His niece's daughter survived COVID-19 and is now in their care.
Poblacion told Daily Guardian that they were shocked by their status as they had all done their best to stay safe at home amid the pandemic.
He was providing technical assistance for creative works while at home when possible, and even received his first dose of the COVID-19 vaccine in June 2021.
His daughter, who was working at a call center in Iloilo City, did not go home and his son stopped reporting to his work at a mall in the city as a precaution against the virus.
"We didn't expect this because I was one of the advocates promoting information, making videos on what to do during the pandemic, on how to deal with this crisis which has made our lives very hard. We are experiencing trying times," Pobalcion said.
He was the only one in his family who had the worst symptoms, including bilateral pneumonia, which made him sleep alone in his room for two weeks and ate separately from the rest of the family. He also lost weight at that time.
His wife and his mother were still able to do household chores while his son was also able to work from home, all with mild symptoms.
All of them did lose their senses of smell and taste like almost all COVID patients, but they were able to regain these within 1 to 2 days.
They all opted to remain under home quarantine, and while he himself was taken to the district hospital, he later opted to stay at home.
Poblacion said that he preferred staying at home because he may have "gone paranoid" if he stayed at the hospital.
"I just went under home quarantine, which became better for me. I may have gone paranoid if I stayed in the hospital because of the mandatory medical 'rituals', but at home I can do anything I want. I can have my family around me because we were all positive," he said.
But like any other family affected by COVID-19, they also worried about their own source of income, because being positive for the disease meant that they had to disconnect from the community.
Poblacion said that as an active member of his communities, both in Janiuay and Iloilo City, he also thought about others who may be going through their COVID-19 ordeals in a worse position.
He added that the family also sought "psychological recovery" to process the loss of his niece.
"There was a lot of emptiness. We were really worried because of a possible loss of income. We have bills to pay and many other things to pay, so we became paranoid. That worsened our worries in that situation. We earned just enough, so how much more for others who did worse? My spirit was still alive at the time, not thinking only of ourselves, but also other positive patients and what we were doing to survive," he said.
What kept him alive, he said, was the support from his friends in Iloilo and beyond, citing the help he got from friends in Metro Manila and Rosales, Pangasinan where he was formally declared as an "adopted son."
The family received sacks of rice, groceries, rubbing alcohol, diapers for the toddlers, and other essential needs for their home, from friends both in the public and private sectors.
Poblacion's discovery of his bilateral pneumonia, as well as his supply of oxygen tanks and pulse oximeters, were through the advice and support of his classmates from high school who are now doctors.
The celebration they held on August 1 was also meant to show their friends that he and his family were already doing fine, and to thanks their kindness.
"What is very good with the people around me is that it really is better if you have investments in people. It really is different if you even just a bit popular and you are a developmental-type of person. It really feels good to have friends. I really saw how good people were. I could really measure how I stand in the community because of what you share to your community, which could bounce back to you," he said.
Poblacion and his family are now "back to normal" according to him, with him starting to bake and cook at home while his children have gone back to work.
His son and daughter-in-law had recently received their second dose of the COVID-19 vaccine, and he was also recently cleared to get his jab.