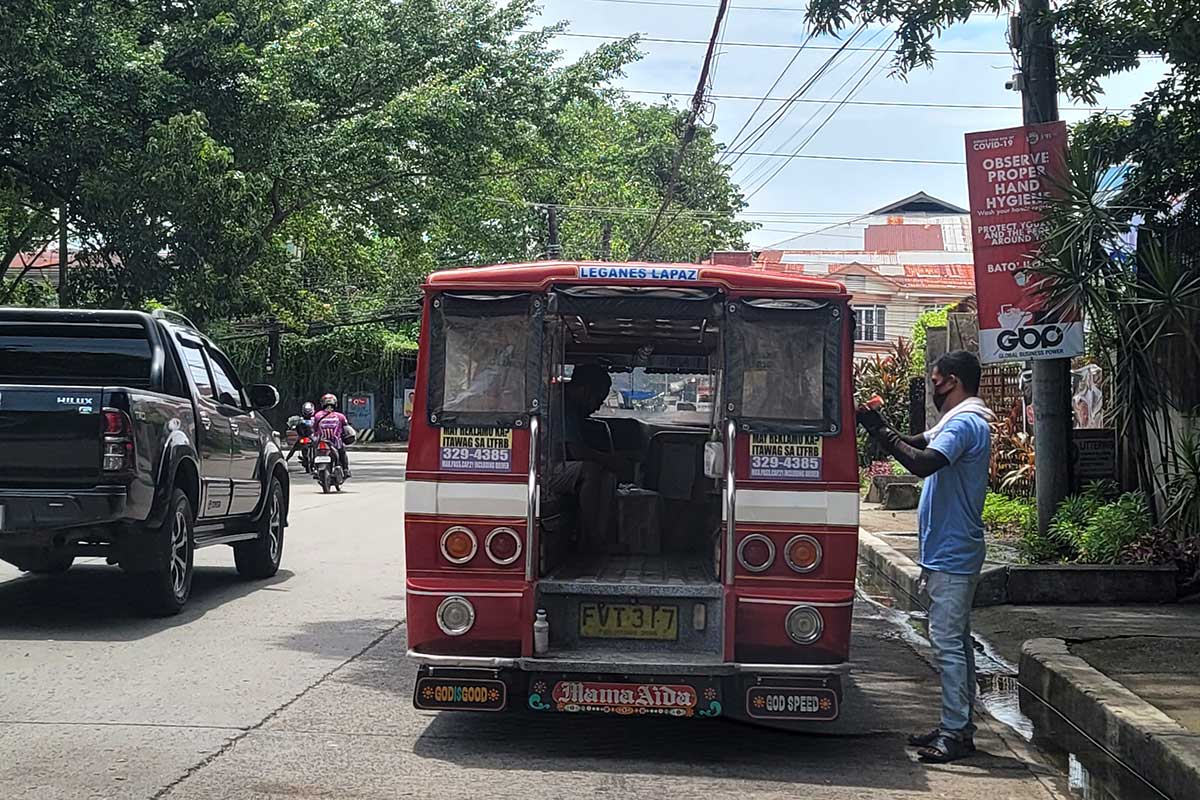 By Joseph B.A. Marzan
A leader of one of the region's leading transport groups said that they have decided not to push for a raise in jeepney fares for the time being, despite a knee-jerking oil price hike set to take effect today, August 30.
Raymundo "Boyet" Parcon, president of the Iloilo City Loop Alliance of Jeepney Operators and Drivers Association (ICLAJODA) and chairperson of the Western Visayas Transport Cooperative (WVTC) said drivers told him about "feeling trapped" by the sudden increase after a few rounds of rollbacks.
He cited the recent capability of drivers to provide for their families again after recent fare hikes to P11 enabled them to increase their earnings.
He said that they voted last week not to ask the Department of Transportation (DOTr) for a fare increase in the meantime, citing the recent return of face-to-face classes, as well as continued inflation or rise in prices of basic goods and services within and outside Iloilo City.
"We kept our [fare hike] petition as pending because we understand the people. Our relatives and friends also ride our [Public Utility Jeepneys] and when we met with our members last week, we agreed to keep it pending, because of the minimum [fare] increase as well," Parcon told Bombo Radyo Iloilo.
But Parcon warned that further rate hikes may trigger them to proceed with their petition, saying that drivers and operators may be crippled anew this year.
"If [diesel prices] reach P90, we couldn't do much but to file a petition for a fare hike. Once we raise our fares, riding commuters may go through another penitence. We will just have to see for this week, because maybe in the next week it may roll back again," he said.
Parcon said that they would meet with other transport allies this Friday to decide on their next steps amid the drastic fuel price increase.
Oil prices nationwide are seen to go up to a rate of up to P6 based on announcements by distributors.
Several reports from other media outlets cited international activities, including Russia's continued invasion of Ukraine, United States of America's cuts on petroleum exports, developments on the Iran nuclear deal, and Iraq's warnings to oil dealers on transactions with the breakaway Kurdistan region.
SCHOOL OPENING
Parcon also discussed the opening of classes last week on August 22, the first time since 2020 that students were officially welcomed back to face-to-face classes, albeit limited.
He shared that there were complaints of a lack in supply of jeepneys during the rush hours of 6:00 a.m. to 8:00 a.m., also considering the implementation of newer transport routes.
He likewise expressed worry that the eventual return of the implementation of the Local Public Transport Route Plan (LPTRP) will aggravate the shortage of jeepney units, especially for passengers coming from outside the city.
"We are preparing right now, for unconsolidated [jeepney] units, to be granted extensions [on special permits]. We will be using them as augmentation for several routes in the event that we will be lacking units to ply these routes," Parcon said.
But he also shared optimism that the current situation amid the physical return of learners to the schools would alleviate in the coming weeks ahead if the Land Transportation Franchising and Regulatory Board (LTFRB-6) would grant the extensions of the special permits.