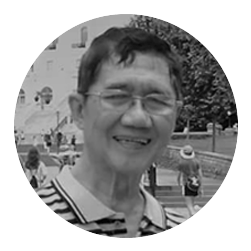 By Herbert Vego
IN February this year, I questioned the proclivity of the Department of Health (DOH) to rattle off daily cases of Covid-19 infections and deaths. It was not a healthy way, I opined, of appeasing the public that had already been groaning over the alarming and depressing statistics.
Couldn't the government have done better by appeasing us with true tales on how the majority of Covid patients have recovered?
The answer to that question became very urgent to me when, on March 27 this year, I tested Covid-positive and entered a private hospital.
There was no state-approved medicine for Covid, my doctor said, and so I, 71, had to "gamble" on whatever he would prescribe. I agreed, but not after signing a waiver absolving him and the hospital of damages in case treatment would go awry.
On the 10th day, I had a second RT-PCR test which fortunately turned out Covid-negative.
On the 12th day, I moved out of the hospital alive and kicking.
When I returned to one of my three attending physicians for check-up, she congratulated me for my "strong immune system" that she thought was my best survival weapon.
The medicines I had taken must have contributed to my fast healing, but I always attribute my survival to my habit to heeding advisories from health-oriented TV shows and YouTube videos.
Two Filipino celebrities impress me for looking younger than their age: health buff Cory Quirino, granddaughter of the late President Elpidio Quirino; and Alice Dixson, Miss Philippines-International 1986, commercial model and movie actress. Both beautiful, they look much younger than their ages of 69 and 52, respectively.
I remember having seen Cory Quirino on TV show, recommending fresh fruits and raw vegetables for breakfast.
Is it possible to eat healthier by feasting on fresh fruits and vegetables?
I "googled" the Internet for an answer.
"Yes," according to renowned American physician Dr. David Rollo, whose  study was published in the journal Experimental Biology and Medicine.
Rollo is at work on an age-defying "cocktail" of vitamins, herbs, and nutrients that may prolong healthy living.
He has tested his formula on lab mice. They aged 50 percent slower than the mice not taking the formula.
Dr. Rollo is not focusing on a longer life span though. He's interested in living a stronger, "younger" life in old age, arguing that no one wants to live a longer life in a nursing home. But that requires good physical and mental health.
"Declining physical activity is one of the biggest signs of aging," says Dr. Rollo.
His findings showed that the mice which had taken his cocktail stayed active for twice as long as those who didn't.
His formula consists of a blend of nutritious fruits and vegetables that interact with one another to slow down the aging process. Taken individually, says Dr. Rollo, the same ingredients have little effect.
His breakthrough comes from understanding how these nutrients work in the body's mitochondria, the "furnaces within the cells" which give the human body the energy to combat free radicals that hasten aging.
Rollo is so sure of his findings that he's testing his theory out on himself. He's in his late 60s but allegedly feels fitter and stronger than before, with fewer aches and pains.
If his concoction works in human trials, he plans to create a time-release capsule, which will release nutrients into the body at the best moment. He believes that the human body ages differently, depending on the time of day.
Dr. Rollo's work is gaining the approval of other experts in the field. One of them is Dr. Luigi Fontana, the director of the Division of Nutrition and Aging at the Italian National Institute of Health in Rome.
He has reviewed Dr. Rollo's work and is convinced that diet can promote healthier aging. While the average life expectancy for an Italian woman is about 81 years, he observes, health problems often begin at age 50 or more or less 30 years earlier.
"Thirty years," says Dr. Fontana, "is more than a third of life spent in pain."
He's convinced that correct diet keeps diseases away by boosting the immune system.
The Internet entry does not reveal the specific vegetables and fruits blended in Dr. Rollo's formula. But he reveals that his still experimental time-release capsule mixes B vitamins 1, 3, 6, and 12 with vitamins C, D, and E, plus magnesium, selenium, potassium, manganese, cod liver oil, flax seed oil, ginkgo biloba, ginseng, green tea extract, ginger root extract and garlic.
We don't have to wait for the commercialized version of Dr. Rollo's formula. In my case, I drink various mixed fruit shakes and eat fresh vegetables daily.
—0—
'DEATH BE NOT PROUD'
"DEATH be not Proud," says an immortal poem of the same title. Author  John Donne postulates that death is but a pathway to eternal life, and as such is not something "mighty and dreadful".
While we agree with the 17th-century English poet, it is always "shocking" to hear of the passing of a celebrity, relatives or ordinary people close to us.
The recent death of billionaire Ilonggo businessman/philanthropist Rommel S. Ynion, for instance, evokes a feeling of disbelief. Young and robust at 52, how could he have gone away too soon?
Every Ilonggo remembers him for the two attempts he had failed to bag a place in Iloilo City's politics – first in 2013 when he ran for mayor against re-electionist Jed Mabilog and in 2016, for councilor.
Thereafter he went into a very successful vegetable farming in Tagaytay City.
He had only just begun a singing career when he suddenly passed away last Friday (Sept. 3) while on a "retreat" in a secluded hideaway.
He was still mourning the death of his own father, retired seaman Eugenio Ynion, due to Covid barely two weeks earlier (Aug. 21) when called by his Creator.
It was ironic because Rommel had been fully vaccinated against
Covid, thus arousing suspicion of its inefficacy.
In the messages he had posted on Facebook, however, there seemed to be some premonitions preceding his departure to the afterlife. On August 26, he posted on Facebook an open letter to his son Kyle and daughter Kirsten (both still teenagers), reminding them that his latest recorded song "My Legacy" was dedicated to them.
"Someday when I am gone," he wrote, "I hope this song will remind you of the man who left nothing for himself in giving his all for you."
A portion of the song says, "You, you are the reason I breathe. You are the life inside of me. All that I am, all I hope to be is for you".
To his wife Kathleen and the children, condolences.
—0—
SHE COULD HAVE HIT A CENTURY
WE had hoped and prayed for her to reach the unusual age of 100, Very few have gained that "centenarian" prestige.
But God chose to call home Nanay Marcela — mother of fellow media man and Tigbauan, Iloilo councilor Neri Camiña – at the age of 97, or only three years short of goal.
She was a happy woman who always made it a point to listen to our program "Tribuna sang Banwa" on Aksyon Radyo every Sunday, 12:15 to 1:15 p.m.
"Whenever I greeted her on the air," Neri recalled, "she would always clap  her hands."
To the Camiña family, condolences!