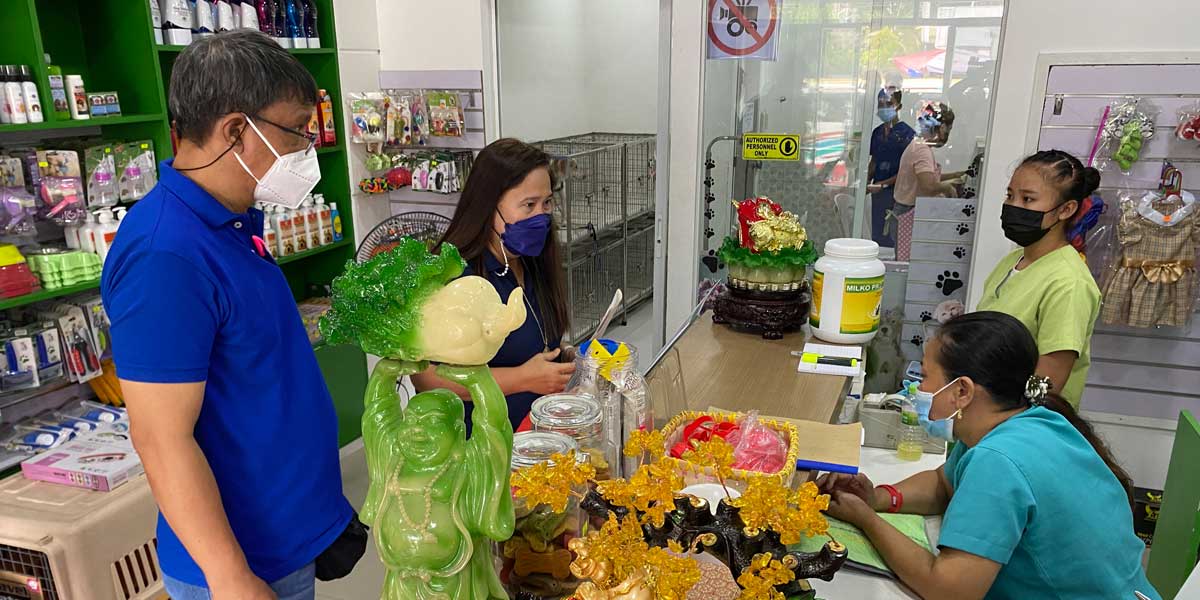 By Joseph B.A. Marzan
The Social Security System (SSS) on Friday invited businesses that were tagged as delinquent to avail of its Pandemic Relief and Restructuring Programs (PRRP).
SSS Vice President for Visayas West 2 Lilani Benedian led the agency's Run After Contribution Evaders (R.A.C.E.) campaign team in a surprise visit to several businesses which were tagged as delinquent.
The total bill of these 10 businesses was P2.6 million, which include P1.7 million in principal payments and over P900,000 in penalties.
But SSS data showed that in the areas covered by the Iloilo-Molo branch (Molo and Mandurriao districts, Aleosan, and Iloilo province's first congressional district) alone, 1,199 of the 2,212 employer accounts are considered delinquent.
Delinquent accounts include those who have deficiencies in past payments to the SSS but are actively paying their current obligations to the agency.
These listed businesses whose information was generated from the SSS's system were informed of their deficiencies and were told to settle their accounts within 15 days.
If these are not settled within 15 days, employers may face civil and criminal charges in accordance with law.
Republic Act No. 11199 (Social Security Act of 2018) penalizes this violation with a fine between ₱5,000.00 or ₱20,000.00, or imprisonment of between 6 years and 1 day and 12 years, or both at the court's discretion.
Benedian said that their campaign was meant to help employers avoid civil and criminal liabilities as well.
"If [employers] missed [their deadline], there is a criminal charge, and that is not what we want to happen. That is why we really took time to explain the order because we want it be understood by them. In case of failure for settlement, there will be legal action. It means we will send it to the prosecutor's office," Benedian said.
"We do not want them [to incur charges]. They already have the delinquency, they still have to pay the lawyer, and pay the bail which is already at P72,000 at this time. We have had employers who have come to that point. When they pay bail, their bail is at P72,000 and their delinquency is just over P100,000, their account will be at P200,000 already, and their lawyers also have high acceptance fees," she added.
Benedian also explained that settlements would refer to either proving their past payments or paying for deficiencies through installments.
"We told them that settlement is not really full payment, but [it] means that if they have proofs of payment, they can just visit the [SSS] branch and talk to the account officer. They just have to present their proof of payments and that is reconciliation," she added.
Despite the surprise element of their RACE campaign visit, Benedian said they were welcomed by the employers they visited.
"They can feel that we are really reaching out to them, even if we have sent billing letters to them which they may have ignored. Maybe because they don't know that much about of their responsibility, or maybe they forgot because of their busy schedule or the difficulty due to the pandemic, so we are happy with the reactions of the employers that we visited," she narrated.
SSS will still conduct more RACE operations per branch in the next few weeks, after finishing their runs in Roxas, Kalibo, and Antique.
The PRRP currently has 2 types: PRRP 2, which refers to the condonation of penalties for businesses with delinquencies dated from March 2020 up to the present, and PRRP 3, for those who have penalties even prior to the start of the pandemic.
The latter program will provide more leniency to delinquent businesses who wish to avail of the program, as the SSS can approve longer months for payment due to the pandemic and will no longer require the issuance of post-dated checks (PDCs) or will allow PDCs which are not named under the employer.
This is unlike in regular instances where there may be a shorter time for settlement of deficiencies and require issuance of PDCs in the employer's name.