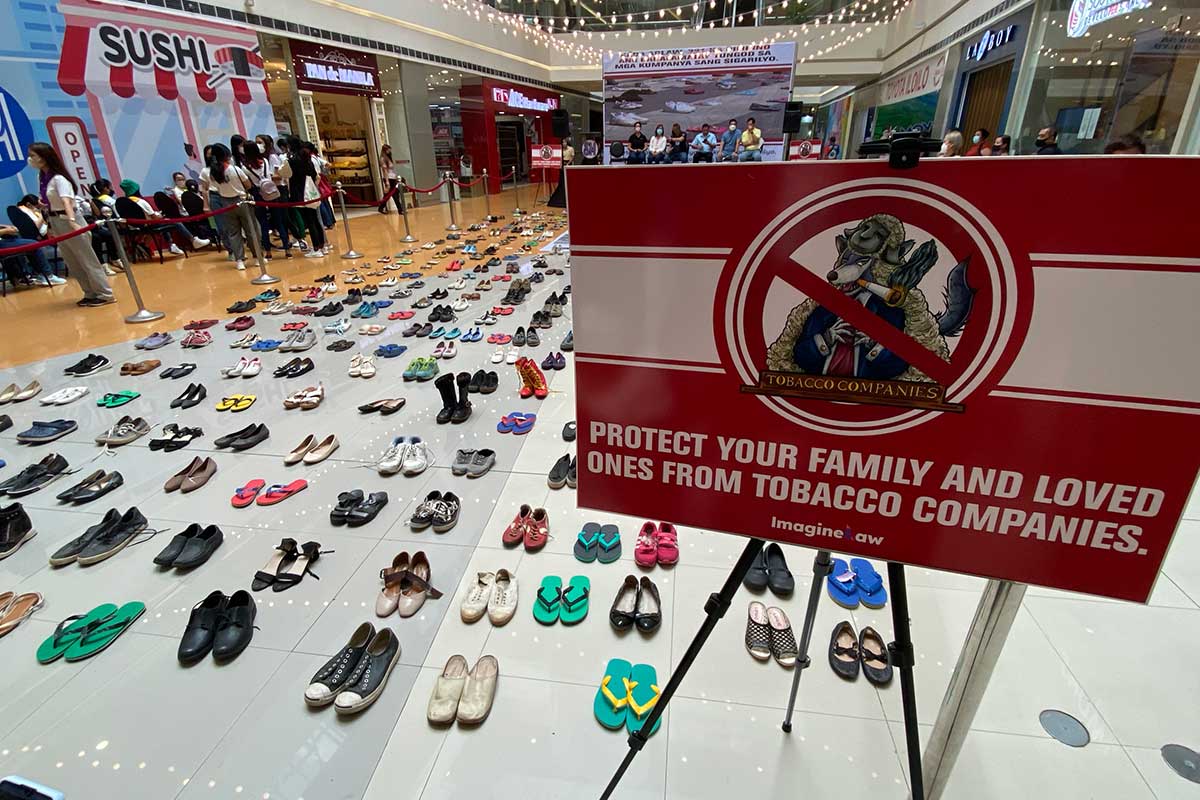 By Joseph B.A. Marzan
The Iloilo City government on Friday joined the call for stricter national regulation on cigarettes and other tobacco-based products, as well as vape and other e-cigarette products through a limited public art installation.
The 1-day art installation displayed at the SM City Iloilo featured 321 pairs of footwear of all shapes, sizes, colors, and types, to depict the 321 Filipinos who lose their lives daily to smoking-related diseases.
It was initiated by Pasig City-based non-government organization ImagineLaw, in partnership with the Iloilo City Anti-Smoking Taskforce (ICAST).
ImagineLaw Executive Director Sophia San Luis said that the art installation was initiated to enjoin the public in response to the pervasive influence of the tobacco industry on public health.
"We saw the pervasive influence of the tobacco industry in public health policymaking. In the middle of the pandemic, the tobacco industry is benefitting from laws that favor them at laws that weaken our [existing] tobacco control laws," she said.
"These 321 shoes (sic) depict the 321 people that we lose daily due to the aggressive marketing and underhanded tactics of the tobacco industry. [They] depict the loved ones that we lose, and their loved ones whom they abandon. They can no longer help their families and no longer contribute to nation-building," she added.
"At most times, we think that it is their fault [why they died]. They chose to smoke cigarettes. But if we look closer, we can see that it is the industry's fault why cigarette smoking remains prevalent and why it's hard to stop it. From the 1950s when tobacco's dangers and its links to lung cancer were seen, the industry said it was not true. […] It has been decades and they haven't stopped selling and they make it even more addicting," she stated.
She said she hopes that President Ferdinand Marcos Jr. would veto the 'Vape Bill', which would transfer the regulatory authority of vapes and e-cigarettes to the Department of Trade and Industry, from the Department of Health and its attached agency the Food and Drug Administration.
The bicameral conference for the said bill was finished this January, but its finalized version was transmitted to the Office of the President only on June 23, with then-President Rodrigo Duterte not doing any action on the bill.
ImagineLaw is one of the health advocacy groups pushing for the bill's veto, together with the Department of Health itself and Senator Pia Cayetano.
ICAST chief Iñigo Garingalao expressed his dismay that regulations on smoking and tobacco, vape, and e-cigarette-related deaths aren't as swiftly passed as compared to transport safety regulations in response to crashes.
"If a plane or a bus crashes and kills 321 persons, men, women, and children, and their mutilated and mangled bodies scatter, what do you think will be the public reaction? Surely it will be of shock, horror, and condemnation. Next, there will be cries for investigation, on who to blame, and for leaders to take action, legislate, and call for safer environment of travel," said Garingalao.
"[The stressed] attitude [of smokers], the [tobacco and other smoking-related companies] love it. They go around legislations and legislators so when [smoking deaths] happen, they wouldn't be blamed. It's usually blamed on stroke, lack of sleep, or complications, but never the cigarette or the cigarette company," he added.
Garingalao also said that this was worsened by the entry of the e-cigarettes, particularly vape.
"This is a dire state we are in. We have accepted so much of the cigarette industry's overtures and now the vape industry also entered, that we become blind to our children who are starting their own deadly journey with cigarettes and vapes," he said.
Iloilo City lone district Representative Julienne Baronda, who was also a former ICAST chairperson and likewise asthmatic, said she would commit to stronger regulations against smoking, citing her own experience with secondhand smoke.
She also called on City Councilor Alan Zaldivar, who was present during the event, to amend the anti-smoking ordinance "to adopt to changing times, especially with proliferation of products targeting young people."
Zaldivar is the former health committee chairperson in the City Council.
Iloilo City Regulation Ordinance 2014-527, otherwise known as the Iloilo City Anti-Smoking Ordinance, amended in 2017, penalizes individuals caught smoking in prohibited places with P1,000 on first offense, P1,500 on second offense, and P5,000 on third offense.
Establishments without designated smoking areas or allowing smoking on non-designated areas, on the other hand, are fined P2,000 on first offense, P3,000 second offense, and P5,000 or cancellation of their business permit on the third offense.