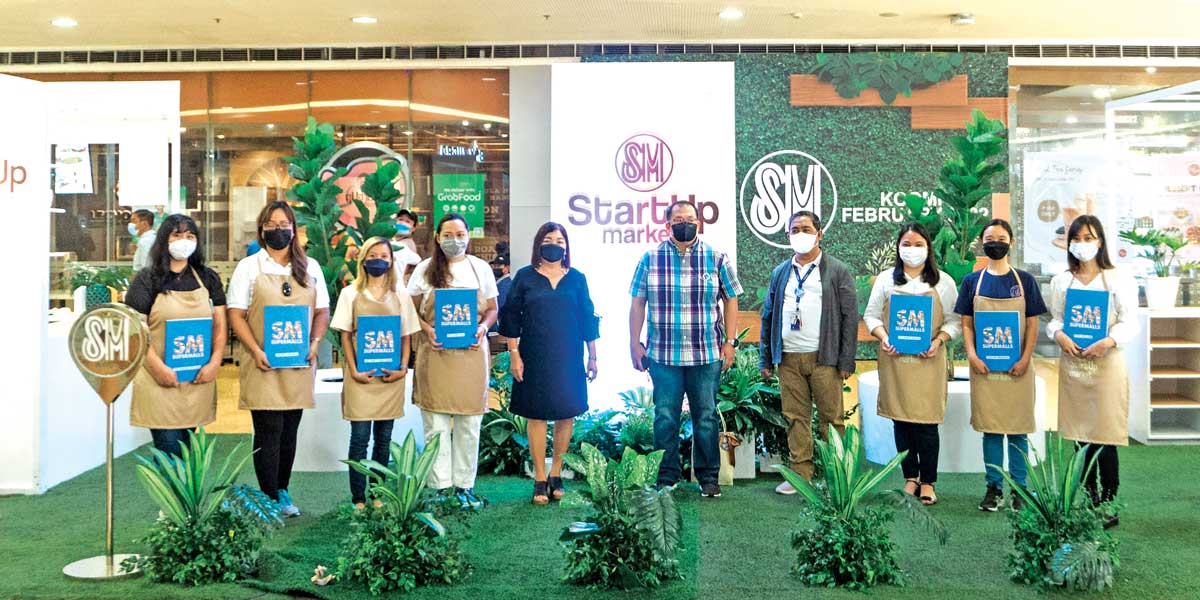 By Joseph B.A. Marzan
SM City Iloilo upped its support to local start-up businesses in the city and province of Iloilo by launching the Start-up Market on Friday, March 4, 2022.
The StartUp Market is a program of SM Supermalls, in a nationwide effort to help select Filipino micro and small entrepreneurs (MSMEs) catch their break at the biggest mall chain in the country.
Homegrown brands are now given an opportunity to step up and take advantage of booths at the SM City Iloilo, as well as free marketing and mentorship assistance to help their businesses grow.
Oils for You, Greeny Granny, J's Cookies and Pastry Shop, Pixie Hollow, The Baker's Kitchen, Aiz Craft Creations, and Saigon Brewers are the 7 homegrown brands that have been selected to be featured at the mall and sell their products at the Lower Ground Floor of the North Wing.
The opening was graced by Ruby Melliza, Department of Trade and Industry (DTI)-Region 6's OIC- Chief of the Business Development Division; and Mr. Fulbert Woo, President of the Philippine Chamber of Commerce and Industry (PCCI) Iloilo.
In his welcoming remarks, SM City Iloilo mall manager Engr. Gilbert Domingo said the project was SM Supermalls' way of giving back "to friends and family" who helped the malls' late founder Henry Sy Sr. to grow the mall chain.
Domingo mentioned SM Supermalls' StartUp package which includes a booth, kiosk, or cart either with friendly rental rates or free of charge; marketing assistants to give the brands free exposure in SM online assets, ad spaces inside malls, financial assistance by BDO, and mentorship from SM experts on operations and marketing.
This package was launched in October 2021 and offered to digital-based MSME owners who do not have stores inside their malls or any brick-and-mortar stores.
"Today, we are proud to launch 7 purveyors in SM City Iloilo. Of the StartUp Markets we're launching nationwide from Clark in Pampanga to Cagayan De Oro and Davao, we will be seeing new concepts and fresh products in our SM malls under various categories," Domingo said.
Melliza represented DTI-6 Regional Director Rebecca Rascon and read the latter's message thanking and honoring SM Supermalls' venture and support to the startup market.
"By nurturing and supporting microentrepreneurs from across the country by offering them multi-dimensional opportunities and mentoring programs to grow their businesses, they're what we need in this time of the pandemic. Through this program, we found a partner in promoting the welfare and continuous development of our MSMEs to be innovative, creative, resilient, strong, [and] assertive in these trying times," Melliza said.
Woo thanked SM City Iloilo for its long-standing partnership with the city's business sector, and sees its new venture as an avenue to recovery amid the current pandemic.
"The leadership in business and camaraderie of programs with the city, we will recover together, and we will keep moving forward with our help. Six months to go, or within one year, we can do better business in the city," said Woo.
SM Supermalls has stepped in to help budding micro microentrepreneurs by offering a space at their malls with a chance to take their venture to a mainstream market, to nurture and support small businesses and mentor these owners in their expansions.