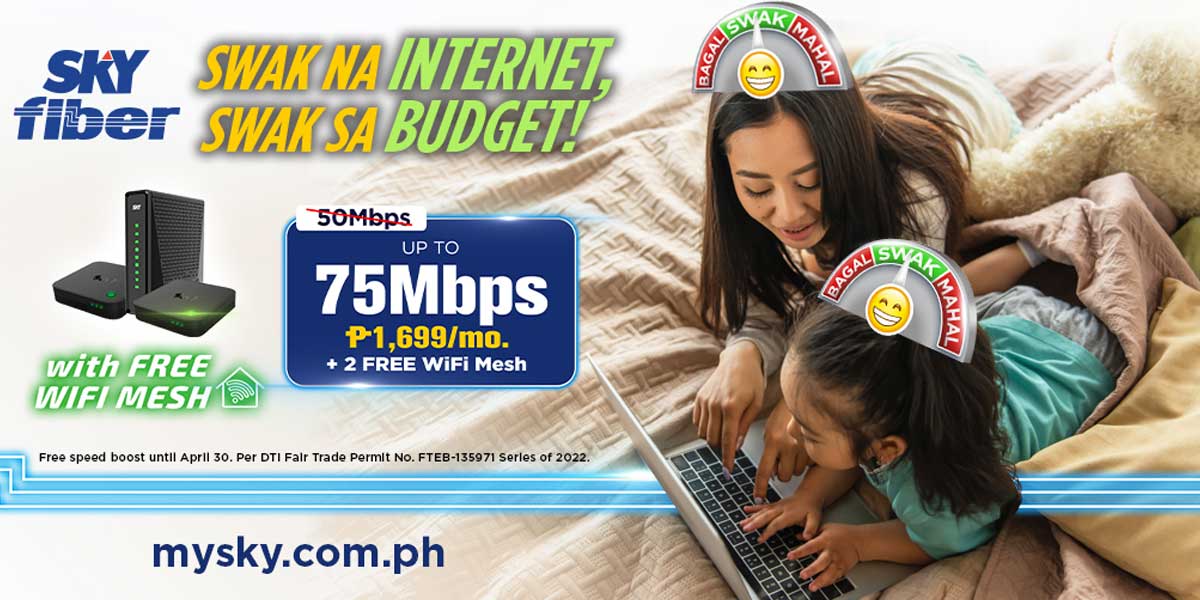 Broadband internet service provider SKY Fiber is offering cost-effective internet connectivity for homes with the launch of its new Super Speed Plans that address the need for fast and reliable internet speeds at affordable prices for Filipino households.
"While the proliferation of broadband options is beneficial for consumers, choosing the right plan for their daily needs is proving to be a challenge. And, more often than not, there would be a trade-off in terms of price, speed, reliability, or overall service," James Dumlao, SKY's head of Consumer Product, Programming, and Airtime Group, explained during the media conference.
Alan Supnet, SKY's head of Consumer Broadband, elaborated on the difficulty of subscribers in choosing the right plan, citing the issue of balancing speed and price. Budget-conscious consumers tend to settle for low-cost plans with an unreliable connection, while those concerned about a poor internet connection go for mega high-speed plans but end up paying exorbitant fees.
SKY Fiber aims to resolve this problem by offering the fast speed options enough for internet activities bundled with the WiFi Mesh device to improve the internet signal distribution in the home. Given this, subscribers will not need to choose between expensive high-speed plans and unreliable low-cost plans as SKY Fiber Super Speed Plans can satisfy their internet needs.
"No other brands in the market bundle WiFi Mesh units at no extra monthly fees. So that's another 'swak' feature of our revitalized Super Speed Plans," Supnet said.
Additionally, the internet service provider strengthened the cost-efficiency of subscribing to SKY Fiber by offering waived installation fees and a free speed boost promo until April 30. The free speed boost providing as much as 50% additional internet speed is available for select plans.
For P1,699 per month, subscribers can already get the Plan 50Mbps which has boosted speeds of up to 75Mbps until the end of April and two free WiFi Mesh devices to ensure seamless connection throughout the whole household.
There are also unlimited broadband plans with higher speeds such as the Plan 100Mbps (P2,299/month), Plan 150Mbps (P2,799/month), and Plan 200Mbps (P3,499/month). Basic plans of up to 20Mbps (P999/month) and 30 Mbps (P1,299/month) as well as cable TV bundled plans with speeds of up to 40Mbps (P1,699/month), 80Mbps (P2,499/month), and 150Mbps (P2,999/month) are available. All come with free WiFi Mesh, but the number of units is dependent on the plan.
SKY Fiber is available for residents in Metro Manila, Bulacan, Rizal, Cavite, Laguna, Batangas, Baguio, Cebu, Dumaguete, Bacolod, Iloilo, Davao, GenSan, and Zamboanga.
More information about SKY Fiber plans is available at www.mysky.com.ph/skyfiber.