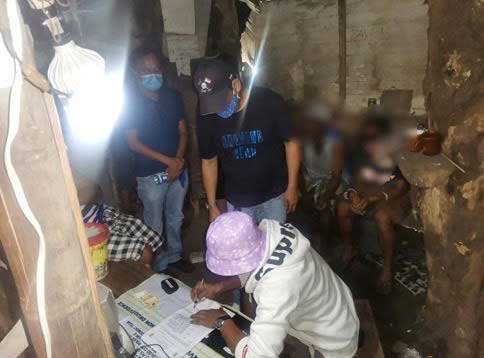 By Glazyl Y. Masculino
BACOLOD City – Six persons were arrested in two buy-bust operations here over the weekend that led to the confiscation of P150,000 worth of suspected shabu.
On April 2, Ronilo Villaflor, 51, of Barangay Mandalagan here; Jovannie Bacalanco, 52, of Talisay City, Negros Occidental; Joel Baron, 48, of Barangay Mansilingan here; and Peter Jamaybay, 34, of Silay City, Negros Occidental were arrested in Barangay Mandalagan here.
Police recovered from them nine sachets of suspected shabu weighing 12 grams worth P82,000, drug paraphernalia, weighing scale, and the P300 marked money.
Police said that Villaflor will be charged for sale and illegal possession of dangerous drugs, while Bacalanco and Baron will be charged for illegal possession of dangerous drugs, and Jamaybay will be facing illegal possession of drug paraphernalia.
The operation was conducted by Police Station 5, along with the City Drug Enforcement Unit (CDEU).
The following day, two persons were also arrested in Barangay Tangub here, with the seizure of 10 grams of suspected shabu worth P68,000.
Personnel of Police Station 8 busted Garry Sanoy, 27, and Jinggoy Cataluña, 23, both residents of the said village.
Sanoy and Cataluña were arrested after allegedly conspiring with each other in selling a sachet of suspected shabu to a police agent for P500, according to the police.
Major Joery Puerto, head of Police Station 8, said that Sanoy and Cataluña were listed under the station's drugs watchlist and were allegedly engaging in the illegal drug trade in the village and neighboring barangays.
Puerto said they were placed under surveillance for a couple of months before launching the operation.
All six of them have yet to be reached for comment.
Meanwhile, Brigadier General Flynn Dongbo, director of Police Regional Office – 6 (PRO-6) lauded the operatives for the successful operations.