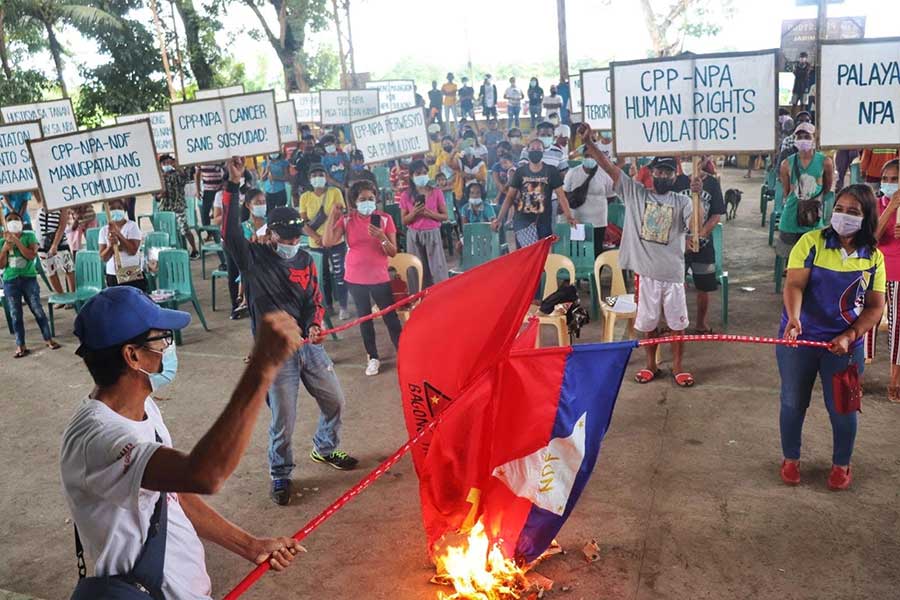 By Glazyl Y. Masculino
BACOLOD City – Some residents in Silay City, Negros Occidental denounced the Communist Party of the Philippines – New People's Army (CPP-NPA) over the weekend.
About 250 individuals, mostly members of Hacienda Culahao C Farm Workers Association (HACUFWA) and Hacienda Nenita Farm Workers Association (HANFAWA) gathered at the covered court of Barangay E. Lopez last Saturday to stage a rally against the NPA.
The activity commenced with an information drive aimed to give awareness to the residents regarding insurgency, and to address the issues and concerns of the residents.
Most of the participants were hacienda farm workers who took their oath of allegiance officiated by Barangay Captain Meriam Gallego.
This was followed by the burning of the CPP-NPA flag to show their withdrawal of support to the rebel group. They also hoisted banners and placards calling for an end to the "terrorist" activities, extortion, harassments, and deception to civilians, as well as recruitment of minors by the NPA.
A former rebel also shared his "worst and miserable" experiences when he was still in the armed group and how his life changed after he surrendered.
The activity was initiated through the joint efforts of the local government unit, police, and the Army.
Lieutenant Colonel J-jay Javines, commander of 79th Infantry Battalion (IB) lauded the efforts of the community in condemning the NPAs and its allies.
"The pledge to withdraw their support from the armed group is already a bold step towards ending insurgency," Javines said.