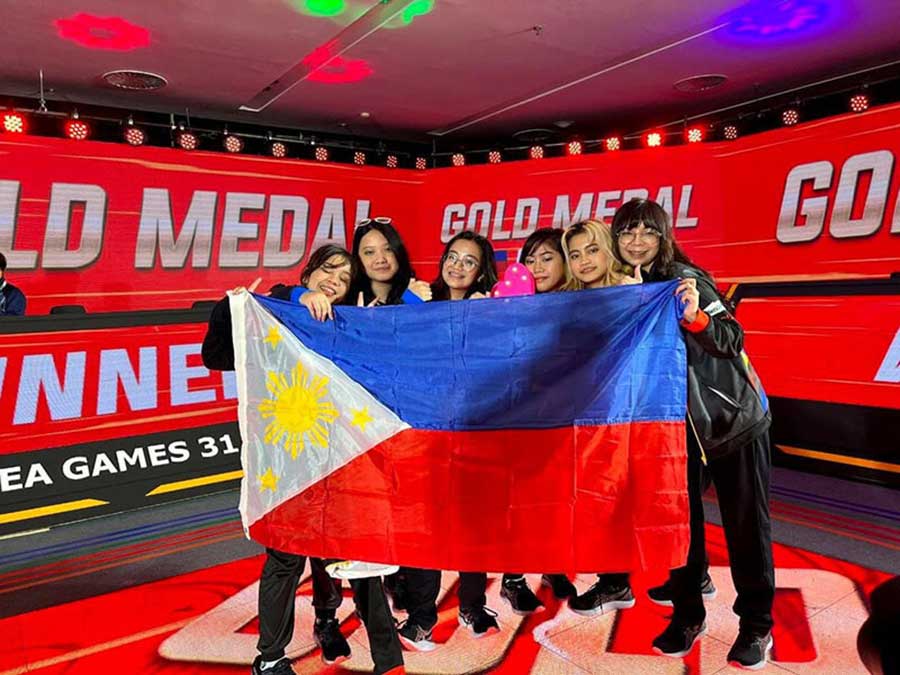 By Leobert Julian A. de la Peña
The fantastic six of the Sibol Wild Rift women's national esports team outdueled Singapore during the championship match and gave the Philippines its first gold medal in esports for the 2022 Southeast Asian Games.
It was a perfect display of team communication and strategy adjustment for the Filipinas as they dismantled Singapore with a resounding 3-0 sweep.
The PH championship squad is composed of Charize "Yugen" Doble, Christine "Rayray" Natividad, Rose Anne "Hell Girl" Robles, April "Aeae" Valiente, Angel "Angelailaila" Lozada, and Giana "Jeeya" Llanes.
Sibol was all over the map, using quick rotations for easy gank kills and outnumber their competition in Game 1 of the grand finals.
The lead then paved way for their carry to farm well around the map which was later unstoppable after going full-slotted in her item build.
Sibol's power duo of Hell Girl and Rayray became a handful for the Singaporeans after combining for nine kills and 14 assists in just 15 minutes of action.
Singapore tried to counter in Game 2 when they decided to do the "turtle strategy" in hopes of putting their carry into a favorable position in the late game but later on failed as the Filipinas snowballed their way midgame for a 17-8 score.
Game 3 was a different story when Singapore took the early lead as their excellent laning led them to solo kills around the map.
When the Singaporeans started to gain a little bit of momentum heading into the midgame, a crucial and clutch quadra kill by Yugen turned the tables around to put them back ahead in the game.
The decent amount of gold Yugen earned from killing four Singaporean champions helped her get her final items and led the PH to the first esports gold medal.