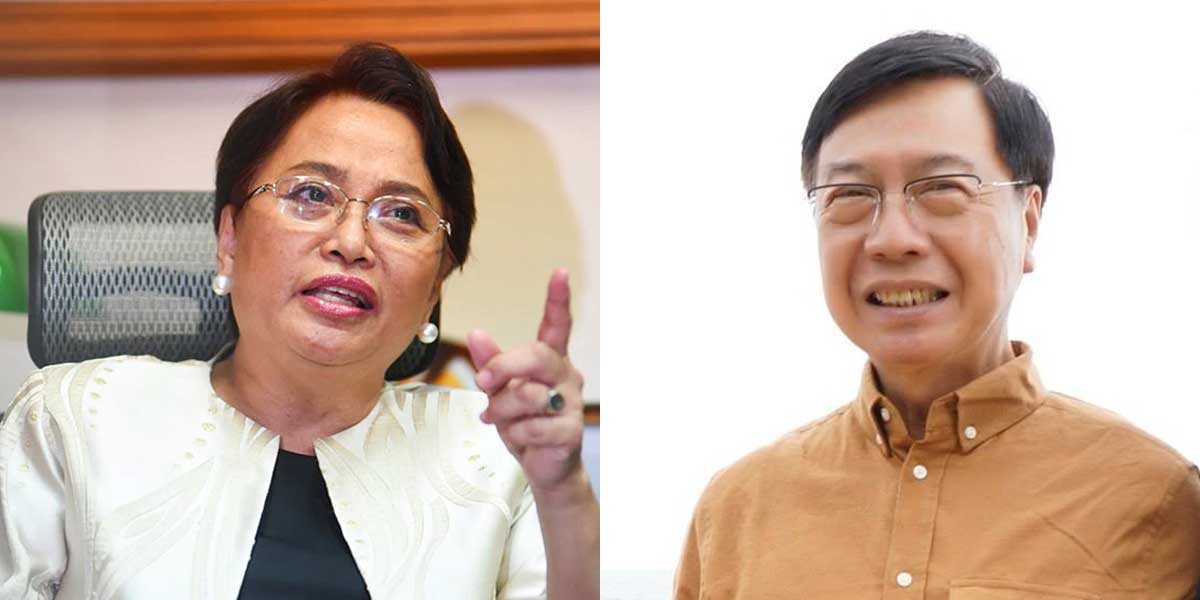 By Joseph B.A. Marzan
Commission on Elections (COMELEC) Commissioner Rowena Guanzon "rained fire" on Atty. George Briones of the Partido Federal ng Pilipinas (PFP) on Friday after he accused her of leaking an "unpromulgated dissenting opinion" over the disqualification case of the party's 2022 presidential nominee, former senator Ferdinand "Bongbong" Marcos Jr.
In an interview with Bombo Radyo Iloilo, Guanzon threatened to file libel charges against Briones after he warned her of disbarment and forfeiture of retirement privileges through a PFP statement earlier in the day.
Guanzon also accused Briones of diverting public attention from Marcos' disqualification case, which she revealed on Thursday that she voted in favor of disqualifying the late dictator's son over a court conviction for non-payment of taxes.
"Tell [Briones] to act fast because I might file a libel case [against him] in Cadiz [Negros Occidental]. He forgot that I am a practicing lawyer and I am better than him. They have been paid to say that. I am not being paid to make these decisions. Why, was he told by [Marcos] to attack me in person?" Guanzon said in Hiligaynon.
The retiring commissioner, who hails from Cadiz, also rebuffed the party lawyer's accusations of her being a "Yellow," or being politically aligned with the former administration of the late President Benigno Aquino.
Guanzon is the only remaining appointee of the late former President in the poll body and is set to retire from her seven-year appointment on Feb 2.
She jokingly confirmed that she was a "yellow", attributing her yellowish skin to her roots with the Causing family of Iloilo.
"Yellow? What yellow? I am yellow because I am Chinese, my grandmother is a Causing. I have many relatives from Iloilo. What tribe is he from that his is short and bald? Yellow? That means he is a coward. Scared? Don't call me scared because if I can challenge drug lords to a gun match, why can't I do the same with you?" she quipped.
Guanzon also challenged Briones to a fistfight in any plaza in Iloilo City, with Iloilo City Mayor Jerry Treñas as referee.
"Tell Atty. George Briones to come with me to any plaza in Iloilo [City] and we will have a fistfight there. Call him. Even at any plaza. The mayor can choose which plaza because he will be the referee," she said.
Around four hours after a debate has been set, Briones decided to back out of the anticipated verbal tussle with Guanzon.
Briones said Guanzon's recent move to publicize that they belong to related organizations was the reason why he decided to call it off.
"Since Commissioner Rowena Guanzon disclosed that I am her Sigma Rho Fraternity brother. I respectfully decline her invitation to debate with her. For I firmly believe in our Code of Action which is 'to give due respect if not love to a Sister Deltan'," Briones told reporters Friday afternoon.
Guanzon is a member of the Delta Lambda Sigma Sorority, while Briones is a member of Sigma Rho Fraternity. The two societies are related organizations.
In a tweet following Briones' decision, Guanzon responded: "Brods, pegulps nyo nga itong si brod Briones." Pegulps is Gulpe spelled backward, a lexical trend among Filipinos online. Gulpe means to maul or beat up someone.
Meanwhile, the camp of Marcos said they will continue to wait for the final ruling to come out.
"We will wait for the decision to come out and until then any statement made are all speculative," Marcos spokesperson Vic Rodriguez said Thursday.
Guanzon earlier inferred that a politician connected with the Marcos campaign had influenced the delay of the promulgation of the disqualification case, saying that she had already written a separate opinion to reflect her affirmative vote.
She also mentioned that Commissioner Aimee Ferolino, the ponente or author of the resolution in this case, was "incommunicado" or unreachable.
But in a letter to Comelec Chairman Sheriff Abas, Ferolino said that it is "beyond" possible to finish her draft resolution on Jan. 17.
The last batch of case documents for the three consolidated cases was transmitted to her office on Jan. 14, she added.
Among her reasons is that her staffers were infected with COVID-19.