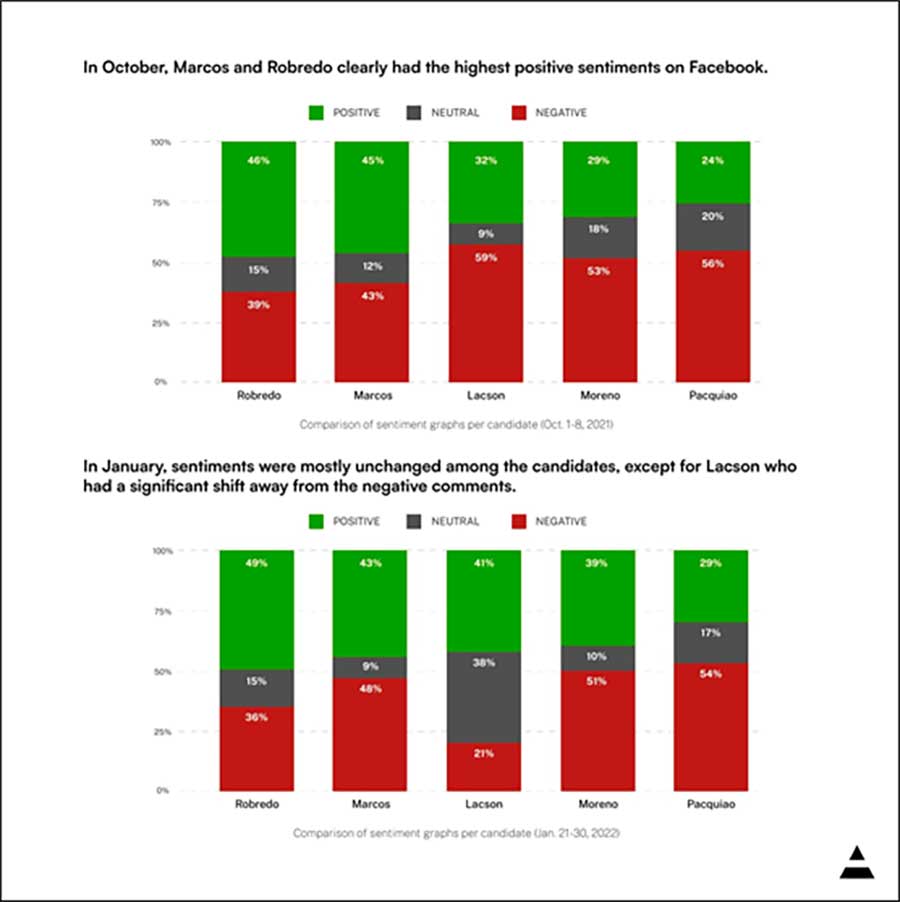 In the second Dinggin: Halalan 2022 study from strategic communications firm ALPAS Consultancy, data from January 21-30, 2022 shows that Senator Ping Lacson received the biggest improvement in terms of volume of mentions and positive sentiments after the Jessica Soho and Boy Abunda interviews.
But the same study indicated that public sentiments for most candidates remain unchanged after the airing of the interviews.
The study monitored all public posts from Facebook pages, Twitter, YouTube, and News Sites mentioning the five presidentiables who were invited to participate in the interview. Sentiments were culled from 6,000 randomly selected comments from Facebook page posts, resulting in a +/- 2% margin of error at 95% confidence level.
Meanwhile, Bongbong Marcos and Vice President Leni Robredo continue to dominate the top two spots on all social media platforms. Marcos Jr. was able to retain a high volume of positive sentiments on social media, even with his non-attendance in the Jessica Soho interview. He continues to have some of the highest post engagement and share of voice online, and was the most-talked-about candidate during this week.
Robredo also maintained her high share of voice across online platforms, with Twitter taking up 96% of her total mentions. She also showed significant improvement on YouTube, a platform previously dominated by mentions of Marcos.
Manila City Mayor Isko Moreno and Senator Manny Pacquiao did not gain significant online traction during the week of interviews, although their supporters have shown to be more vocal compared to last October. Still, both had the lowest mentions on all social media platforms, as well as news headlines.
The study shows that all candidates had sentiments mostly unchanged, noting that this may be due to Filipinos staying in personal silos and refusing to give equal attention to each candidate's media engagement – as evidenced by the inequality in viewership and engagement on the candidate interviews. Combining total views between YouTube and Facebook shows that about 11.5M Filipinos watched Jessica Soho's multi-candidate interview online, about the same number of views on Bongbong Marcos' solo interview with Boy Abunda. Marcos' interview also has far more views than the solo interviews of any other candidate.
"With Marcos and Robredo continuing to take up the majority of headlines and online posts, many Filipinos continue to treat the 2022 elections as a two-way race," the study concludes. "The challenge for the other candidates is to appear relevant in the eyes of voters, especially with the strengthening Marcos-Robredo narrative."
Dinggin: Halalan 2022 is a series of reports on social media narratives and trends which will hopefully provide context and insights for voters on the upcoming 2022 Elections.
Part II of this series analyzes the online impressions on the five candidates who were invited to join the presidential interviews of Jessica Soho and Boy Abunda before the official start of the campaign period.
You can get a copy of the full report at alpasconsultancy.ph/insights/ or by sending an email to info@alpasconsultancy.ph