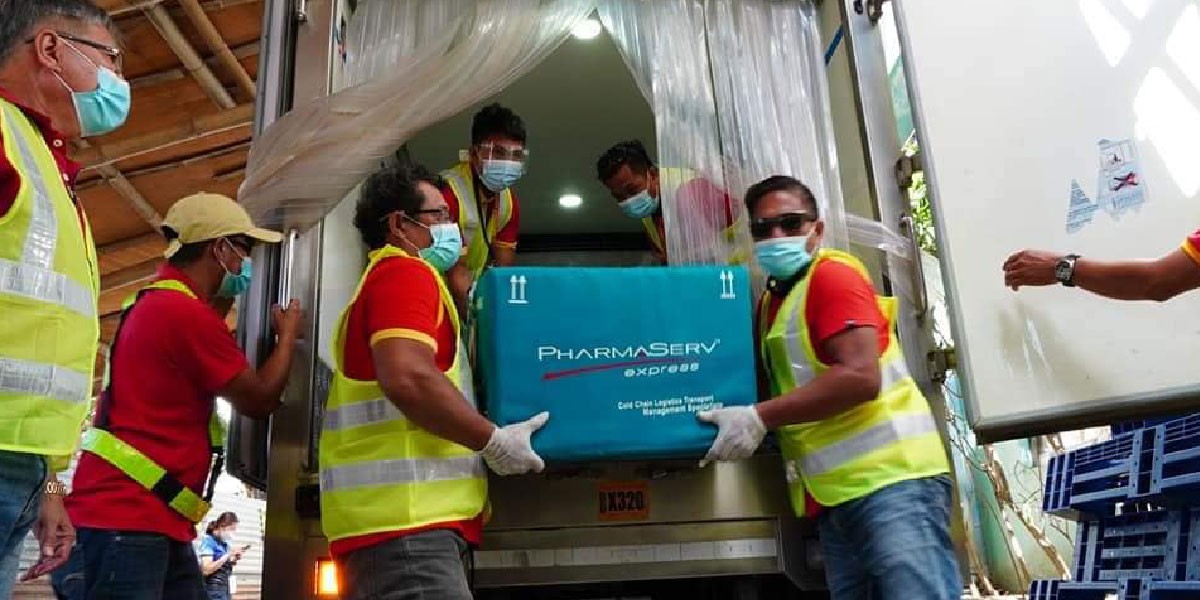 By Joseph B.A. Marzan
More coronavirus disease 2019 (COVID-19) vaccine doses are expected to be administered in the coming days with a fresh batch arriving on March 10, 2021.
Similar to the first batch that arrived last March 5, the boxes containing 26,880 vials of vaccines were delivered via Philippine Airlines commercial flight PR 2141 at around 9:11 a.m.
The batch, which contains 16,880 single-vial doses of CoronaVac and 10,000 10-dose vials of AZD1222, also arrived in sealed boxes and were taken to the Cold Storage Warehouse of the Department of Health-Western Visayas Center for Health Development (DOH-WV CHD) in Mandurriao, Iloilo City.
The vaccines delivered were both foreign donations – the CoronaVac coming from the Chinese government, and the AZD1222 donated from the World Health Organization's COVAX facility.
CoronaVac was developed by the Chinese biotech company Sinovac, while the AZD1222 was developed by British-Swedish pharmaceutical company AstraZeneca with scientists from Oxford University in England.
Dr. Ma. Sophia Pulmones, head of the DOH-WV CHD's Local Health Support Division and chief of the Regional Vaccination Operations Center, said that the additional Coronavac vials were for the second dose of those who had already been vaccinated.
The second doses of the vaccine allocated for COVID-19 Referral Facilities in Bacolod City were also included in the latest delivery, but these will be delivered only after the first doses have been administered there.
The interval between the first and second doses of the Sinovac vaccine is 28 days.
As for the AZD1222 doses, Pulmones said that they have no information on the allocation and priority targets.
But the AstraZeneca vaccines may be given to senior citizen health workers, who were previously ineligible to receive the Sinovac vaccines, Pulmones said.
"We can ensure the second dose will be given on schedule for those who had already received their first dose of Sinovac vaccinations. We will have more health workers vaccinated with the AstraZeneca, especially those who were not eligible to receive the Sinovac, especially the senior citizen health workers," she added.
Vaccinations in the region also started on March 5 in Bacolod City and Iloilo City.
As of March 9, a total of 1,634 healthcare workers have been vaccinated with Coronavac in 5 hospitals in Bacolod City and 4 hospitals in Iloilo City.
As to side effects, Pulmones said majority of the reported side effects were mild and subsided after the 30-minute observation period.
The hospitals in Bacolod City include the Corazon Locsin Montelibano Memorial Regional Hospital, the Dr. Pablo O. Torre Memorial Hospital (Riverside Medical Center), Bacolod Queen of Mercy Hospital, The Doctors Hospital, and South Bacolod General Hospital and Medical Center.
In Iloilo, COVID referral facilities which conducted vaccinations include Western Visayas Medical Center in Mandurriao district, West Visayas State University Medical Center in Jaro district, and Iloilo Doctors' Hospital and St. Paul Hospital in City Proper.
The unused Coronavac vials were delivered to the Roxas Provincial Memorial Hospital in Roxas City, Capiz, and the Dr. Rafael S. Tumbokon Memorial Hospital in Kalibo, Aklan.
Allocations for Bacolod City were also given to hospitals in Negros Occidental.
Pulmones said the remaining doses will also be distributed to other Level 3 hospitals, DOH hospitals, and local hospitals, and will continue to go to Level 2 hospitals, provincial hospitals, all of which should also be COVID-accepting and referral hospitals.
Vaccines will also be allocated to Level 1 hospitals, including district hospitals as priority health facilities.
There is no information yet on allocations for Antique and Guimaras, but she said that the DOH-WV CHD has been coordinating with their provincial health offices and local VOCs.
Medical staff in COVID-19 Referral Facilities remain the priority vaccine recipients according to Pulmones.
When vaccine recipients in hospitals for Sinovac are already done, the next priority are health workers in COVID-19 Temporary Treatment and Monitoring Facilities (TTMFs).
Pulmones said that when the second doses are available for inoculation, those who have not felt side effects may already be vaccinated.
"All provinces in Region 6 are recipients as long as health workers in our health facilities are willing to receive the vaccines. Whoever has received first doses without feeling side effects, they can receive second doses," she said.