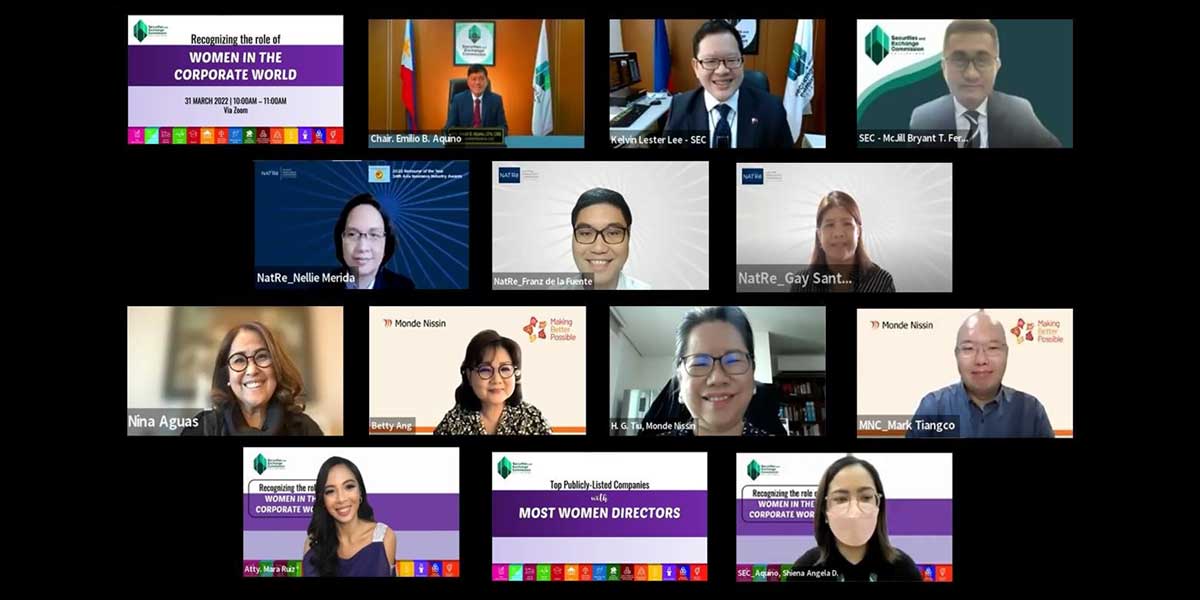 The Securities and Exchange Commission (SEC) enjoined corporations to ensure gender diversity in their boardroom, as it recognized publicly listed corporations (PLCs) with the greatest number of woman directors.
As the country celebrated National Women's Month in March, the Commission cited BHI Holdings, Inc., National Reinsurance Corporation of the Philippines, and Monde Nissin Corporation as the Top Three PLCs with Most Women Directors.
The Commission recognized the three PLCs during the 2022 Gender and Development Awards. The awarding ceremony was held virtually on March 31 under the theme, "Recognizing the Role of Women in the Corporate World."
"2022 is an opportunity for the Philippine corporate sector to revitalize its leadership roles through gender diversity," SEC Chairperson Emilio B. Aquino said in his opening remarks for the event.
"This recognition marks not only the corporate governance breakthrough achieved by PLCs today, but the ardent hope that these gender and development achievements will continue in the years to come. The SEC is confident that this event will inspire PLCs to continue their initiatives despite the difficulties and complications brought about by the pandemic.
In choosing the awardees, the Commission considered PLCs, which were in good standing and found to have the most number of woman directors in their board, based on their disclosures to the SEC and the public for the covered year 2021.
Ensuring female representation in the boardroom is in line with the longstanding recommendation that the boards of corporations should be as diverse as possible, gender-wise, among other good corporate governance practices.
Disclaimer: The awards given by the Commission should neither be construed as its express or implied endorsement of the awarded companies nor a guarantee that the awarded companies are high performing, profitable or compliant with all applicable regulations. The awards shall be without prejudice to any penalty that may be imposed at a later time on the awarded companies if found to be in violation of the rules and regulations issued by the Commission.