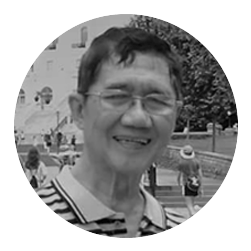 By Herbert Vego
WHAT did our reporter Felipe Celino mean when he wrote that "Don Chiyuto was abducted by his former associates"? Let us analyze from verifiable information.
Everybody in the province of Capiz does not know him from head to foot. But while he is not a native of the province, Patroceño Calvez Chiyuto Jr. attracted attention for having "doubled" in 25 days the people's money invested in Creative Wealth Document and Facilitation Services.
The moment he set foot in Roxas City from nowhere a few months ago, the word quickly spread out that he was accepting investments. Whatever the amount invested would yield the same amount in 25 days.
In January this year, two friends showed up in my Iloilo City home all the way from Roxas City. They were ecstatic for having received the amount of Php 100,000 from Chiyuto for their alleged Php 50,000 investment; and they had re-invested that "interest" which would double in another 25 days. That way, month after month, they would never lose. Interesting, I thought to myself, they must have outsmarted a scammer.
"Why don't you join with a bigger amount?" one of them enticed me, adding that they knew of neighbors who had bought cars after investing and re-investing a bigger amount.
Rather than be roused, I warned them about falling for the so-called Ponzi scheme – an investment swindle where early investors are paid off with money put up by succeeding investors.
If I were to join the fray, I would be classified as a tailender running the risk of perpetually holding an empty wallet.
The pyramiding scam was named after an Italian immigrant, Charles Ponzi who came to Boston, Massachusetts in the early 1900s.  He persuaded the rich Americans to entrust to him their "sleeping" money, to be "doubled" in three months. He encouraged them to attract more investors to keep their own investments growing in a shorter time.
He made it big until the "Great Depression" in 1920 when his bubble burst. Accused by his investors of swindling, he spent 14 years in jail.
Had I fallen for the innovative Don Chiyuto model, I could have been one of the victims now desperately seeking him for a mere refund of whatever remains of my wrong investment.
Chiyuto's scam began to show when most investors who could no longer be paid on the payout schedule sought the intercession of the province's and the city's politicians, but to no avail.
The provincial and city politicians had always known about the scam but looked the other way for fear of displeasing constituents who were enjoying hefty windfalls. Some of them are believed to have invested, too, and recommended newer investors to keep the ball rolling.
What if the ball has not stopped rolling?
Then we could not have heard of the nine criminal cases that have been filed by the National Bureau of Investigation (NBI) against Chiyuto for estafa before the Roxas City Prosecutor's Office.
The complainants who prefer to stay anonymous might never have raised hell against Chiyuto for siphoning them of more or less Php 80 million of their hard-earned money.
If truth be told, the scammed millionaire investors ought to have known from the beginning that they were gambling. But the lure of doubled money raised from the flow of subsequent investors was too good to resist.
They had hoped to disprove the saying, "If it's too good to be true, it probably is."
Having lost the gamble, a certain Jun told Daily Guardian reporter Ipe Celino, "We want to seek justice for our hard-earned money that was carted away by the heartless scammers."
Jun, who invested P2 million with Chiyuto, also included as respondents two fellow investors who had lured him into the scam.
Jun has also entrusted some money in another double-your-money schemer, Junelyn Gregorio Obamos.  Like Chiyuto, she is NBI-wanted.
Being a non-lawyer, I have no idea how these "victims" who could be "accomplices" of the perpetrators at the same time – for earning income from latter investors — could regain their material losses that might have already gone with the wind.
Let me cite a bigger case filed in court by the NBI on August 17, 2007 against 27 Filipino and foreign officers of FrancSwiss Investment, a Ponzi scam on the Internet. A popular showbiz couple — actress Claudine Baretto and her husband, actor Raymart Santiago – were among the thousands of online investors fooled into biting the bait offered by Roger Smith, the American head of Francswiss Investment.
The bait offered — a daily yield of US $45 for every $1,000 venture capital with the firm — duped Filipino investors of more one billion pesos.
No decision on the case has been promulgated yet.
Going back to the question of who could have abducted Don Chiyuto, his own people must have kept him in a secluded hideaway.
But if it's the losing investors behind the abduction, it simply means that they are not interested in court litigation that could drag them as accomplices. And so his ultimate fate may hinge on his ability to refund them.
—0—
DID RAZON MAKE THE OFFER?
OUR column item the other day alluding to Panay Electric Company (PECO)'s willingness to receive an advance payment against MORE Power's "just compensation" offer of P481,842,450 for expropriation seemed unbelievable.
That is, if it is true that MORE Power chairman Enrique Razon Jr. had long ago attempted to buy PECO for the much bigger six billion pesos.
There was a day (November 14, 2018) when Philippine Star columnist Neil Honeyman wrote that Razon had offered to buy PECO from the Cacho family for P6 billion, only to be turned down.
Radio broadcaster Henry Lumawag once asked a PECO official to confirm the rumor but got no answer.
Until now, none from the Razon or the Cacho camps have commented on the Honeyman yarn.
As it is, PECO remains unsure on whether the Regional Trial Court in Iloilo City (branch 39), which has jurisdiction over the "just compensation" required by the franchise law, would rule on the matter due to a possible objection from the local government of Iloilo City. PECO is said to owe the city millions of pesos in back taxes.
Moreover, an undetermined number of PECO customers are claiming for refund of bill deposits that could have hit a billion pesos or more.