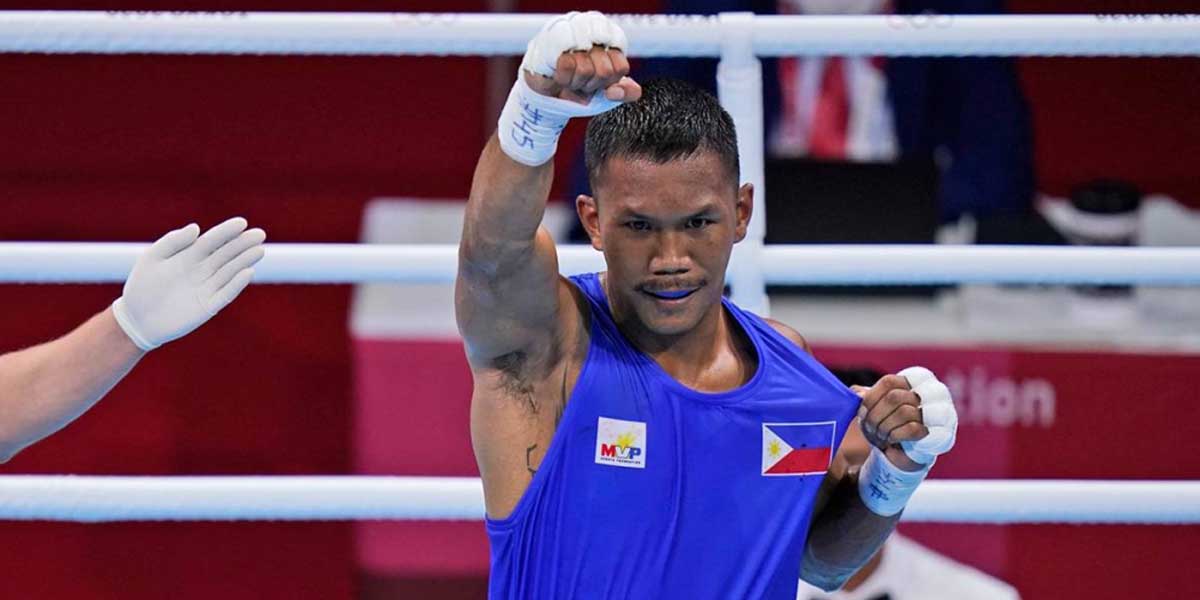 By Leobert Julian A. de la Peña
Filipino boxing superstar Eumir Marcial continued his stellar run in the ongoing 2022 Southeast Asian Games and advanced to the gold medal match of the men's -75kg category after scoring a second-round technical knockout stoppage against Peerepat Yeasungnoen of Thailand.
The Tokyo Olympics bronze medalist showed his overwhelming power that forced the Thailand coaching staff to throw the white towel with a minute left in the second round.
It was the Thai who poured the offense early in the first round after connecting on his slippery and sneaky jabs against the relaxed defense of Marcial.
Marcial, who wasn't throwing that much in the first 1:30 of the first round, seemed to study Yeasungnoen's openings who was busy throwing punches with both his hands.
The Thai boxer hit Marcial with several jab-straight combinations and made things interesting with his blazing offense heading into the second round.
However, Marcial's patient approach paid off big time as the Filipino pug effortlessly hurt Yeasungnoen with his signature power punches.
Every time the Thai stepped on the gas, Marcial and his camp did a tremendous job of adjusting and found the perfect counter move.
Marcial displayed excellent use of the pivot to avoid the successive punches of Yeasungnoen and quickly threw his hooks that hurt the Thai boxer.
With only a minute left in the round, Marcial kept his guard up, let the Thai throw a barrage of punches, and later on found the opening.
Marcial connected on an impressive five-punch combo: a left to the body, right hook to the head, a double left hook to the head, and the finishing right hook that forced the referee to stop the slugfest.
With the huge win, Marcial will be looking to defend his SEA Games championship title and will face Delio Anzaqeci Mouzinho of Timor Leste on Sunday, May 22.