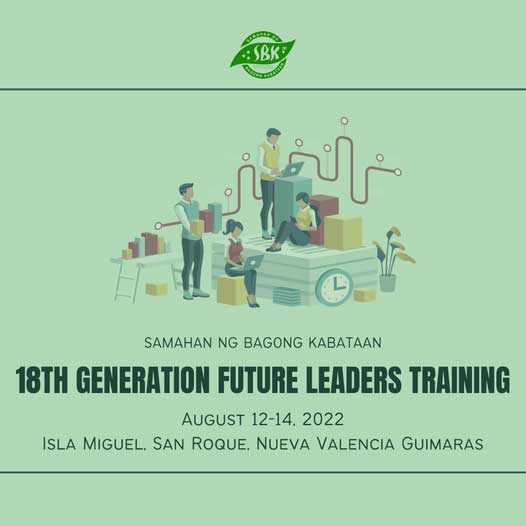 By Nicole Jane B. Robes
After the long run of finding qualified and competent youth that have the burning passion to lead and serve, the Samahan ng Bagong Kabataan finally launched its SBK Future Leaders Training: 18th Generation at Isla Miguel, San Roque, Nueva Valencia Guimaras.
The training started on August 12 and will last until 14 which aims to mold and develop the youth to become credible and principled leaders of the future through participating in the prepared activity of the council.
Samahan ng Bagong Kabataan (SBK) also known as SABAKA is a non-profit nationalist youth and professional organization which envisions good leaders leading the nation was founded in the year 1973 that continues to cast aspiring leaders up to the present.
To ensure the quality of the training, the organization invited respectable individuals that are well-known in their respective fields to speak with the young leaders which will comprise the three-day activity.
In this year's leadership training, twenty (20) aspiring young leaders coming from different parts of Western Visayas were summoned and expected to participate in the activities that involved leadership capability building, advocacy planning, team-building, and project planning along their way.
"For this group of trainees, I expect that they will continue to see meaning in serving others and they will commit to our cause of someday seeing good leaders leading our nation. This training opportunity will widen the spheres of influence of our youth and student leaders in leading and bringing change in their respective communities", said Allen Dave Fuego, Chairman of the youth council.
Dr. Luis Sorolla, former ISAT-U and WVSU President also member of 1st Generation; Hon. Atty. Sedfrey Cabaluna, Iloilo City Councilor; Dr. Eugenio Michael Plana, SBK National Chairman and President of Refinette Cosmetic Manufacturing Corp.; Mr. Francis Tapiculin, Jr., Chairman of SBK Central Committee; Atty. Julius Elvas, Institutional Legal Counsel of the University of San Agustin; Hon. Robe Ivan Jan Pagulong, Brgy. Councilor of San Enrique; Mr. Allen Dave C. Fuego, President and Chairman of the SBK Youth Council; Mr. Jerico Cabinan, Vice President of the Youth Council;  and Mr. Russnie Ron Flores, Iloilo City Social Welfare Development Office Staff, are among the expected speakers for the leadership training.
As we are still battling the wrath of COVID-19 pandemic, the said training will be held indoors, with limited outdoor activities, and to guarantee the health and safety of everybody proper health protocols will be observed.