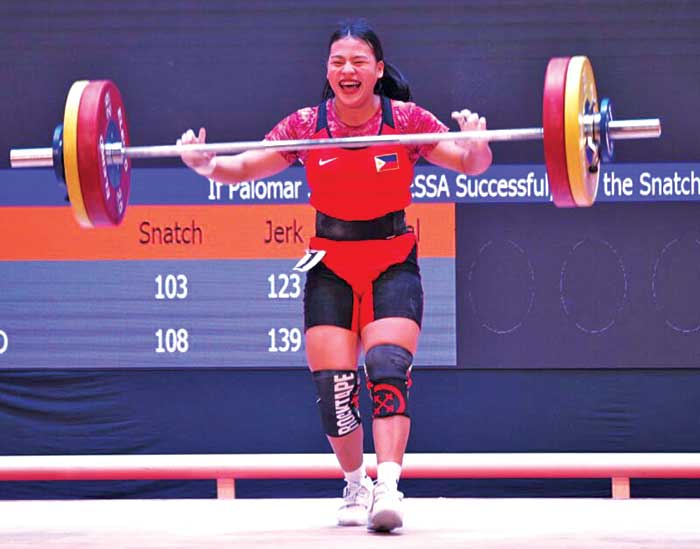 By Leobert Julian A. de la Peña
Vanessa Sarno capped off the Philippine Women's National Weightlifting team's stellar outing during the 2022 Asian Youth and Junior Championships held at the Yunusobod Sports Complex in Tashkent, Uzbekistan after winning three gold medals.
The 17-year-old teen wonder had a dominant outing in the women's 71-kilogram category and ousted the top bets of the other competing nations.
Sarno had no difficulty during the whole stretch of the event and lifted 100-kg in the snatch and 130-kg in the clean and jerk on her way to a championship-clinching 230-kg total weight lifted.
The Filipina had a rousing start in the tournament and immediately grabbed the top spot on the leaderboard after silver medalist Anggi Restu of Indonesia only lifted 92-kg in the snatch while bronze medalist Kim Hye-min of Korea had 93-kg.
Sarno then continued to widen her lead against the other competitors after her 130-kg score in the clean and jerk ranked first for the second-straight category.
With her terrific performances in both the snatch and the clean and jerk categories, Sarno was awarded three gold medals including her triumph in the overall total weight lifted.
Sarno has been under the radar of the national team as one of its brightest young stars after a gold medal finish during the 31st Southeast Asian Games.
The Tagbilaran City native pulled off one of her most flawless runs during the SEA Games after lifting 104-kg in the snatch, 135-kg in the clean and jerk, and a total of 239-kg, helping the PHL garner an impressive medal haul.
Aside from Sarno, weightlifting prospect Angeline Colonia also dazzled in Uzbekistan and raked two gold medals and one silver in the women's minus-40-kilogram category and made history after breaking both the world and Asian records in the snatch.
Completing the list of the PHL champions are Rose Jean and Rosegie Ramos and Rosalinda Faustino who combined for a total of nine gold medals in the youth women's category.