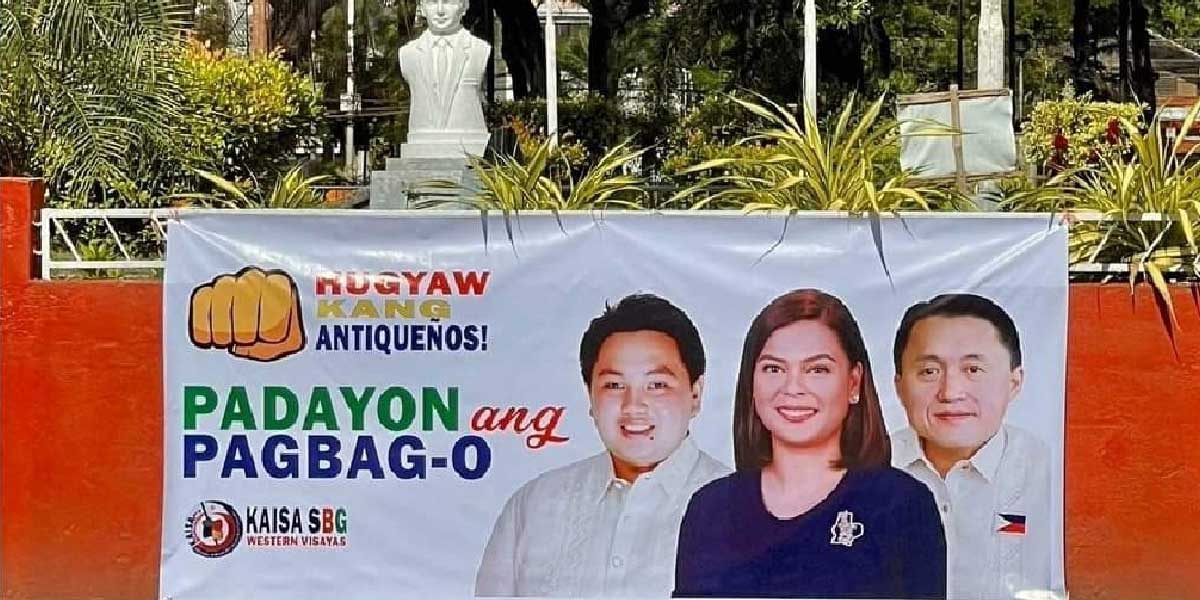 Controversial banners of presidential daughter and Davao City Mayor Sara Duterte together with Senator Lawrence "Bong" Go surfaced in San Jose de Buenavista, Antique and in Oton town in Iloilo province and netizens are not happy about it.
A photo uploaded to Twitter by netizen @joeytrenas77 showed a tarpaulin poster of Sara Duterte and Go with the words "Hugyaw kang Antiqueños, Padayon Ang Pagbag-o".
Also in the poster was Councilor Julius Tajanlangit of San Jose town, the regional president of Philippine Councilors' League (PCL).
The poster, which also showed the logo of a certain "Kaisa SBG Western Visayas," was spotted in the shrine of slain Antique governor Evelio Javier in the town of San Jose.
Some Antiqueños, however, were not pleased seeing the tarpaulin in the deathplace of their local hero.
"Palihog ko kung sin-o man jan kara nag butang, huksa nyo jan ra. As an Antiqueño, I find it disrespectful how trash like that is posted there. Isn't it shameful how the names and faces of those who hold no regard for human rights be plastered in the same place where a hero who fought for that very cause died?" netizen Angel commented in a now viral post in the Facebook page of Daily Guardian.
Another netizen commented, "Human rights advocate tapos supporting for Duterte and Go? It's a shame!"
For some, the poster is an insult to the local hero of Antique, Governor Evelio Javier. One was quick to cite Javier's famous line, "Ang pwesto sa gobyerno bukot burugasan, bukot panurublion."
Panay on February 11, 2021 marked the 35th death anniversary of Javier, which is a special non-working holiday.
Gov. Javier, who was a staunch supporter of former President Corazon Aquino, was killed by gunmen at the peak of the snap presidential elections. His death set off an uproar to gather support and end the Marcos dictatorship.
Two weeks after Javier's death, the dictator and strongman Ferdinand Marcos was thrown out of office at the height of the historic EDSA Revolution.
Another Sara Duterte-Bong Go poster was also seen in a private property in Oton town in Iloilo province.
"Singgit sang Ilonggo, Padayon Ang Pagbag-o," the poster read which also contained a logo of "Kaisa SBG Western Visayas".
Recently, banners supporting the presidential daughter in the upcoming May 2022 presidential elections also reached Iloilo City and some towns in the 4th and 5th districts of Iloilo province.
No less than President Rodrigo Duterte has announced recently that his former long-time aide Bong Go wants to be president.
"Sabi niya medyo it leaves a bad taste in the mouth, malayo pa e, pero ikaw na lang ang magsabi sa kanila. Sabihin ko, ang totoo talaga, isang bagay lang, sabihin daw sa inyo, gusto niya maging Presidente," Duterte said in a speech at the inauguration of a port building in Dumaguete City, Negros Oriental.
Despite the persistent encouragement of her supporters, Sara Duterte has continuously maintained that she will not run for president in the 2022 elections.
President Duterte said Sara will not run for the top executive post saying it is not a job for women.