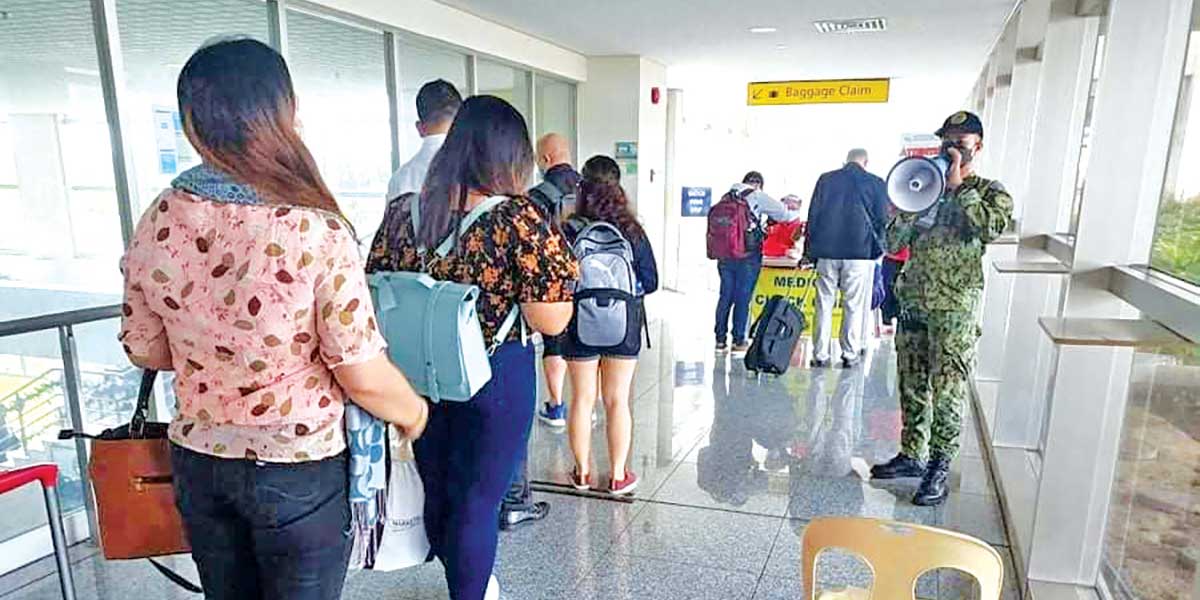 By Joseph B.A. Marzan and Dolly Yasa
Iloilo City will enforce different travel protocols compared to the provinces of Iloilo and Negros Occidental even if they are on Alert Level 2 starting today, March 1, 2022, in response to the coronavirus disease 2019 (COVID-19) pandemic.
Iloilo City Mayor Jerry Treñas on Sunday evening told Daily Guardian via text that starting today, the city government will no longer require travel approval through the national government's Safe, Smart, and Swift Passage System (S-PaSS).
Treñas cited as reason the need to "revive the economy and tourism".
The S-PaSS is a travel management system developed by the Department of Science and Technology to facilitate local travel nationwide amid the pandemic. It also serves as the contact tracing system of the government.
In an interview with Aksyon Radyo Iloilo on Monday, Iloilo City COVID Team spokesperson Jeck Conlu said that fully-vaccinated travelers will only need to show their valid ID and vaccination cards upon check-in.
Unvaccinated travelers will still need to show a negative result from their RT-PCR test taken 72 hours prior to their departure.
Conlu said that the city's Alert Level 2 policy will focus on the balance of public health and economic aspects.
"If you observed, amid Alert Level 3, we loosened our restrictions a little bit and we are already heading into the new normal. We are expecting to get to Alert Level 1. We need to balance the [aspects of] health and economy. Our economic activities need to take place now," said Conlu.
The city, while under Alert Level 3, got rid of restrictions including its curfew and liquor ban as the number of COVID cases started to decline in early February.
But Iloilo province, while loosening its restrictions on establishments, as well as scrapping the province-wide liquor ban, will retain its Alert Level 3 travel restrictions.
Iloilo Governor Arthur Defensor Jr. said in a phone interview that this also includes the retention of the S-PaSS system.
Defensor explained that the retention was in line with national government guidelines but expounded that it was mainly for monitoring purposes.
"We have many municipalities in the province, we can only monitor arrivals of their returning residents through the S-PaSS. [Local governments] need it so they can monitor returning residents and visitors. Under our protocols, we monitor [arriving travelers'] health for 10 days from arrival, that is why the S-PaSS is still necessary," said the governor.
In the province's existing Alert Level 3 rules under Executive Order No. 040, as amended, fully vaccinated travelers will need to upload a scanned image of their vaccination card or VaxCert as proof of vaccination, along with a valid government-issued ID onto the S-PaSS website.
If the rule would still remain, unvaccinated or partially vaccinated travelers likewise would still have to present a negative result of their RT-PCR test taken 72 hours prior to their departure.
Meanwhile, Negros Occidental Governor Eugenio Jose Lacson said Monday that with the retention of Negros Occidental under Alert Level 2, all inbound passengers are still required to register with S-PaSS, and present their vaccination cards or certificates, since Bacolod-Silay Airport is situated in the province.
Bacolod City, however, has been downgraded to Alert Level 1 starting March 1 to 15.
Lacson said there will be no hassle to travelers if they are fully vaccinated.
Partially or unvaccinated travelers are also required to present non-reactive rapid antigen test result 48 hours prior to travel, according to Lacson's executive order extending the Alert Level 2 status of Negros Occidental.
He added that the provincial government is still offering free rapid antigen test to arriving travelers if they fail to be tested at their point of origin.
Starting March 1, Lacson also confirmed increase of flights from Manila and Cebu to Bacolod City.
Philippine Air Lines (PAL) and Cebu Pacific will have three flights per day for the Manila-Bacolod-Manila route and four flights for Cebu-Bacolod-Cebu route per week for Cebu Pacific and three flights weekly for PAL.
Air Asia will continue to have two flights per day for the Manila-Bacolod-Manila route.
As to the seaport operations and guidelines, Lacson said sea vessels shall be allowed to ferry passengers up to 50 percent of their capacity.
As of Feb. 27, active COVID-19 cases in Negros Occidental were further reduced to 336, from a high of 3,600 three weeks ago.
Lacson reiterated his warning that travelers with fake documents will be apprehended and will undergo a 10-day quarantine at the Provincial Healing Center. They will also shoulder the cost of the RT-PCR testing.