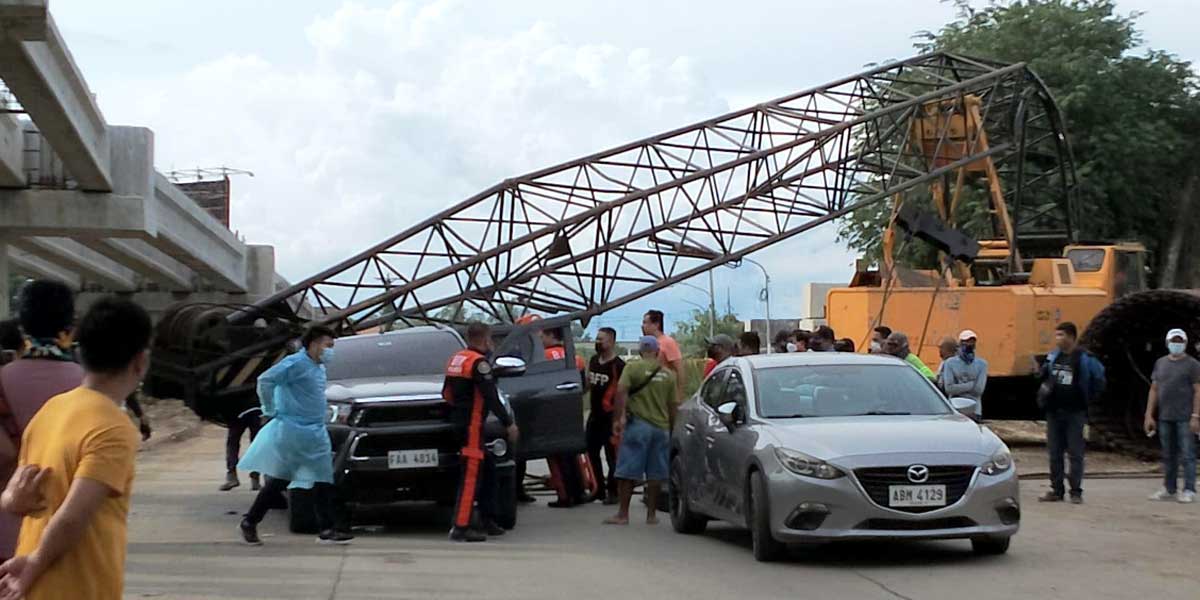 By Jennifer P. Rendon
Was the construction of the flyover in Barangay Aganan, Pavia, Iloilo an accident waiting to happen?
A day after the incident where a 20-year-old woman was hurt after a crane boom fell on two passing vehicles, a meeting was called by the municipal mayor's office with representatives from the Department of Public Works and Highways (DPWH) and the International Builders Corp. (IBC), as the main participants.
The Pavia Municipal Police Station was also present in the meeting.
IBC is the contractor of the P560-million Aganan flyover and the P480-million Ungka II flyover, which junctions at Sen. Benigno S. Aquino Jr. Avenue and Iloilo Circumferential Road at Ungka II.
Major Rolando Araño, Pavia police chief, said the discussion was mainly focused on the safety and health protocols being undertaken by the contractor.
Executive assistant Francis George Gorriceta presided in the meeting on behalf of Mayor Laurence Anthony Gorriceta.
"The dialogue involved the actions that both the DPWH and IBC have been undertaking to ensure the safety of motorists, pedestrians, and even residents," Araño said.
Since the area is densely populated, the contractor should see to it that residents are also safeguarded.
On the other hand, the DPWH should review the safety and health protocols being implemented by IBC.
For IBC, they were told to put up standard signages and barricades. Good lighting must also be established to warn motorists.
"The contractor was told to illuminate the area, especially the approach of the flyovers," Araño said.
The meeting also tackled the presence of safety officers on site.
Reports said IBC argued that they have designated safety officers assigned in the construction sites.
The local government also took note about the use of hard hats, reflectorized vest, and construction net.
Araño said he also cited that there must be coordination with them if the contractor imposes road closures during critical works.
"Kung kaisa naga-mato-mato lang sila road closure without proper coordination," he said.
Gorriceta also asked IBC to conduct a refresher training of heavy equipment operators and mechanics and conduct regular maintenance on their equipment.
It can be noted that two vehicles – a sedan and a pick-up truck – were damaged after a crane boom fell on them afternoon of July 19, 2022.
Investigation indicated that the crane was lifting a cage bar when a loud thud was heard in the area.
The operator claimed that the hydraulic hose burst, causing the boom to disengage.
Araño said the crane operator, Jovenelly Carreon, 31, of San Joaquin, Iloilo, was already released from detention after the 12-hour reglementary period of detention.
IBC also reached a settlement with the vehicle owners.
As to the possible sanctions to IBC, it was gathered that the DPWH is doing its investigation to ascertain if there were lapses on the part of the contractor.