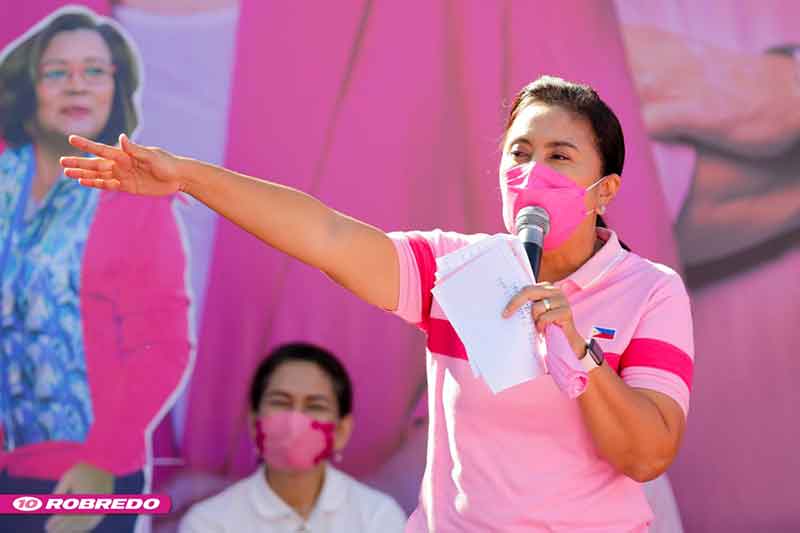 By Joseph B.A. Marzan
Vice President Leni Robredo said her track record spoke for itself against corruption, and vowed to fight patronage politics should she win the 2022 presidential elections in May.
She told Radyo Veritas' Catholic E-Forum on Wednesday, March 2, that her decisions would not be influenced by indebtedness to campaign supporters, particularly big businesses.
She cited her track record of promoting the interests of the marginalized, including in her stints at the Public Attorneys Office, the alternative law group SALIGAN, as 3rd district representative of Camarines Sur, and currently as vice president.
"For me, the proof [of being against corruption], all my life I've been serving the poor. When I was with [non-government organizations], we helped farmers, fisherfolk, urban poor, laborers, indigenous peoples, and women and children," the vice president said.
"When I was in Congress, what were the kind of bills I passed? The bills that I put forward, these are indications on what advocacies are close to our heart. Are we on the side of the poor and marginalized or are we on the side of big business?" she added.
Robredo also said that he stances on the death penalty, abortion, and divorce have not been influenced by her political peers, emphasizing that part of her duties as president would be to "listen to divergent voices."
She again cited her experience as a Camarines Sur representative, with only one mayor and only 25 barangay captains in her district supporting her candidacy, but supporting all of them when she won.
As Vice President, she pushed for projects in Mindanao, even in regions where she lost the vice-presidential race in 2016, such as Angat Buhay projects, COVID-19 response initiatives and community learning hubs in the Soccsksargen region, and Angat Buhay initiatives in Davao for women empowerment and rural development.
"In a presidency, you are the president of everyone, even of people who look at things that are not the same as yours. But for me, there should be the assurance that we are always to the best interest of the people," she said.
"I didn't choose people, I invited everyone into the fold and all of them were very, very supportive towards me. I think if people are given the chance to experience this kind of governance, they will like it even more. Even those politicians who did not support me, they will also like it better that the atmosphere for service is undeterred by political colors. Most of our projects now are in Mindanao and I lost here but we didn't look at that. We did our projects there because the need is there," she added.