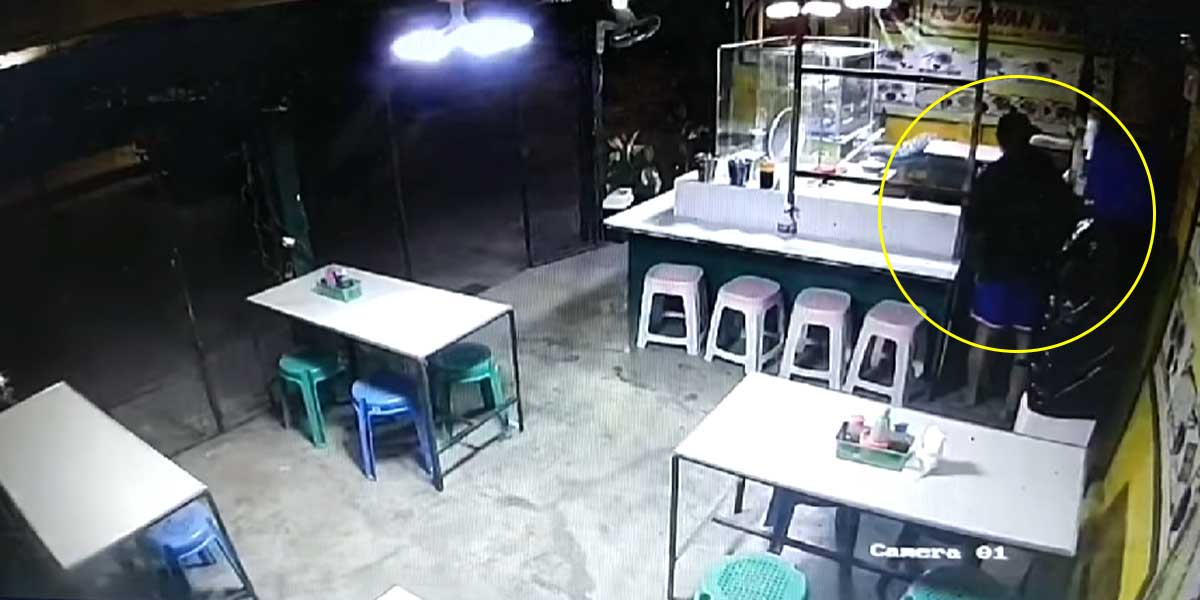 By Jennifer P. Rendon
A man demanding money and phone roused two women from sleep inside an eatery in Jaro, Iloilo City.
The incident happened around 2:30 a.m. of Jan 19, 2022 after a lone robber tried to loot a 24-hour diner on Democracia Street.
The CCTV camera of Lugawan ni Bro captured the man in a hoodie, a cap, and pair of short pants entering the eatery.
His arrival went unnoticed as the two lady attendants were dozing off near the cashier's table.
The suspect initially tried to check a bag hanging on the wall.
But he was not able to thoroughly rummage the bag after a vehicle passed by the area. He then sat on a chair for a while before checking on the two servers.
This prompted him to rouse the two women from sleep and demanded them to hand over their cash and phones.
Complainant Mary Grace Albancia told police investigators that the suspect pulled what appeared to be a handgun from his jacket, poked it at her momentarily, then concealed it again in his jacket.
"The two women presumed that the suspect was armed with a toy gun," Captain Eduardo Siacon Jr., Jaro police chief, said.
He tried to push one of the women to the room, but he fled empty handed.
"The complainant told him there were patrolling policemen," Siacon said.
But of course, it was just a bluff which the suspect bought.
There were indeed patrolling police officers, but Siacon said they were at M.H. del Pilar Street, a few blocks from Democracia.
As of press time, Siacon said they already identified the perpetrator.
Witnesses and intelligence operatives recognized him through the store and village CCTV camera footages.
Siacon said that his built and the manner that he moved were giveaways in his identification.
The suspect, who is also a resident of Jaro, was allegedly involved in some theft and robbery incidents in the area.