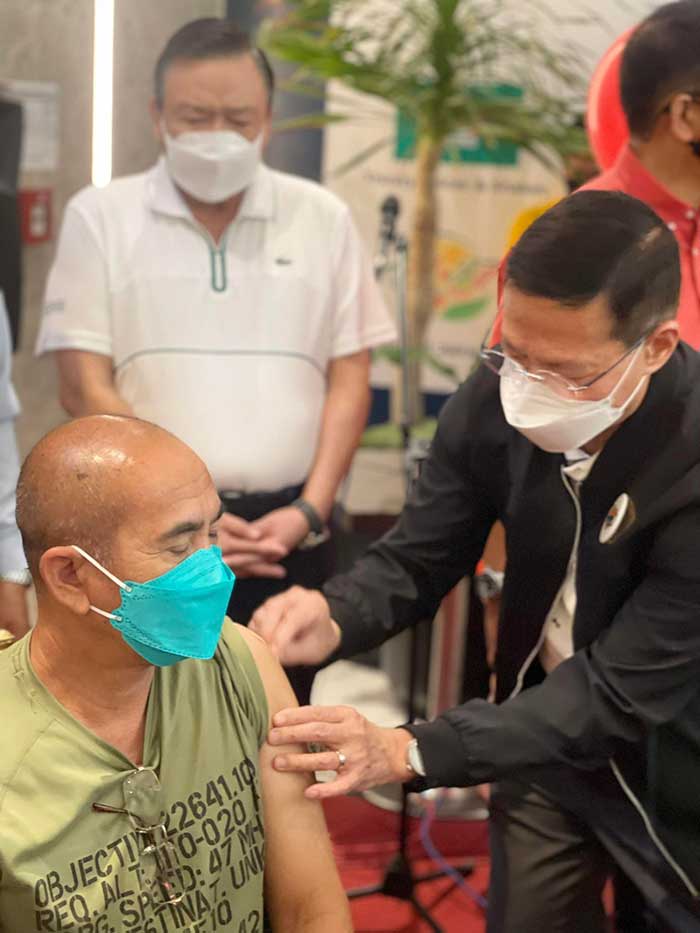 By Jennifer P. Rendon 
Vaccination is the way to go.
National and local officials of the Inter-Agency Task Force for the Management of Emerging Infectious Diseases (IATF-MEID) again stressed the importance of vaccination in the fight against COVID-19 during the launching of the "Resbakuna sa Botika," a joint government and private sector initiative that aims to expand the country's immunization program in pharmacies and private clinics.
In Iloilo City, the kick-off program was held at the Mercury Drug branch at Festive Walk Mall in Iloilo Business Park in Mandurriao district.
Health Secretary Francisco Duque III led the ceremony with Secretary Carlito Galvez, Jr., Chief Implementer and Vaccine Czar of the National Task Force Against Covid-19; Secretary Vicencio Hizon, deputy chief implementer and testing czar of the National Task Force Against Covid-19; and Office of the Presidential Assistant for the Visayas (OPAV) Undersecretary Anthony Gerard "Jonji" Gonzales; and Iloilo City Mayor Jerry Treñas.
Atty. Dennis Ventilacion, the Iloilo provincial legal officer and provincial administrator, represented Iloilo Governor Arthur Defensor, Jr.
The Resbakuna sa Botika campaign will enable pharmacies to administer booster shots to those who have completed their primary series or two doses of vaccines or the single dose Janssen vaccine.
Aside from Mercury Drug Store, other pharmacy chains were also tapped to take part in the program.
Duque, Dizon, Gonzales, Galvez, and Treñas all attested to the fact that the Omicron variant did not leave a devastating effect, unlike Delta and other variants.
Duque called on the public to take advantage of the vaccination initiative.
"'Wag ng magdalawang-isip pa. It's the key for us to get back to normal and four economy to move forward," he said.
The DOH chief again stressed that even with vaccines, a person can still be infected and infect others.
But because of the vaccines, 40 percent of infected persons were either asymptomatic or have mild symptoms.
"We still need the discipline and compliance to use of masks and adherence public health standards. Hindi sapat ang bakuna lang. Dapat May ka sa ang hugas, iwas, at mask (HIM)," he said.
Meanwhile, Gonzales narrated that at the beginning of the year, 16 of their staff contracted the virus. Even his family was not also spared.
"But thank God, dahil sa bakuna, sent by the IATF, lahat sila, either asymptomatic or mild," he said.
Gonzales said that the public should start to live with COVID-19.
"And the bakuna is the way to go. Sana po ang taga Iloilo, taga Western Visayas, you will relay the message that vaccines work. And it really works sa mga offices namin at sa mga pamilya namin," he said.
In the case of Treñas, around 59 of his staff were also infected. However, most of them are either asymptomatic or only had mild symptoms.
This alone, the mayor said, is a testament that vaccines really work.
Dizon, on the other hand, said that the current Omicron surge is different from the surges the country experienced in the past year.
"Isa po ang malaking diprensya: ang bakuna. Noong may alpha, beta, and delta surge, kitang-kita po, puno ang mga hospital. Andaming namamatay. Pero ito pong latest, ano po ang diprensya? Bakunado po ang madami sa ating mga kababayan. If there is one message that we want to share to everyone, please for those who have not taken the jab, (get vaccinated)," he said.
With the Resbakuna sa Botika, he said that the government Is trying to make it as easy as possible "because we cannot stop until the last Filipino is vaccinated because that's the only way to move on from Covid para tuloy tuloy na pong bumalik ang kabuhayan. Tuloy-tuloy nang bumalik ang trabaho at tuloy-tuloy nang umunlad ang ekonomiya."
Meanwhile, Galvez cited the local government units (LGUs) all over the country for their efforts in vaccinating the people.
"Malaki na po ang tiwala ng tao sa LGUs. We only recorded around 8 percent among population who have vaccine hesitancy," he said.
But Galvez still underscored the importance of getting booster shots.
"It's your wall of protection or wall of immunity," he said.
Currently, the country has yet to reach 10 percent of the target population for its booster shots.
He also requested parents of children aged 5 to 11 years to have their kids vaccinated once the roll out for their age group starts.