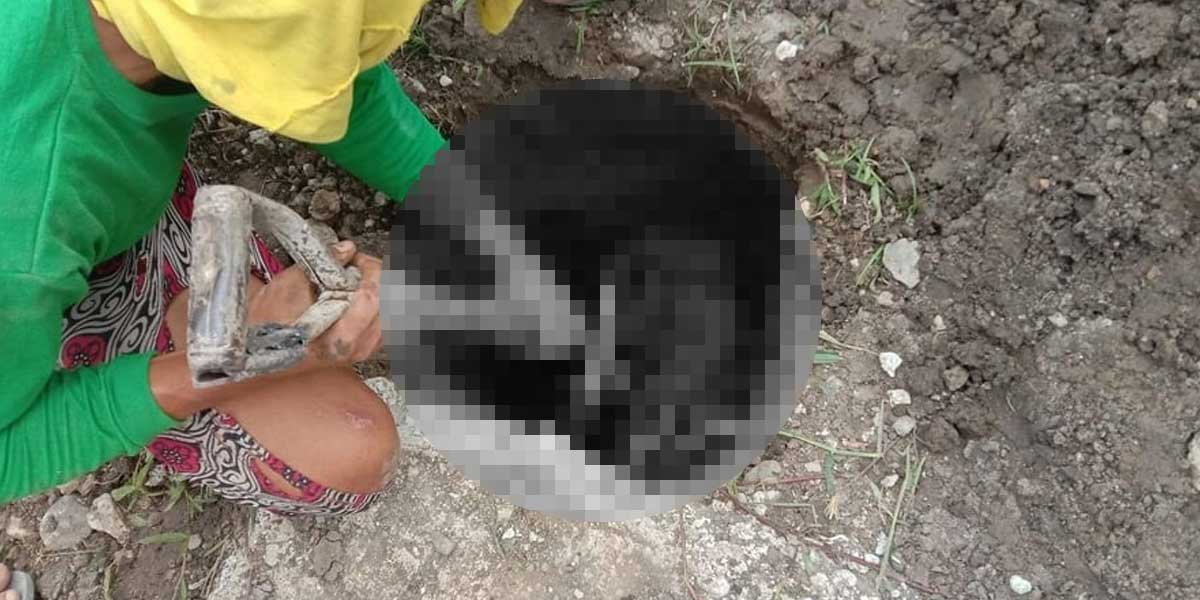 By Jennifer P. Rendon
Police might have leads on the identity of the skeletal remains found in Barotac Nuevo, Iloilo on Jan. 14, 2022.
Major Rowena Hubert, Barotac Nuevo police chief, said the remains could be that of Rodolfo Sardon, a worker of a hollow blocks factory at Barangay Bungca.
Sardon, a native of Himamaylan City, Negros Occidental, was 26 years old when he was reported missing on Sept. 22, 2015.
At that time, he was working for Danilo Sumande, the owner of the house where Sardon's remains were exhumed.
Hubero said Sumande wanted to build a garage in the area. At around 11:30 a.m. Friday, workers initially found a skull after digging a hole two to 3 feet deep. The rest of the remains were found buried in the same area.
Just this weekend, police were able to trace the family of Sardon.
According to Flordeliz Arroz, Sardon's sister, the remains could be that of her brother based on the clothes found with the cadaver– a red shirt with Colegio San Agustin-Bacolod printed on the back and a checkered pair of short pants.
Although from another province, Sardon was able to work in Iloilo after someone recruited him for a job at the hollow blocks factory.
Sumande told police investigators that he thought Sardon just went home and decided not to return for work.
But his family claimed that he never made it home.
According to a resident, he heard a loud noise of what appeared to be men on a drinking binge before Sardon's disappearance.
There were reports that Sardon was too drunk and went unruly. He allegedly turned his ire on some items inside their quarters.
Shortly later, he went out to allegedly buy liquor but failed to return.
But Sardon's sister claimed that it was a bit hard to believe that her brother went unruly citing that he was a good person.
Meanwhile, Hubero said they are still waiting for the family to personally check on the things that were found on the skeletal remains.
If they are convinced that it was indeed Sardon, they could submit dental records or seek DNA test for verification.
Hubero added they have yet to identify the persons who were with Sardon on the supposed night he went missing.
An autopsy might not be possible, though, since the remains were already fragmented when found.