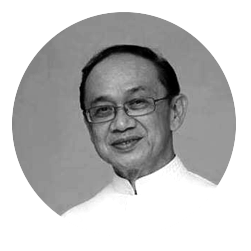 By Fr. Roy Cimagala
THAT'S a piece of advice of St. Paul in his Letter to the Romans. (cfr. 12,15) It's a call for us to share the conditions and predicaments of the others. It is to feel for them. The complete text is as follows"
"Rejoice with those who rejoice; mourn with those who mourn. Live in harmony with one another. Do not be proud, but be willing to associate with people of low position. Do not be conceited." (15-16)
It's a good reminder of how true Christian charity is. It behooves us to enter into the lives of the others, share and give whatever we can to help them. It warns us of the danger of pride and conceit that detaches and isolates us from the others. In other words, that we should never be indifferent to the others. How they feel, how they are going through a certain situation should somehow be felt also by us.
But this particular part of the advice, "Rejoice with those who rejoice," though it can lend itself to different interpretations, can mean that we should never be envious when we see others enjoying over something. We should also share in their joy, not saddened.
That's what envy is all about. It's that uneasy feeling that others are better than us in some respects, and are enjoying that status. Or it can come as a result of some personal frustrations, defeats and losses while others appear to only have successes and victories.
Envy is usually accompanied by sadness and sometimes by hatred, anger, bad thoughts and impulses of revenge, fault-finding and bitter zeal. It comes as a result of comparing oneself with others without God in the middle. The standards used are highly subjective and restrictive.
What makes it worse is that it is something internal, usually suffered in private, quite hidden, and therefore hard to be corrected by oneself or by others. To cover it up some more, especially when one suspects that others are already detecting it, one usually uses all kinds of pretension and the ways of hypocrisy.
A nasty sense of insecurity bogs him. There's usually a see-sawing attitude of liking and disliking, or the liking is somehow accompanied by a trace of dislike, a pinch of discomfort. One is not totally at peace when envy assails him.
Yes, envy is a very unfortunate thing to happen to anyone because it is a pure waste of time and energy. And because of it, many good opportunities that one can have are often missed. Of course, the worst effect is that one's soul gets corrupted and can get completely wrapped up in his own miserable self-made world. He suffers alone.
We have to slay envy everytime it makes us its port of call. We have to let it know immediately that it is unwelcome. And the way to do it is to go to Christ immediately, praying, sacrificing, and reminding ourselves of Christ's example and teaching.
We need to remember that we are all brothers and sisters in Christ, however we are placed and situated in life. Not everyone can be bright, talented, successful, etc. Some have to do the menial job, take care of the little things, be at the background. We just have to learn to accept things as they are and be happy with everyone else. Only when we are with Christ can we achieve this!
Email: roycimagala@gmail.com