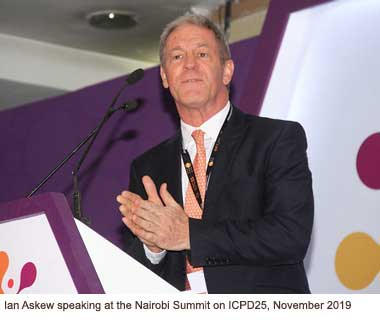 In December 2021, Ian Askew stepped down as Director of the United Nations Special Programme HRP, and WHO's Department of Sexual and Reproductive Health and Research (SRH).
Here, he reflects on almost 6 years at HRP, and a 40-year career in SRHR research. 
I am privileged to have witnessed, first-hand, 40 out of HRP's 50 years. Indeed my very first job, in 1980, was a research assistant on an HRP multi-country study of patterns and perceptions of menstruation.
That project was typical of HRP's approach and impact. It addressed a topic with huge socio-cultural and political sensitivities, experienced by over half of the world's population but rarely addressed in research. It brought together teams from 10 countries and undertook country-specific and comparative meta-analyses. It significantly expanded the evidence base on menstruation with data contributed by thousands of women, generating new context-specific knowledge and informing the development of new contraceptive technologies and their delivery.
These same features characterise the research that HRP continues to lead and support. Examples during my time as Director include the ECHO Trial which found no significant difference in risk of HIV infection among women using one of three highly effective, reversible contraceptive methods, and the CHAMPION study showing heat-stable carbetocin to be as safe and effective as oxytocin in preventing postpartum haemorrhage.
HRP's research during the COVID-19 pandemic is no exception: the on-going prospective cohort study investigating maternal, pregnancy and neonatal outcomes for women and neonates infected with SARS-CoV-2 shows how HRP is uniquely able to plan, coordinate and support implementation of globally significant studies. HRP's work improves knowledge and strengthens health services and systems; it saves and improves lives.
A commitment to human rights and gender equality 
Established 50 years ago as the world's first global health partnership, HRP's mandate is as relevant and impactful now as it was when a 1972 World Health Assembly Resolution established the Special Programme for: "… promoting scientific and technical cooperation between developed and developing countries" and " coordinating the global research efforts in the field of reproductive health".
There are countless ways that HRP provides influential leadership on SRHR: from strengthening the health sector to address violence against women, to championing adolescents' sexual and reproductive health and rights, and respectful maternal health care in which women's experience and preferences are just as important as their clinical care.
HRP has a unique, essential and enduring role among organizations which seek to ensure that the human rights of everyone, everywhere, to the highest attainable standards of sexual and reproductive health, are respected and defended.
This means communicating evidence-based messages on SRHR issues that can be politically challenging, especially those that uphold human rights which may not be universally respected. It means forging partnerships with stakeholders in parliamentary, civil society and philanthropic spaces, bridging science and policy, and driving change for gender equality and the empowerment of women and girls in all their diversity.
A global mandate to think big, and think together
HRP's integration within WHO's Sexual and Reproductive Health and Research (SRH) Department, and its dynamic co-sponsorship by five UN agencies, are critical to achieving the goal of SRHR for all.
It has been highly satisfying to work together in actively promoting the use of implementation research to guide the introduction and scale-up of proven interventions in national health systems; to inform normative guidance on including comprehensive packages of SRH services in national primary health care and universal health care strategies, and to embrace emerging innovations in digital health and self-care.
HRP has contributed extensively to the successful creation of WHO's Science Division, for example, through WHO-wide adaptation of the "living guideline" approach, which HRP/SRH staff pioneered. HRP is also influencing WHO's digital health strategy, including the use of "SMART" digitised normative guidance – again, first developed by HRP.
Innovative approaches to research capacity strengthening continue to be at the core of HRP's mandate. My first job as a research assistant on the menstruation study was at a WHO Collaborating Centre, where HRP funding supported specialized research training in reproductive health for early and mid-career researchers from low- and middle-income countries. This function has now transferred from high-income to low-income countries through the establishment of the HRP Alliance for Research Capacity Strengthening and its regional hubs. All involved should be extremely proud.
Looking ahead to the next 50 years of HRP
Last March I informed HRP's Policy and Coordination Committee (PCC) that, for family reasons, I would be stepping down as Director of HRP (and as such, Director of WHO's SRH Department). As the recruitment process for my successor enters the final stages, I took the opportunity to transition to work with WHO's Regional Office for Africa in December. My role is to support WHO's efforts in the Africa Region to promote and enable the integration of SRHR in primary health care systems to accelerate progress towards UHC, as well as to strengthen WHO's regional leadership in research, science, and innovation.
Craig Lissner, the Programme Manager for HRP, has been appointed as Acting Director until the new director is in place. Craig is the institutional memory for HRP and a superb manager, so I know that the work is in very safe hands.
Becoming the HRP Director was, for me, the dream job I had always aspired to, since being a young research assistant. I am sure it will also be the ultimate professional achievement for my successor. That person will lead a committed, dynamic and incredibly talented team with high expectations of continuing the long legacy of achievements and impact over 50 years.
It has been an honour to work with the team and I thank them most sincerely for their collegiality and friendship. I would also like to thank the many individuals serving on HRP's governance and advisory bodies for their guidance, as well as colleagues in WHO for their support for and engagement with HRP.
As HRP looks ahead to the next 50 years, I look forward to seeing it sustain leadership in world-class research and capacity strengthening, expand its collaborative work with the Regional Offices of WHO and co-sponsors – and, most importantly, stand firm in using scientific evidence to promote human rights and gender equality through informing policy dialogue, investment decisions, health system and multisectoral programming.