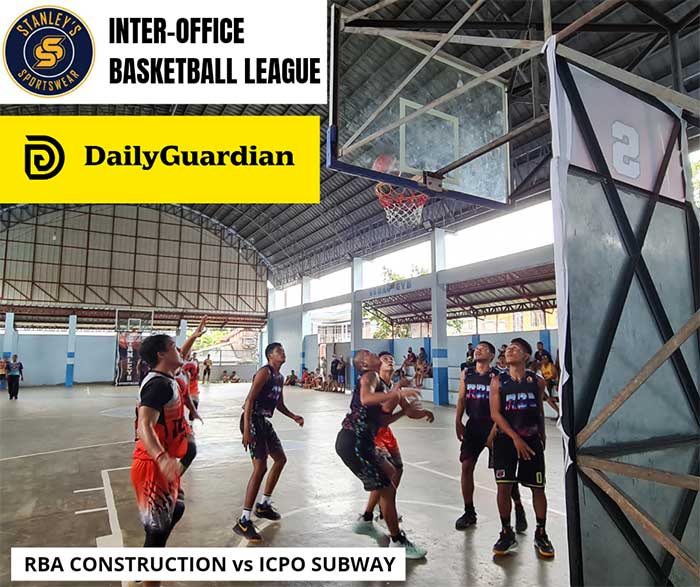 By Leobert Julian A. de la Peña
Team RBA Construction pulled off one of their best performances of the season and forced a do-or-die rubber match against team ICPO Subway, 88-80, during the semifinals of the 2022 Iloilo City Inter-Office Basketball League organized by Stanley's Sportswear.
Aside from a thrilling game one win, team RBA became the first team to defeat ICPO Subway in the season and erased their twice-to-beat advantage.
William Pillora of team RBA had a stellar outing and displayed an all-around performance of 18 points, three rebounds, and one steal.
Every time ICPO Subway made a run, it was Pillora who answered back for team RBA and scored on several crucial possessions to keep his team alive in the playoffs.
It was a tightly-contested matchup the whole game as ICPO Subway kept on finding ways to counter with their own offensive runs but team RBA showed more heart and wasn't willing to surrender their hopes of making it to the grand finals.
Amir Emboltura became ICPO Subway's main gunner for the second-straight game and contributed 13 big points but wasn't enough to tame the surging RBA squad.
Meanwhile, in the other semifinal duel, team SWAT Subway continued its undefeated run in the tournament and crushed ICPS1 PNP, 93-64, to punch their ticket to the tournament finals.
There was nothing that ICSP1 PNP could do as the SWAT Subway shooters immediately found their rhythm and waxed hot from the three-point area.
Alexander Sitier led the SWAT Subway offensive assault and penetrated against the ICSP1 PNP defense at will on his way to 20 points, eight rebounds, and four assists.
Team RBA and ICPO Subway will battle it out for the last slot for the finals on July 24 while SWAT Subway will have the luxury to take a two-week break.
Mr. Jojo Castro is the tournament consultant while the living legend Mr. Abwe Estenor is the league commissioner.