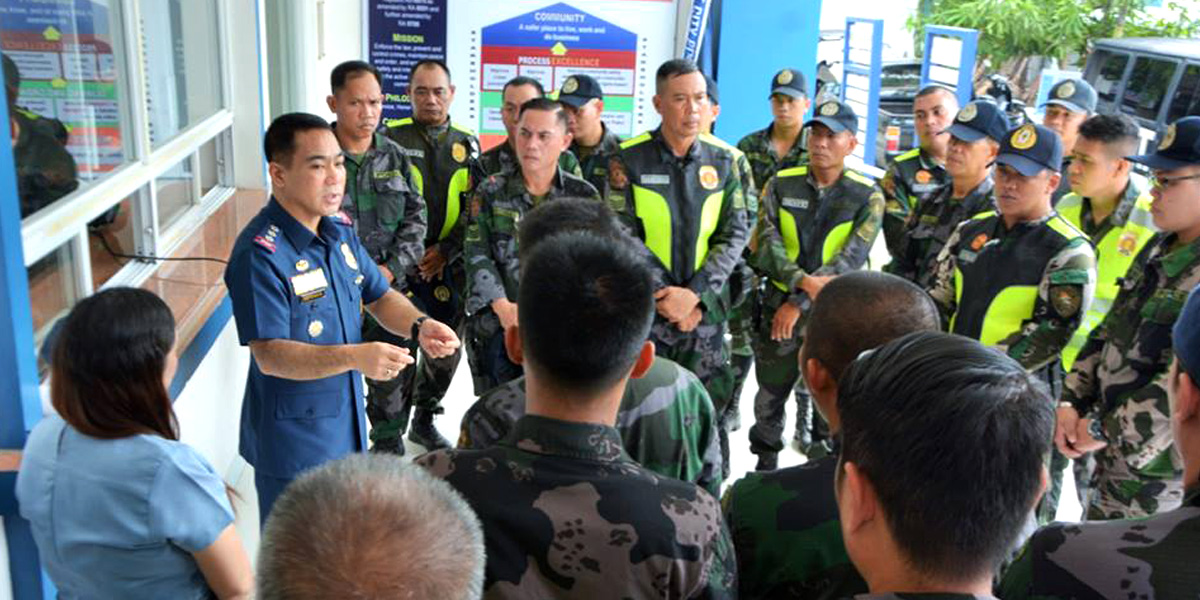 By Jennifer P. Rendon
Not yet off the hook.
The fourth highest ranking police officer of Western Visayas, Colonel Martin Defensor, has been implicated in the controversial January 2020 twin killings in Iloilo City.
Defensor, current Police Regional Office 6 (PRO-6) chief of staff, was Iloilo City Police Office (ICPO) director when the incident happened.
The deaths of suspected drug personality Alain Muller and businessman Delfin Britanico on January 19, 2020 exposed the alleged participation of police officers in the killing of suspected drug personalities.
Former Barangay Association for National Advancement and Transparency (BANAT) party-list representative and former Iloilo Assemblyman Salvador "Buddy" Britanico confirmed that Defensor was also charged along with five other policemen.
Britanico said Defensor was considered an accessory to the death of his son Delfin.
Daily Guardian is still trying to get Defensor's comment.
On the other hand, Police Corporal Joseph Andrew Joven, Staff Sergeant Ricardo Morante, Master Sergeant Vernie Escorial, Staff Sergeant Michael De Felipe, and Staff Sergeant Freddie Libo-on were charged for the complex crime of robbery with homicide.
In filing the case against Defensor, Britanico banked on Joven's statement that the former Iloilo City police chief gave them money after the twin killings.
"It appeared that he covered up for his police personnel. Joven said Defensor gave them money from time to time. In his case, Joven said he received money ranging from P5,000 to P15,000 while he was in hiding," Britanico said.
He claimed there was no attempt from Defensor to communicate with them. Immediately after Delfin's killing, Britanico said a relative went to Defensor's office.
"He appeared to be evasive," he said.
In the case of Muller, Defensor was charged with murder, along with the five policemen, who were implicated in Delfin's killing. He was deemed as "mastermind" or principal by inducement.
"Sa kay Muller, naga gwa nga sya ang nagsugo," Britanico said.  (In the case of Muller, it appeared that he was the one who ordered [the killing]).
The Delfin Britanico case was filed on July 8, 2021 while the Muller slay case was lodged a month after.
Britanico said they have dissociated from the case earlier filed by the National Bureau of Investigation (NBI).
On May 29, 2020, the NBI filed a case for murder and theft against Corporal Jerry Villanueva and Joseph Andrew Joven, and two unidentified suspects.
"We decided to dissociate from the case because we believe that Corporal Villanueva was not at the crime scene when the incident happened," Britanico said.
He said that the family didn't plan on taking on Muller's case.
"The widow has been asking us for help since the wake of Toto Del. Initially, I advised them to seek for their own legal counsel to focus on the case," he said.
But Muller's wife has been insistent until the Britanicos conceded.
"We have realized that there are several common evidence between the two cases," Britanico said.
All the charges stemmed from separate shootings of Muller and Delfin Britanico in Iloilo City.
Muller, a call center agent and a drug surrenderer, was peppered with bullets at 12:00 noon of Jan. 19 at Locsin Street in Barangay Cuartero, Jaro district.
Thirty minutes later, then 36-year-old Britanico, a resident of Mirasol Subdivision, Dicen Street, La Paz, was shot dead while navigating Barangay Nabitasan, La Paz.
Joven would later implicate Morante, Escorial, Libo-on, and de Felipe to the case.
De Felipe has denied Joven's accusation.
Just like Britanico's family, the policeman claimed he also wanted justice after he was allegedly wrongfully accused.
De Felipe said he didn't know Britanico until the latter was killed.
He theorized that Joven was taking revenge at them or he was possibly "hallucinating, as he was high on drugs."