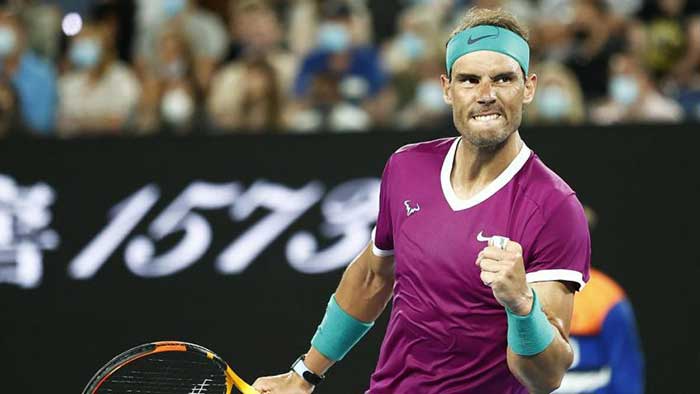 By Leobert Julian A. de la Peña
Rafael Nadal's ultimate quest of a 21st Grand Slam title is still alive after surviving the resilient Adrian Mannarino in straight sets, 7-6 (16-14), 6-2, 6-2, in the fourth round of the 2022 Australian Open.
It was a grueling first set for Nadal as the French leftie fought toe-to-toe with him that extended the first set to one hour and 20 minutes, one of the longest recorded first set durations in the history of the Australian Open.
The mano-a-mano lasted 16 tie-break points which Nadal took in a come-from-behind fashion after trailing Mannarino 0-3 in the opening minutes of the first-set decider.
Nadal's heavy forehand and incredible anticipation to where Mannarino will put the ball helped him close out the action-packed first set and paved the way for his momentum in the next two sets.
Mannarino started to run out of firepower in the second and third sets while having his streak of games won limited to just one compared to Nadal's four.
The French star attempted to stick longer with his baseline rallies but Nadal's power proved to be too much and just piled up his total game-winners to 107.
With the hard-earned victory against Mannarino, the Spanish tennis legend will be taking on another familiar opponent in Denis Shapovalov to kick off his Australian Open quarterfinals.
Shapovalov is coming off a stellar upset victory against world no. 3 Alexander Zverev in three straight sets, 6-3, 7-6, 6-3, during their fourth-round showdown.