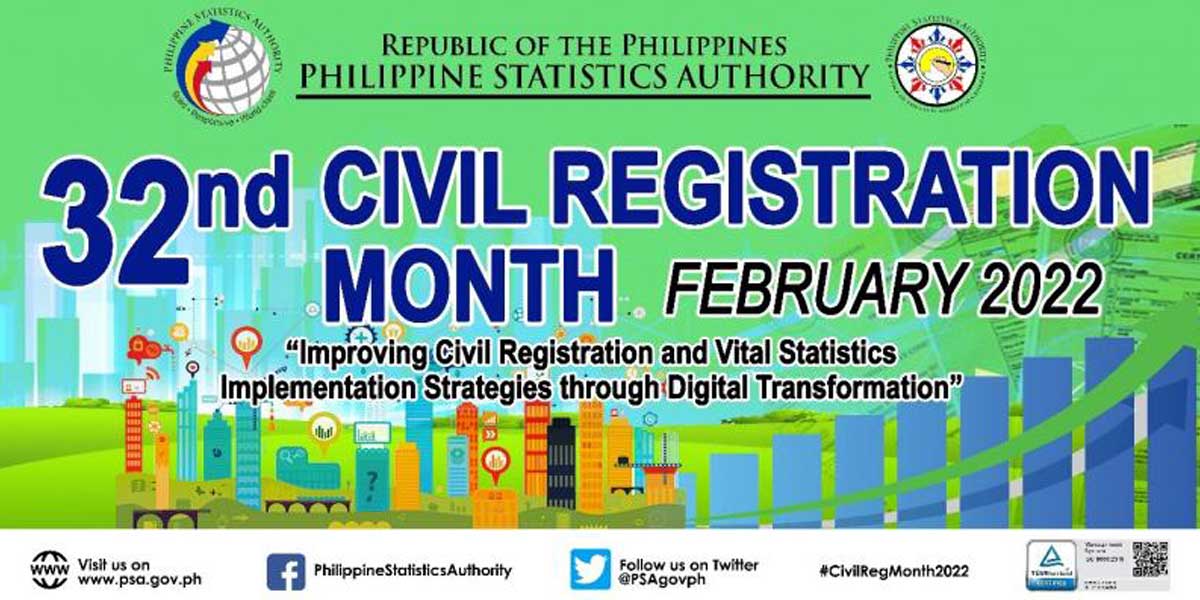 The Philippine Statistics Authority Regional Statistical Services Office 6 (PSA RSSO-6) spearheads the 32nd Civil Registration Month with the theme "Improving Civil Registration and Vital Statistics Implementation Strategies through Digital Information".
The annual celebration is pursuant to Presidential Proclamation No. 682 declaring the month of February of every year as Civil Registration Month affirmed by President Corazon C. Aquino on 28 January 1991.
In line with the month-long celebration, several activities are lined up
to highlight the event.
For the kick-off, radio and TV guesting and interviews of PSA staff will be conducted to disseminate information to the public regarding Civil Registration Month activities and to answer queries and problem regarding civil registry documents.
The PSA RSSO-6 in partnership with the Local Government Units (LGUs) through the Local Civil Registry Office (LCRO) and other government agencies encourages the hanging of streamers in support to the activities such as the conduct of mobile registration, mass weddings, distribution
of flyers and other Information, Education and Communication (IEC) materials, display of Vital Statistics standee exhibit. Also, CRM Celebration brief video will be shown within the vicinity of PSA for public awareness.
A series of training activities will also be conducted as part of the celebration such as trainings for the Solemnizing Officers Information System (SOIS), lecture on Civil Registration Laws and Updates on Civil Registration and Vital Statistics (CRVS) for School Registrars and Administrators, and data dissemination for Non-Governmental Agencies (NGAs).
A refresher on Civil Registration laws and memoranda to Municipal Civil Registrar personnel via virtual platform will be conducted amidst the pandemic.
In addition, Decentralized Copy Annotation Program (DeCAP) training for CRS personnel and a lecture on Civil Registration Laws for PSA personnel will be carried out to gain a deeper understanding.
The 1st CRVS National Quiz Bee for Outlet Supervisors and 2nd CRVS Quiz Bee for LCRO personnel for provincial and regional level elimination will be administered. Also, a virtual consultative forum together with CRVS – Inter Agency Committee (IAC) Regional Committee Meeting and City/Municipal Civil Registrars will also be initiated. The awarding ceremony will culminate on Feb 28, 2022.
In connection with the celebration, the PSA RSSO-6 is soliciting the public support and cooperation in the conduct of the various activities.