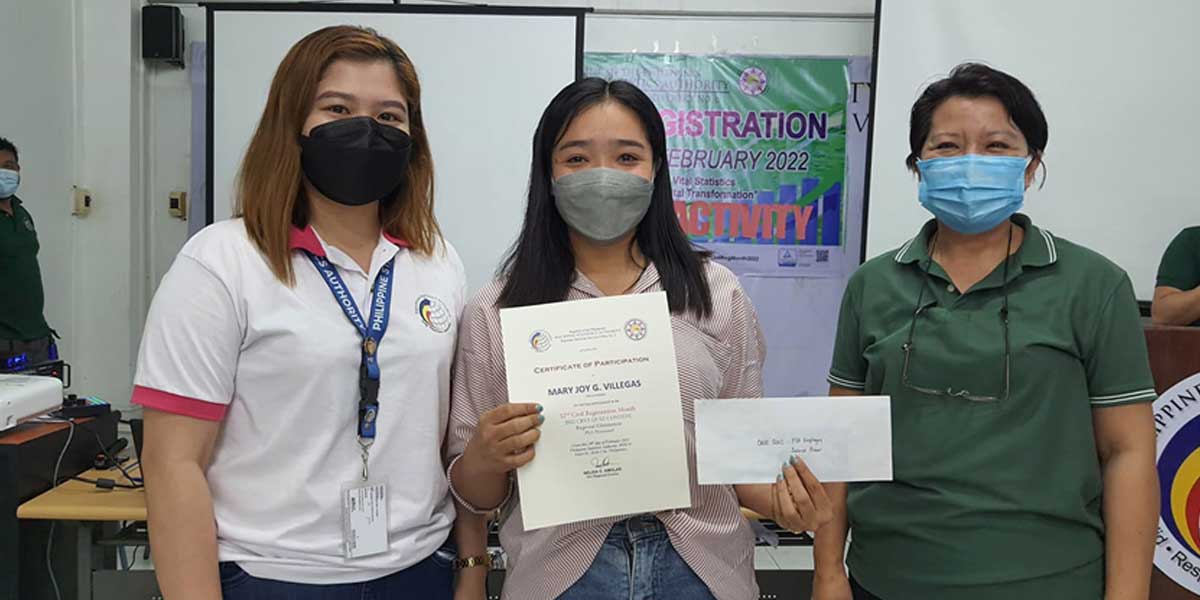 An employee of the Philippine Statistics Authority (PSA) in Guimaras won second place in the Civil Registration Regional Quiz Bee for PSA personnel during the 32nd Civil Registration Month Culmination Activity of PSA-Regional Statistical Services Office (RSSO)-6 on Feb 28, 2022.
Mary Joy G. Villegas of PSA Guimaras landed on second place after a tiebreaker with colleagues from PSA-Aklan.
Nerissa L. Campaniel won the top prize while Peter S. Mangilog of PSA-Aklan landed on third place
Campaniel, Villegas, and Mangilog were tied in Round 3 of the quiz.
However, considering the accumulated scores from Rounds 1 and 2, Campaniel got first place with 14 points. But Villegas and Mangilog were still tied in the accumulated scores.
A tie-breaking question sealed the second-place win for Villegas.
The top 3 winners received certificates of recognition with corresponding cash prizes of Php1,500, Php1,000, and Php500, respectively.
The other participants received certificates of participation.
"This year's Quiz Bee competition includes questions on statistics, gross regional domestic product, CBMS, Civil Registry laws, and current events," Guimaras Provincial Statistical Officer, Nelida B. Losare said.
Losare said the quiz bee contest aimed to test the awareness and readiness of PSA regular employees in answering queries of clients regarding civil registry documents processes, and laws.
"This quiz bee will also test their knowledge on statistics and awareness of the official data of their province, check their awareness on the Gross Regional Domestic Product, and CBMS as well as on current events," Losare said.