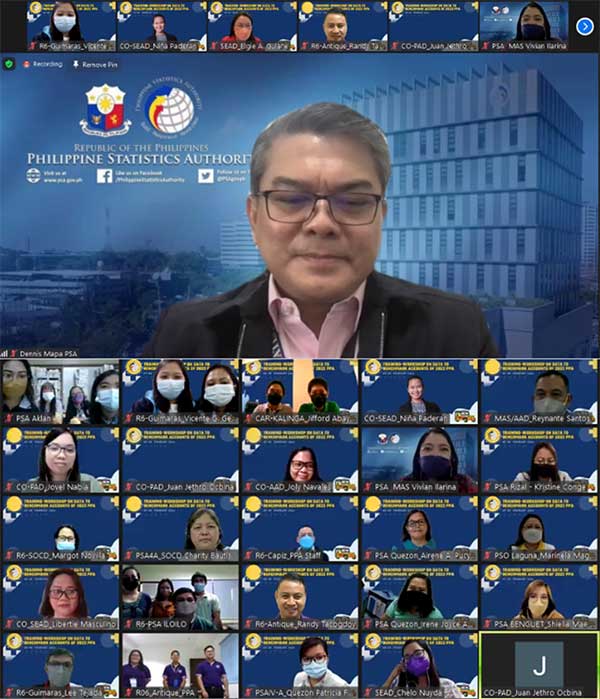 The Philippine Statistics Authority is gearing towards the compilation of the Provincial Product Accounts (PPA) in all the provinces and highly urbanized cities (HUCs) of Western Visayas together with the other five pilot regions for 2022 – Cordillera Administrative Region (CAR), CALABARZON, Eastern Visayas, Davao Region, and SOCCSKARGEN.
"The PPA measures the sectoral economic performance of the provinces and highly urbanized cities, basis for planning and policy formulation at the subnational level that supplement and complement the Gross Domestic Product (GDP)," National Statistician and Civil Registrar General Claire Dennis S. Mapa said during the training workshop last Feb 2-4, 2022.
The compilation of the PPA is an initiative of the PSA to address the overwhelming demand of economic managers and policymakers for granular-economic data.
"This is our response to the aspirations of our local planners and policymakers to be able to present a comprehensive picture of the provincial economy, including highly urbanized cities, by providing them with a more appropriate measure and assessment of the provincial economic performance," Mapa said.
The PSA reached another milestone in economic account statistics in 2021 with the completion of the PPA compilation for all the 14 provinces and HUCs in the first three pilot regions (MIMAROPA, Central Visayas, and Northern Mindanao).
The PSA is on track towards the goal of institutionalizing the PPA in the 17 regions, covering all the provinces and the HUCs, by 2025.
Guimaras Provincial Statistics Officer Nelida Losare called for the full cooperation from its partner agencies and data providers in the conduct of the PPA activities, particularly in the provision of timely and quality statistics for the PPA estimation to have a clear picture of the Guimaras Province's economy for appropriate planning and equitable development towards improved quality of life for all.