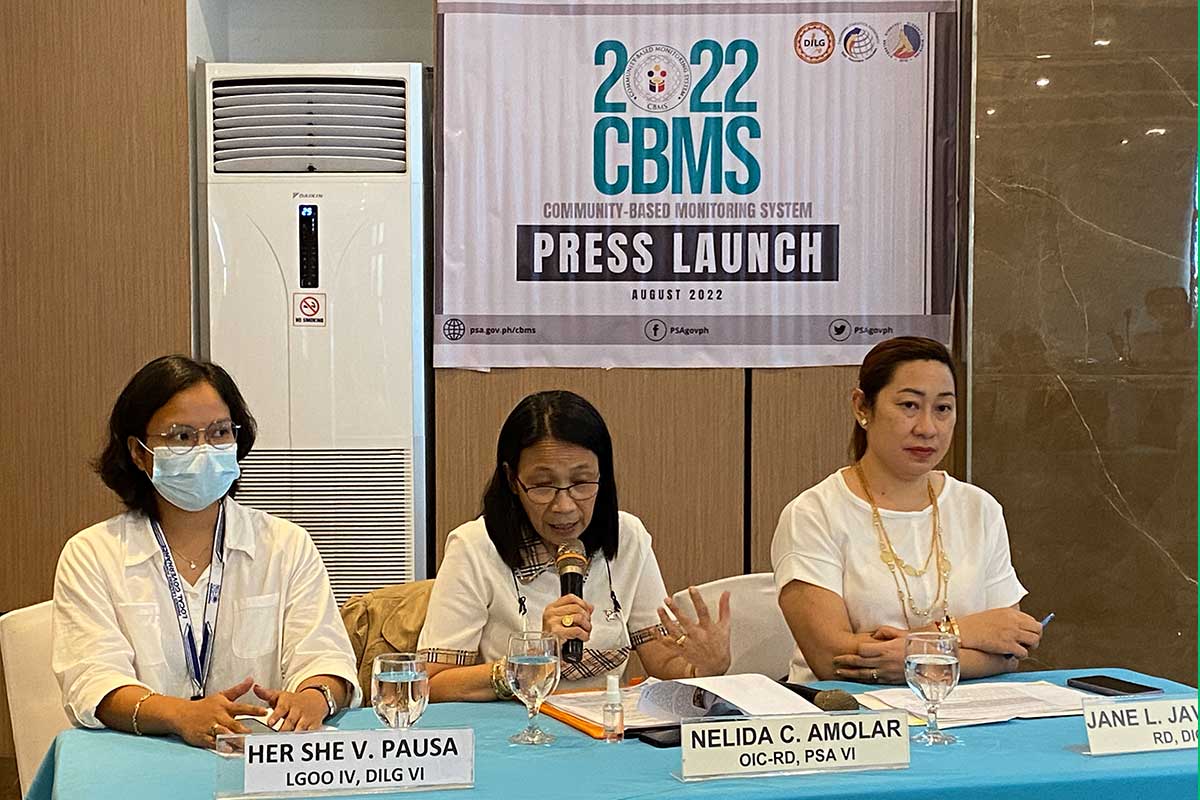 By Joseph B.A. Marzan
The Philippine Statistics Authority-Region 6 (PSA-6) on Monday led the launch of the 2022 Community Based Monitoring System (CBMS) that aims to help local governments and communities identify priority areas for development through data.
Section 3(a) of Republic Act No. 11315 (Community Based Monitoring System) defines CBMS as "an organized technology-based system of collecting, processing and validating necessary disaggregated data that may be used for planning, program implementation and impact monitoring at the local level while empowering communities to participate in the process."
The system, according to the said law, aims to "generates updated and disaggregated data necessary in targeting beneficiaries, conducting more comprehensive poverty analysis and needs prioritization, designing appropriate policies and interventions, and monitoring impact over time."
Under the CBMS, a comprehensive set of data will be collected from households in a house-to-house collection activity in participating cities and municipalities.
Some of the data to be collected include:
-educational background;
-sources of income;
-health conditions and disabilities;
-community participation;
-source of water;
-sanitation and hygiene practices;
-agricultural and fisheries activities;
-full consumption expenditure;
-financial inclusion;
-membership in social protection programs;
-structure and materials of their dwelling units; and
-disaster preparedness practices, and other relevant information.
All data will be received and stored by the LGUs to create a national CBMS data bank of collected information, which will be updated every 3 years.
During the launch program, PSA-6 officer-in-charge Nelida Amolar said the agency targets more "timely, accurate, and relevant economic accounts at the local level for economic development and poverty reduction."
"We will have a systematic and organized data collection that can be utilized. Solid data will come to reality, that can be used for planning, programming, and budgeting," she said.
In his recorded message from the national launch, National Statistician Claire Dennis Mapa said that the data will address the people's minimum basic needs through local government units' (LGU) use for social welfare programs.
"[The CBMS rollout is] an event that will change the course of evidence-based decision-making and local governance. […] It is very important that our national and local policy-makers use accurate, comprehensive, and updated data as basis for the projects and programs that they propose," he said.
Department of Information and Communications Technology-Region 6 (DICT-6) Director Jane Javellana said that they are providing technical and technological support to the PSA-6.
The DICT developed the software to be used by PSA-contracted personnel during the conduct of the CBMS.
The rollout is set to start in 30 municipalities this month:
-Aklan (Balete, Buruanga, Ibajay, Lezo, Libacao, Kalibo, Madalag, Nabas, Numancia, New Washington, and Tangalan);
-Antique (Belison, Culasi, Libertad, Patnongon, San Remigio, Sebaste, and Tobias Fornier);
-Capiz (Cuartero and Ivisan);
-Guimaras (San Lorenzo);
-Iloilo (Batad, Binagawan, Guimbal, Mina, San Rafael, and Tubungan); and
-Negros Occidental (Himamaylan City, Hinobaan, and Kabankalan City).
Out of these areas, 10 are funded by the PSA and 20 are LGU-funded and will end in October. Another batch will be rolled out from October to December.