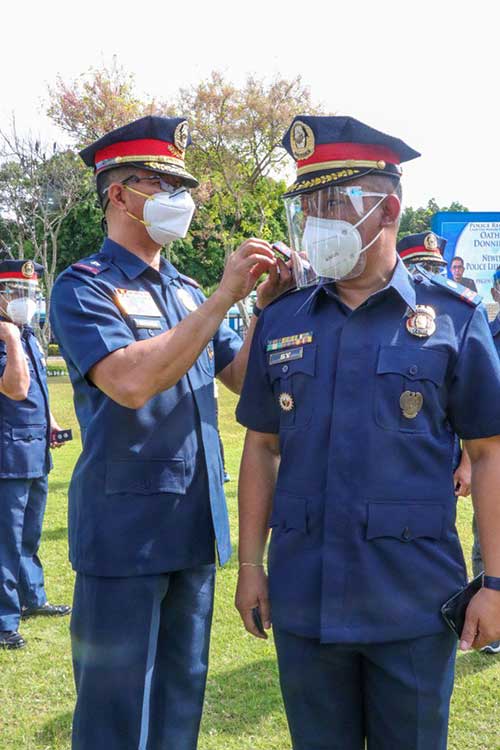 By Jennifer P. Rendon
Forty-eight members of the Police Regional Office (PRO)-6 now wear two silver sampaguita leaves on their shoulders.
From police majors, the 48 officers have been promoted to police lieutenant colonel following an oath-taking and donning of ranks on Tuesday, April 13, 2021 at the PRO-6 grandstand at Camp Martin Delgado, Iloilo City.
Brigadier General Rolando Miranda, Western Visayas police chief, led the ceremony to officially confer to the officers their new rank.
Seven of the newly-promoted officers are from the Iloilo City Police Office (ICPO); Iloilo PPO has 2; Bacolod City PO has 3; Negros Occidental PPO with 11; Guimaras PPO with 6; Antique PPO with 2; Aklan PPO with 8; Capiz PPO with 3; and the PRO-6 headquarters with 6.
Their promotion took effect April 4, 2021, based on the general orders from the national headquarters of the PNP numbered GO-PR-2021-776 to 779, all dated April 6, 2021.
In his congratulatory remark, Miranda has cited the officers' families "who had to also do their own share of sacrifice for their loved ones to get promoted."
Miranda also acknowledged the contribution of the promotion board in the processing and the screening of the promotion applicants headed by Police Colonel Lope Manlapaz, Regional Personnel and Records Management Division (RPRMD) chief.
All applicants met the minimum requirements to be promoted to the next higher rank in terms of education, mandatory schooling, eligibility, designation and time in grade.
The newly promoted officers also underwent mental and physical evaluation to ensure that they are physically fit and mentally sound to serve in the PNP organization given their new ranks.
Miranda also underscored what promotions meant to him.
First, he talked about career advancement.
Second is making their families proud of their achievement; and third is the added economic benefits.
"With all the benefits that come with your promotion, I am challenging you to prove that you are fitting to be called lieutenant colonels," Miranda said.
Since they are given greater responsibilities, the region's top cop threw a challenge for them to increase their commitment level.
With more lieutenant colonels under the PRO-6 tutelage, Miranda is confident that PRO-6 could deliver better service for the people of Western Visayas.