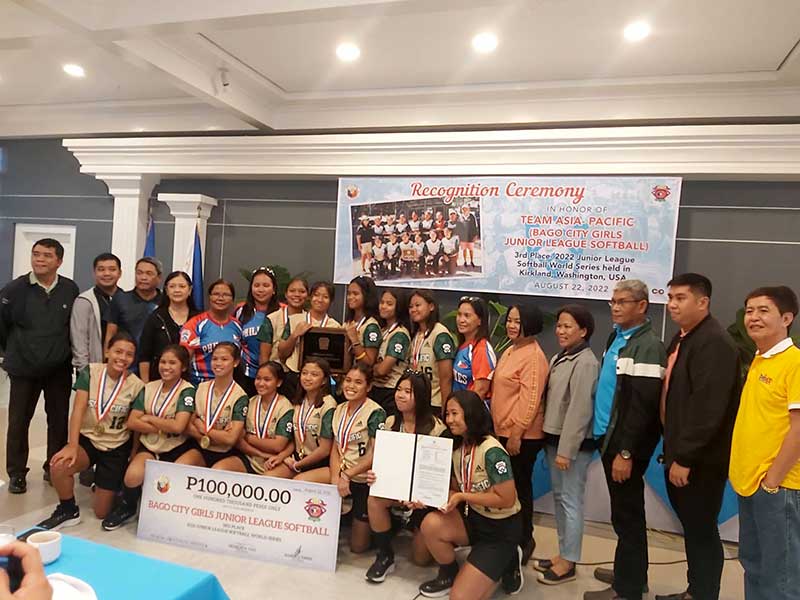 By Dolly Yasa
BACOLOD City – The team captain of the Bago City Girls Junior League Softball Team that represented the Asia Pacific region in the recently concluded Softball World Series held in Kirkland, Washington, USA said prayers and teamwork kept them going throughout the tournament.
The softbelles from Negros Occidental finished third place among 10 teams around the world that saw action in the competition held in early August.
Team Captain Layle Baladjay, who is also the pitcher, said it was a hard-earned victory considering that their counterparts were bigger than them.
On Monday morning, the Bago City government headed by Mayor Nicolas Torres and the City Council held a "Heroes' Welcome" for the team and awarded them a P100,000 cash reward in recognition of their feat.
Department of Education (DepEd) Schools Division-Bago City Superintendent Allan Yap thanked the city government for supporting the team in the international tournament.
Head coach Josie Sebunga said the team's participation was a memorable experience because they did not only receive support from the city government itself, but also from the Filipino community in the US.
Prior to the tournament, Sebunga said the players underwent the necessary tune-up in Metro Manila to better prepare them, especially the first-timers.
Sebunga said of the 10 teams participating in the world series, the Asia-Pacific team managed to "zero" three teams from the US, and one from Canada.
Zeroing a team means not allowing the opponent to make a run to the bases.
Even when they were defeated in the semifinals, Sebunga said their opponents were not able to zero them at all.
"Thank God nga naka 3rd place kita and congratulations sa tanan," Sebunga said.
Meanwhile, DepEd Division of Bago City Sports Officer Leo Dayot, said their team will again participate in the local elimination round set in February 2023.
Dayot said the Bago City team is at a great advantage due to the training they had received, although he reminded the team not to be complacent.
"I hope that this coming February, makuha gid naton ang tatlo ka category, 11-12 (years old), 13-14, and 15-16 categories," Dayot said.
He said that for a team that was just organized in 2018, it has accomplished a lot as it is the first time that they competed in the national then in the international series.
He also noted that their training even during the pandemic paid off.
The team represented Asia Pacific after conquering the national tournament as there was no team in the region ready to compete in the World Series.