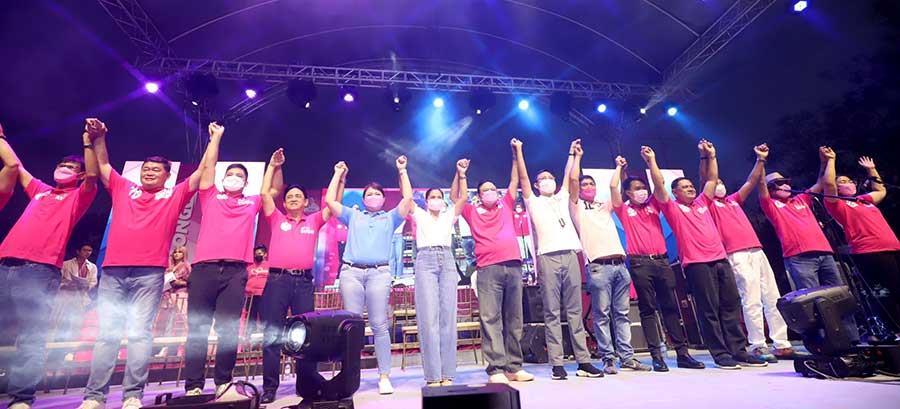 By Francis Allan L. Angelo
The camp of incumbent lone district Rep. Julienne "Jam-Jam" Baronda, Mayor Jerry Treñas and Vice Mayor Jeffrey Ganzon is confident of victory as they expect an overwhelming majority of the 330,470 registered voters in Iloilo City to deliver a fresh mandate to GUGMA-USWAG-ARRIVA.
Daily Guardian has learned that the opposition's backbone "crumbled" on the eve of the election.
A GUGMA-USWAG-ARRIVA leader claimed that many leaders on the other side began switching over the weekend.
"Their leaders in the barangays felt duped because they have not received what they were promised. They defected to the winning triumvirate Friday while others realized they've been had on Saturday. More followed on Sunday," he added.
Results of survey polls by Random Access Consultants, Inc. (RACI) indicated strong numbers for the incumbents.
Baronda was leading with 64.7% against the challenger who only got 34% despite being in politics for 30 years already.
Treñas had 80.8% while his challenger polled 18.8%, and Ganzon had 85.5% against his challengers' 14.2%.
The "defector" barangay leaders from the opposition are seen to add to the already formidable 25,000 barangay leaders on top of the Blue Angels, Gugma Youth and the support of the punong barangays, barangay secretaries and treasurers as well as Sangguniang Kabataan officials.
More than the machinery, the trio believes that Ilonggos will reelect them for "fueling the resiliency of the Ilonggos to sail through the stormy life these past two years due to the COVID pandemic with their efficient teamwork and out of the box, solutions-oriented and pragmatic leadership."
The trio also secured the endorsement of the influential Iglesia ni Cristo and other religious groups apart from business and civic groups.
Baronda and Treñas have been working together on numerous programs, projects, and assistance to the residents of the city to fulfill what they had promised in 2019.
Baronda anchored her campaign on HOPE (health, obra, peace and order, education), while Treñas pledged WHEELS (welfare, health and sanitation, education, environmental management, livelihood, and sustainability).
The campaign has been a bloody one for the incumbents as they were subjected to disinformation, "manufactured surveys," and negative campaigning.
Online trolls and blocktimers were also set loose against Baronda, Treñas and Ganzon. But the trio believes that "thinking Ilonggos were simply too intelligent to be fooled."
The power trio vowed to throttle up on what they had started —infrastructure projects, landmark pieces of legislation, responsive programs for the poor, and vision to take Iloilo City to the next level.
To work with and support them are the City Council bet of Team Gugma-Uswag-Arriva: Dr. Urminico Baronda Jr., Atty. Sedfrey Cabaluna, Punong Barangay Eric David, and Councilors Atty. Rommel Duron, Ely Estante, Rudolph Ganzon, Jojo Javellana, Atty. Frances Parcon, and Allan Zaldivar; Atty. Rex Sarabia, Miguel Treñas, and Johnny Young.
Uswag Ilonggo partylist represented by businessman Jojo Ang and Raisa Treñas-Chu, completes the team of public servants who will give love-filled service to the Ilonggos and ensure the city's progress.