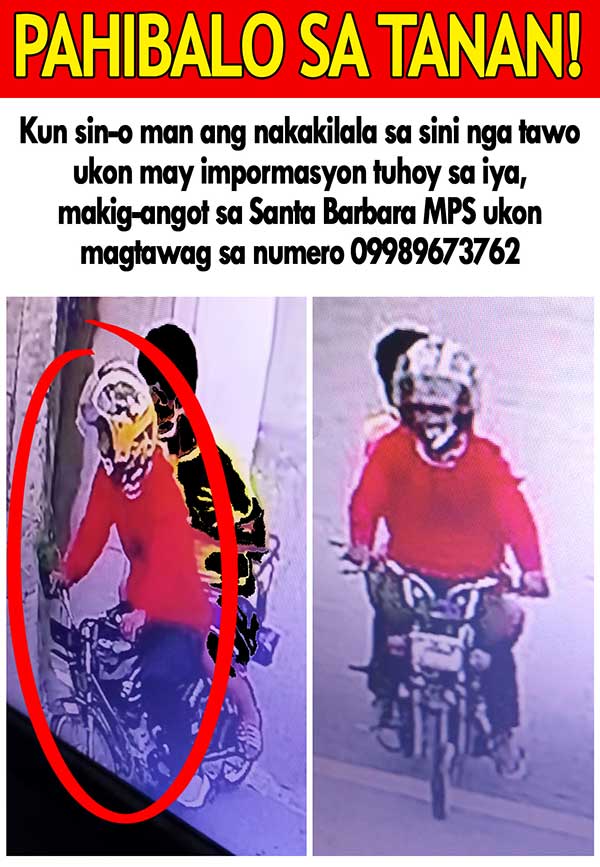 By Jennifer P. Rendon
The adage "don't talk to strangers" still holds true even and especially in this modern time.
This, as police claimed that an 11-year-old boy fell prey to a motorcycle-riding suspect who carted away his mobile phone.
Major Raymond Celoso, Sta. Barbara police chief, said the incident happened late morning of April 15, just outside the home of the victim.
The Grade 5 student was playing outside their home at Barangay Bolong Oeste, Sta. Barbara when a motorcycle stopped in front of him.
The man allegedly befriended him until he was enticed to ride with him on the motorcycle.
They drove for several minutes until they reached Delgado Street, Sta. Barbara.
The man allegedly asked the boy if he wanted a tempered glass screen protector for his mobile phone.
The boy readily agreed and gave his mobile phone to the suspect.
The rider left him claiming that he would go to a nearby shop to have the tempered glass installed on his mobile phone – an Oppo A12E worth P5,990.
But after several minutes, the man did not return.
The boy decided to go home on foot and told his parents about what happened.
Celoso said the boy's parents reported the incident at around 2 pm.
A CCTV footage showed the man with the boy backriding with him.
Celoso said they have yet to identify the suspect but it was believed that he was in his late '20s.
"This might be a new modus operandi. That's why, we're asking the parents to always remind their children not to entertain persons they don't know," he said.