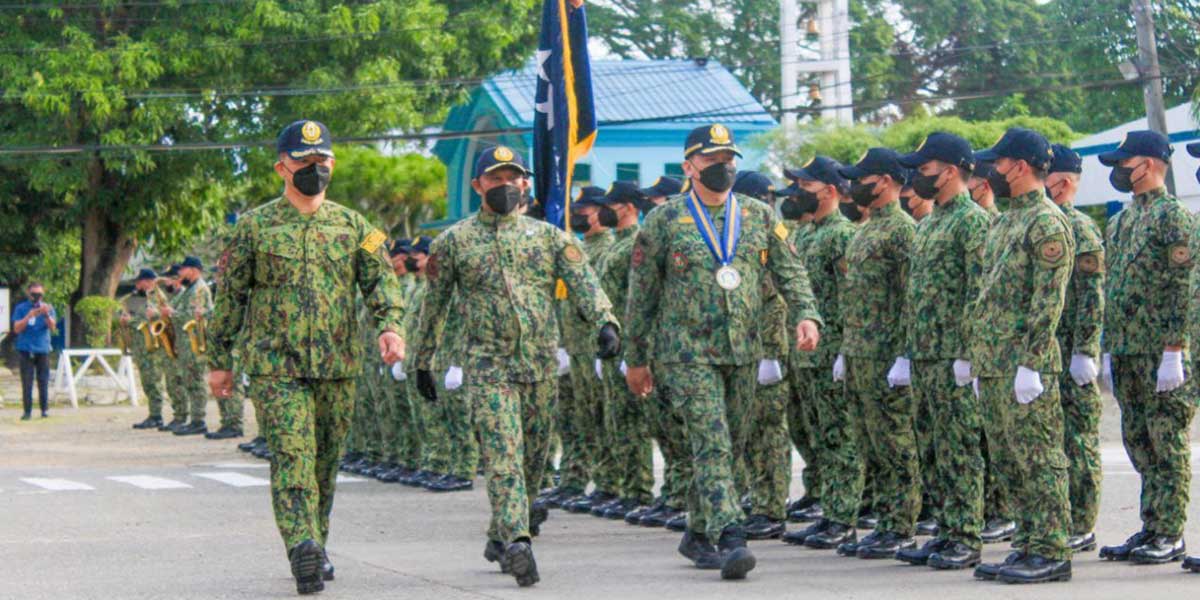 By Jennifer P. Rendon
There was not much of a hype as the country's topmost police official visited Aklan and Iloilo City.
And PNP chief General Dionardo Carlos going low-key in his first command visit to Western Visayas is for a reason, the Police Regional Office 6 (PRO-6) leadership said.
Lieutenant Colonel Arnel Solis, PRO-6 spokesperson, said that Carlos and his party had to follow protocols set for authorized persons outside residence (APORs).
Aside from the PNP chief and his party, all those who attended the event had to undergo antigen test. Only those who were negative were allowed to take part.
Carlos headed to Iloilo City after briefly visiting Aklan province. He stayed in the city for less than 24 hours and confined his visit to the PRO-6 headquarters at Camp Delgado, Iloilo. He immediately flew to Metro Manila.
Solis said a command conference was held where Carlos was briefed on the crime situation in the region and PRO-6's preparations for the national and local elections in May 2022.
"From there, he could assess on the security requirements like troops deployment," he said.
Carlos also relayed his command guidance to his subordinate commanders.
In attendance during the command conference were the PRO-6 Command Group, staff provincial and city police directors, chiefs of police, and provincial and city mobile force commanders.
Prior to that, Carlos also held his usual "talk to men program" where he reminded the personnel to follow the programs, rules and regulations of the PNP organization.
He highlighted that police chiefs and unit commanders should take responsibility for the discipline of their personnel.
Again, Carlos stressed that he will not tolerate any wrongdoings of any PNP personnel. Thus, he expected all personnel and unit commanders to perform professionally for a peaceful and orderly election come May 2022.
"Bawat isa sa atin ay mayroon tayong ambag na gagawin, may trabaho tayo na ating gagampanan to contribute to the overall functions of the PNP during the election", he said.
AWARDING
Carlos also led the awarding of medals to deserving PNP personnel.
The recipients of the Medalya ng Kagalingan were Lieutenant Colonel Mark Anthony Darroca, chief of the Regional Police Drug Enforcement Unit 6 (RPDEU-6); Major Jake Barila of the Hinigaran Municipal Police Station in Negros Occidental; Major Marlyn Roquero, chief of the Iloilo City Police Station 4; and Captain John Khalev Sanchez of the Regional Intelligence Division.
Darroca was cited after they uprooted a marijuana plantation at Purok Mangium, Barangay Codcod, San Carlos City, Negros Occidental on Nov. 29, 2021. Some 3,400 grams of marijuana were seized.
Barila was acknowledged for the conduct of entrapment operation that led to the arrest of Demosthenes Fernandez on June 29, 2021.
Roquero was awarded for leading the buy-bust operation at Barangay Divinagracia, La Paz, Iloilo City on July 14, 2021 that resulted in the arrest of Raclen Escobar while Sanchez was honored for the arrest of fugitive Dennis Subebe on Dec. 6, 2021.
Meanwhile, Carlos also bestowed a Medalya ng Papuri to Lieutenant Colonel Elmer Magbanua for returning the P10,000 cash he found in La Paz, Iloilo City on Dec. 15, 2021.
Carlos also turned over five helmets to the Regional Highway Patrol Unit 6.