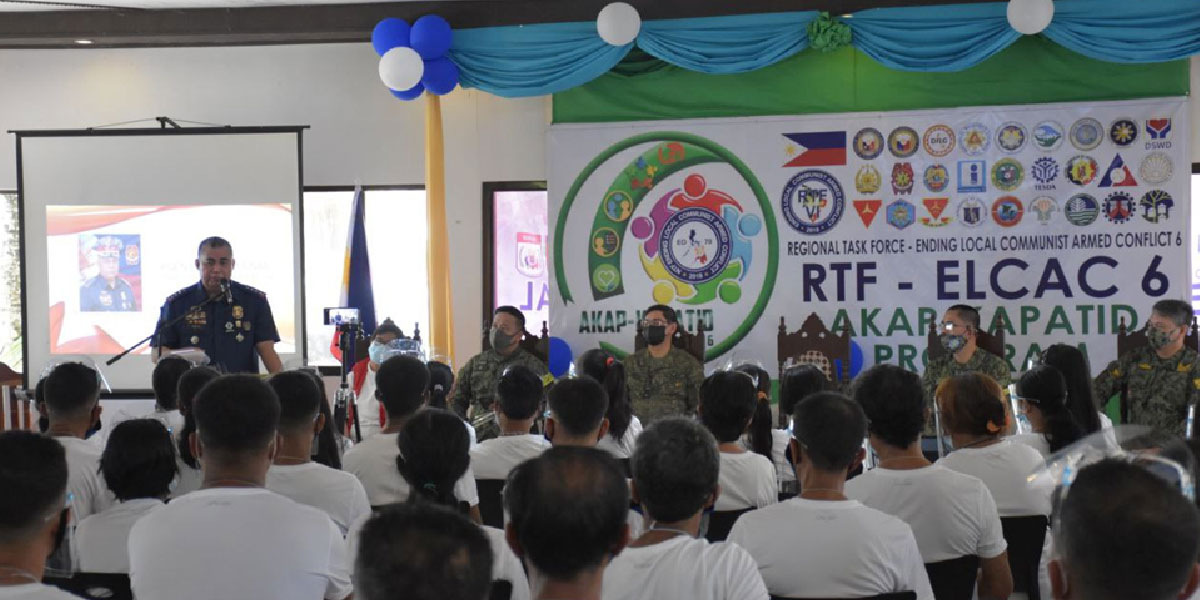 No less than Philippine National Police chief, Police General Debold M Sinas graced the closing program of the Akap-Kapatid in Oton, Iloilo.
Sinas said the government is always ready to accept and help rebel returnees even though once in their life they made a mistake to the government.
"Be extra cautious and always look up to your individual safety and security," Sinas added.
98 participants attended the 2nd batch of RTF-ELCAC 6 new program dubbed as 'AKAP KAPATID" at Botong, Oton, Iloilo.
The participants included 57 from Tapaz, Capiz and 41 from Calinog, Iloilo.
They stayed in one of the resorts in Oton for 5 days. They all availed of and benefitted from the services given by the Regional Health Service 6 such are tooth extraction, dentures, medical check-up, blood pressure monitoring, eye checkup, medical checkup, medicines and vitamins.
They were also given manicure, pedicure and free haircut hired by PRO6 and the Philippine Army.
The participants were also given lectures by the different speakers from member agencies such, Self-Awareness, Stress Management, Anti-criminality and Anti-Drugs, Criminal Justice System, Me and My Family, Me and My Community, Bayanihan Para sa Atin To, Threat to National Security, Corona Virus Awareness Response, EO 70 and The Anti-terrorism Law.
During the culmination activity, a caravan of services from different agencies was set up such as: Department Agrarian Reform, Philhealth, Department of Public Works and Highway, Department of Social Welfare and Development, Philippine National Police Recruitment, Armed Forces Philippines, Philippine Coast Guard, Tapaz LGU, Department of Interior and Local Government, National Commission of Indigenous People, National Irrigation Administration, National Economic and Development Authority and Bureau of Fish and Aquatic Resources were they can extend their help to the participants.
All participants received relief supplies from DSWD, rice and gift packs from PRO-6, T-shirt from Department of Tourism, health kits from Regional Health Service 6 and mountain Bike from James Kumar, President of the Filipino-Indian Commerce and Welfare Society Inc.
Present during the activity were Police Lieutenant General Dionardo Carlos of DIPO-Visayas, Police Major General Rhodel Sermonia, Director of PNP-DPCR; Major General Eric Vinoya, commander of the Army's 3rd Infantry Division; Police Major General Alfred Corpus, The Director for Operation; and Police Brigadier General Rolando Miranda, PRO-6 regional director.
Akap Kapatid is an initiative of RTF-ELCAC6 spearheaded by Police Regional Office 6 which is a psychosocial support activity that aims to prepare surrenderers who support the CPP-NPA to be reintegrated in the community.
It also aims to change their belief and build their confidence in government.