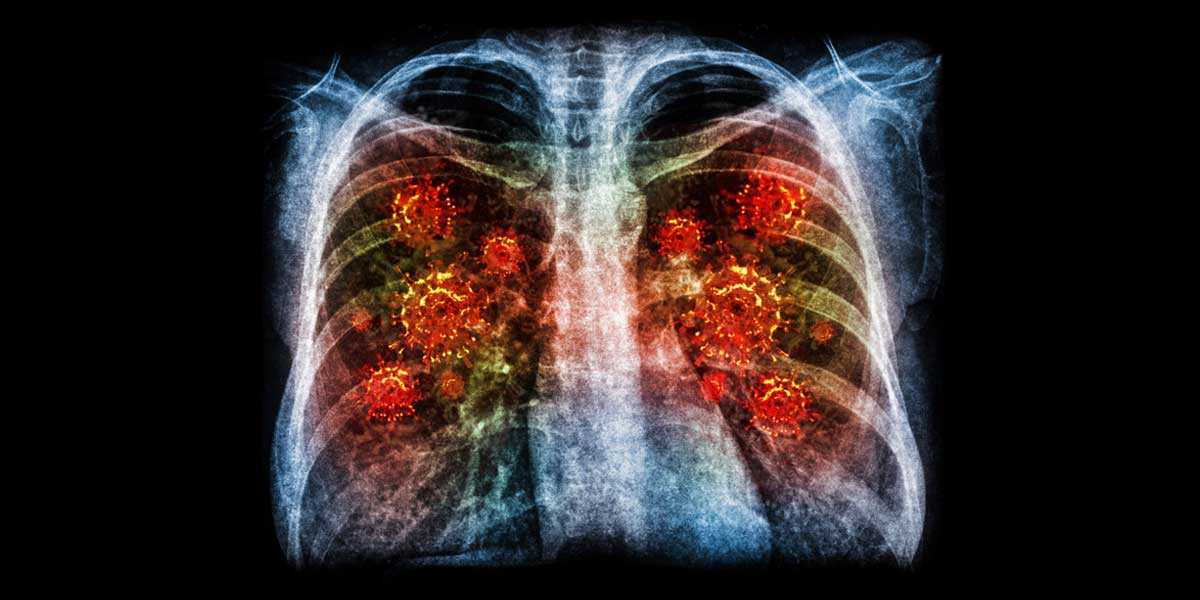 Guimaras registered 1,509 deaths in 2021, with 22.20 percent, or 335, of which were caused by Severe/Community-Acute Pneumonia, the top leading cause of death in the province, based on data from the Philippine Statistics Authority's (PSA) Decentralized Vital Statistics System (DVSS).
"The result also showed that Severe/Community-Acute Pneumonia struck more males (57.31 percent) than females," Provincial Statistical Officer Nelida B. Losare said.
"Next to pneumonia were Cerebrovascular Disease/accident prob. and Cerebral bleeding and Hypertensive Cardiovascular Disease that claimed 202, and 181 lives, respectively. These causes also attacked mostly males," Losare added.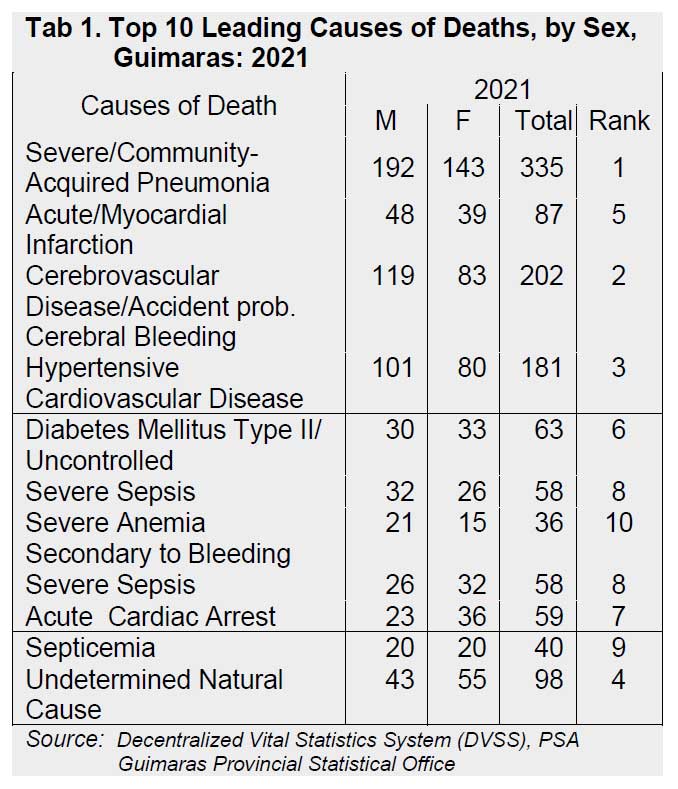 Losare also explained that six out of ten leading causes of deaths were common among males, while four were higher among females, namely Diabetes Mellitus Type II/Uncontrolled (52.38%), Severe Sepsis (55.17%), Acute Cardiac Arrest (61.02%), and undetermined natural cause (56.12%).
"A large gender gap was noted among males that suffered from Cerebrovascular Disease/Accident prob. Cerebral Bleeding (17.82%); Severe Anemia Secondary to Bleeding (16.67%), and Severe Community-Acquired Pneumonia (14.63%) while the least gender gap was observed among those with Diabetes Mellitus Type II/Uncontrolled," Losare said.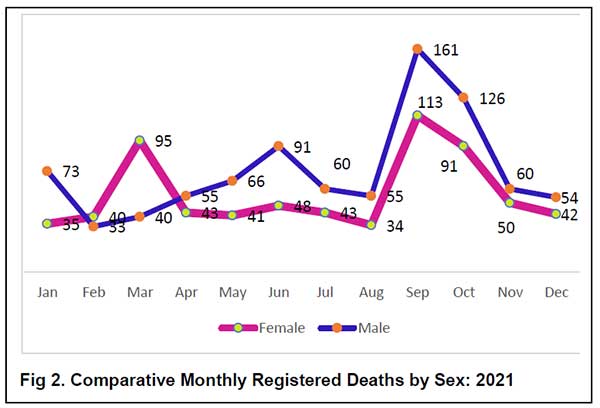 Losare also explained that there were equal fatalities among males and females due to Septicemia.
On a monthly registered death, 2021 saw the most number of male deaths than females. The highest was in September with 161 male deaths while the highest number of female deaths was at 113 cases in the same month.
"September and October had the most number of deaths with 274, and 217 cases while the month of February got the least number of deaths with 73 cases. More males died than females during the months of January, and April-December of 2021, while fatalities among females were higher only in February and March," Losare said.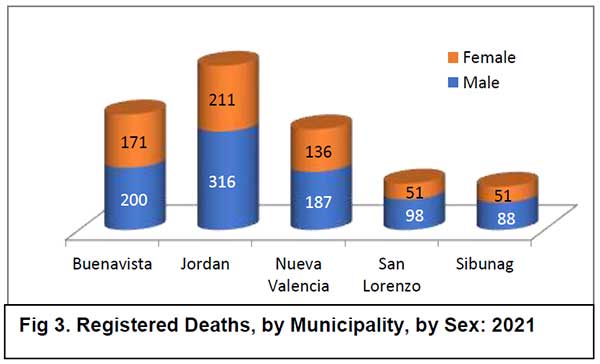 Meanwhile, Losare said Jordan recorded the most number of deaths in 2021 with 316 males and 211 females or a gender gap of 19.92%, which is lower than the 24.63% gender gap in 2020.
"Next to Jordan were Buenavista (371 deaths), and Nueva Valencia (323 deaths) with a gender gap of 7.82% and 15.79%, respectively while San Lorenzo recorded the large gender gap of 31.54%, the number of male deaths is higher than the number of female deaths," Losare said.