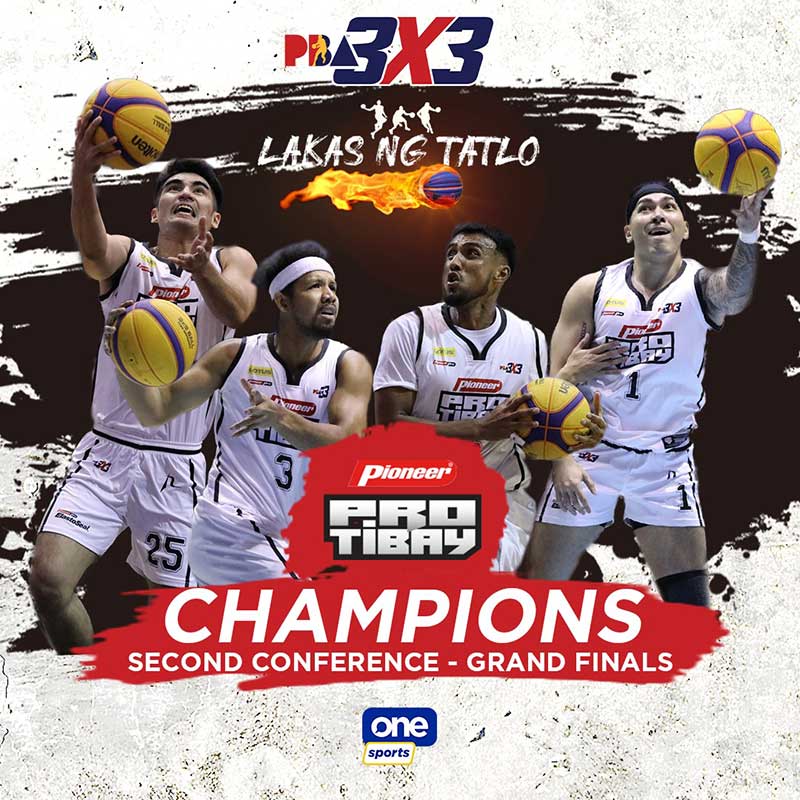 By Leobert Julian A. de la Peña
After several legs from the first conference, the Pioneer Pro Tibay team finally clinched a PBA 3×3 championship title after nipping team Sista, 12-10, in the grand finals of the second conference.
It was a magical PBA 3×3 second conference run for the Pro Tibay after failing to punch a playoffs ticket several times and were the heavy underdogs heading into their quest for a championship trophy.
Pioneer made sure they saved their best for last after putting on an all-around team effort for their first-ever PBA 3×3 championship.
The team immediately took full control of the game after clinching an early 9-4 lead built from their waxing-hot offense and collective effort in rebounding the ball.
Pro Tibay's super duo of Gian Abrigo and Christian Rivera posed early problems for team Sista as their efficient inside and outside scoring helped them gain the advantage.
However, Sista fought back and made their own offensive run to get back to within two points with only 24.2 seconds left in the game.
Sista's Jan Jamon and JJ Manlangit took care of the offensive duties and held Pro Tibay to a scoring drought for almost three minutes.
Pro Tibay nailed three more points to increase their cushion while Sista cooled down in the most crucial stretch of the game and only made one field goal after a relentless comeback.
"Alam niyo maganda? Para kaming magkakapatid. Sa ibang teams ko, sisigawan ko 'yan. Pero ngayon, wala. Talo, talo. Panalo, bawi. Ganun lang," said Pioneer head coach Lester Del Rosario.